NY Film Festival: 'A Dangerous Method' is Cronenberg's most subtle work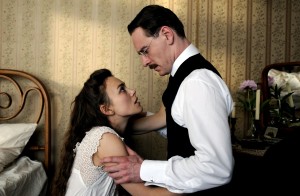 Director David Cronenberg has carved out a career of making wonderfully off-kilter movies. From Videodrome to The Fly to A History of Violence, the man has looked into the fears and eccentricities of the human condition for more than 40 years.
With his latest film, A Dangerous Method, which recently premiered at the New York Film Festival, the director looks further into the human brain. Much further.
The 99-minute movie, based on a play by Christopher Hampton, which itself was based on a book by John Kerr, examines the trials and tribulations of Carl Jung's relationship with one of his most difficult patients: Sabina Spielrein (Keira Knightley).
Jung (Michael Fassbender) treats Sabina from her earliest stages of hysteria, when she experiences so many tics that she has difficulty pronouncing words, to her final stages of psychotherapy, when the line between patient and doctor becomes blurred. Along the way, Jung seeks the advice and mentoring of Sigmund Freud (Viggo Mortensen), the well-respected neurologist credited with the birth of psychotherapy.
This terrain feels refreshingly novel for a director who is remembered as much for his daring special effects and displays of sexuality as he is for clever, thoughtful filmmaking. A Dangerous Method feels like a three-person tango, an allegorical microcosm of what can happen in the complicated field of psychotherapy.
Throughout the film, which is expertly staged to look like turn-of-the-century Europe, all of the actors come into their own. Fassbender, in particular, finds subtle strength behind Jung. He's analytical and blunt with his assessments, yet Sabina gets under his skin. She becomes a pet project, a woman he needs to cure. However, when his methods do, in fact, work, he's left with an emptiness, a yearning to get closer.
Knightley is exquisite as Sabina. In the beginning, her performance is scarily dedicated. In her bouts of hysteria, the character's entire body is thrown into fits and spasms. Knightley juts out the bottom of her chin and flails her arms, making this one of the most physical performances of the year.
Yet, it's not a performance focused on the theatrics. By the end of A Dangerous Method, Sabina is a fully functional adult and aspiring psychoanalyst. One can tell that there is a lingering shadow of her former self, but, for the most part, she is cured. Her diagnosis is complicated and never fully explained. It's mostly sexual in nature (she enjoys paddling), and likely dealt with an abusive upbringing.
Mortensen is enjoyable as Freud; however, the character feels like the definition of a third wheel. Many of his scenes are him writing a letter to Spielrein or Jung, offering his thoughtful two cents. Of this three-person tango, the Freud character trips up.
Cronenberg, a director who is willing throw in savage surprises for the viewer, is restrained with A Dangerous Method. He lets the story and its characters percolate. They move about their historical universe, slowly and methodically getting to know one another. The movie's subtlety, which may be mistaken for dullness, is one of its strongest suits. It makes sense that a movie about thinkers would be a thinking man's film.
By John Soltes / Publisher / John@HollywoodSoapbox.com
A Dangerous Method

Directed by David Cronenberg

Written by Christopher Hampton, based on his play and also the book by John Kerr

Starring Viggo Mortensen, Michael Fassbender and Keira Knightley

Running time: 99 minutes

Rated R for sexual content and brief language

Rating: