'BREAKING BAD' REVIEW: Season One, Episode Three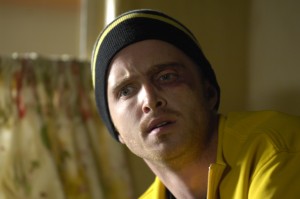 Review of "…And the Bag's in the River" (01:03)
SPOILER ALERT!
Breaking Bad continues its non-stop excellence with the inaugural season's third episode. Titled "…And the Bag's in the River," the third installment finds Walter (Bryan Cranston) and Jesse (Aaron Paul) in typically dire straits.
Krazy 8 (Maximino Arciniega) is still in the basement, and Walt is unable to go through with his plans to kill him. Jesse's house is still reeling from the acid burn that seeped through the floorboards in the last episode.
Not simply going down to the basement and killing Krazy 8 shows Walt's obvious humanity. This is a man who has let one bad decision spiral out of control. It's almost as if he can't put the brakes on his emotional and physical malignancies. It may be stretching the point a tad, but Walt is showing Shakespearean depth as a character. This average man has been catapulted into an uneasily complicated spotlight, and he's not sure what to do next.
The acting on the show continues to shine. In this third episode, I began to appreciate the supporting characters, including Walt Jr. (RJ Mitte) and Hank (Dean Norris). The one scene where Hank brings Walt Jr. to a hotel brimming with meth addicts is a hilariously haunting sequence. Hank believes Walt Jr. is smoking marijuana after Skyler (Anna Gunn) found out about Jesse. Without stating his purpose for the visit, Hank merely invites a prostitute up to the car and has the lady show her teeth to Walt. Jr.
The scene works so well for several reasons. One, it's kind of funny. Two, it's kind of sick. Hank is obviously a man with an exploitative bent; he relishes the chance to dangle carrots in front of the drug addicts he busts. It's hard not to laugh at his jokes, but in the same sense, it's difficult not to be reviled by his actions.
In the third episode it also becomes clear that Breaking Bad is not interested in the usual hero-villain dichotomy too often found on American television shows. The hero in this AMC original series is the villain, and vice versa. There is no murder investigation with a bad guy running away from the police (at least not yet). There is no "killer of the week" serialization similar to CSI, Criminal Minds or Law & Order.
Breaking Bad is content with its methodical trip down this wayward rabbit hole. How far will Walt descend? He's already shown that he can sell drugs and earn profits. He's already shown that he's capable of violence. Can he kill a man? Can he continue to lie to his pregnant wife and doting son?
Watching Walt reminds one of Philip Seymour Hoffman's stellar performance in Sidney Lumet's Before the Devil Knows You're Dead. Both men are incapable of making the right choices in life, and thus they are doomed to paranoiac states of being. Everyone and everything is constantly closing in on them, and their mission is outrun life before it catches up.
In Walt's case, there are many factors, both familial and medical, to outrun.
By John Soltes / Publisher / John@HollywoodSoapbox.com
Breaking Bad

AMC

Created by Vince Gilligan

Starring Bryan Cranston, Anna Gunn, Aaron Paul, Dean Norris and RJ Mitte

Rating:

Click here to purchase Breaking Bad: Season One on DVD.