INTERVIEW: Stefan Solyom opens up classical music to everyone with Helsingborg Symphony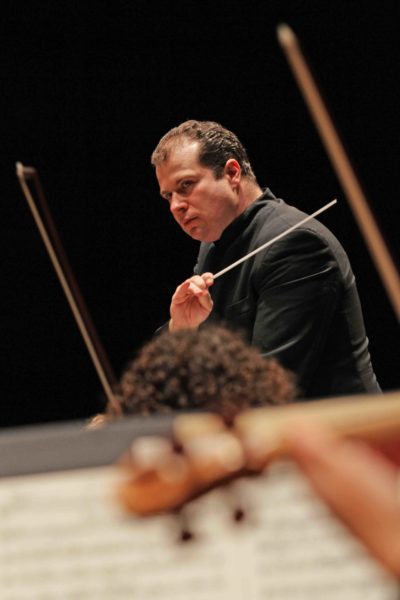 The Helsingborg Symphony Orchestra from Sweden will delight audiences Sunday, Feb. 11 at the State Theatre in New Brunswick, New Jersey. The 3 p.m. performance will feature piano soloist Nareh Arghamanyan playing Sergei Rachmaninoff's Piano Concerto No. 2 in C Minor, and the full force of the world-renowned orchestra giving life to Bedřich Smetana's "Sarka" from Ma Vlast and Pyotr Ilyich Tchaikovsky's Symphony No. 5 in E Minor.
The man at the center will be none other than Stefan Solyom, music director for the Helsingborg Symphony Orchestra.
"When we came to the States, we had a first concert with the exact same program, and it was 4 o'clock in the morning for us because it was the day after we arrived," Solyom said in a recent phone interview. "I'm sure you can expect a somewhat more awake performance when we come to New Brunswick."
The 38-year-old maestro said working with Arghamanyan has been a pleasure and that the pianist is a giving, complementary soloist who meshes well with the orchestra's efforts.
"Some soloists have a tendency to be soloists that you as conductor just have to follow," he said. "They don't seem to pay very much attention to what's going on behind them. They just do their thing, and you as conductor, you follow them. But with Nareh, it's not the case. It's rather a very strong give-and-take relationship where we can also [play] in the spur of the moment, and that's really nice. She's got such secure technique and so much routine that, yes, she can really play with the music, not just play the music."
Solyom was born in Stockholm in April 1979 and has gained recognition at the helm of both classical concerts and operas around the world. He was the student of Leif Segerstam and Jorma Panula, and won 2000's International Sibelius Conducting Competition. In 2009, he took on the role of general music director of the Deutsches National Theater and Staatskapelle Weimar. His work in opera has taken him to the Royal Swedish Opera, Opéra National de Paris and Frankfurt Opera.
For the State Theatre program, Solyom seems quite at home because of that Tchaikovsky symphony.
"I have a strong relationship to Tchaikovsky 5 because I'm a horn player, and I've played the symphony," he said. "I've played that very famous solo in the second movement, so I know what nerves are all about. It's a piece that I like to perform with the orchestra because it shows off how much we can do together, and it shows off the relationship we have also in the spur of the moment. Not one performance of that symphony is the same, also because of the rebuttal and going back and forth and the opportunities that it gives to actually be free."
Solyom has been playing Tchaikovsky for decades. He is not a believer in musicians or conductors waiting until later in life to tackle the classical greats. He wants the music to be accessible (and played) by all, as long as the technique is solid.
"I really am not a believer at all in this thing that people say that you can only conduct [Anton] Bruckner when you're very old and things like that, and you have to mature to be able to play a good [Ludwig van] Beethoven symphony," he said. "The only thing I am a believer of is that you need technical skills to pull things off. If you manage to get the orchestra to have technical and psychological skills to pull it off as a conductor, and if you can manage the orchestra to play, one, together and, two, enthusiastically, I am convinced that that is the recipe for a good performance of any music. So I started with Tchaikovsky. Tchaikovsky was one of the first things that I actually conducted, and I played very much Tchaikovsky in the orchestra when I was a kid."
His role as music director of the orchestra, which was founded in 1912, keeps him busy on the concert platform and also in the office. He defined his responsibilities as the constant "slipping" between conducting and programming.
"I only do 10 concerts a year, 10 productions a year, but the time I'm not conducting is all filled with planning the next season together with our orchestra manager," he said. "We tend to really spend very much time together both in person and on the phone constantly reevaluating ideas for the next season of programming and such, so that is one side of it. … The rest of the time, I really try to live as normal a life as possible and to really take some time off because I believe that to be completely immersed in this art form does more damage than it does good. You need to be able to have a perspective on what it is you're doing and remember that it is actually in the end a form of entertainment where you can express yourself, but, on the other hand, you need to express yourself to people. And in order to know how to talk to people, you need to meet people."
By John Soltes / Publisher / John@HollywoodSoapbox.com
The Helsingborg Symphony Orchestra with music director Stefan Solyom as conductor and Nareh Arghamanyan as soloist will play Sunday, Feb. 11 at the State Theatre in New Brunswick, New Jersey. Click here for more information and tickets.