REVIEW: Finding oneself (and Federico Fellini) in Italy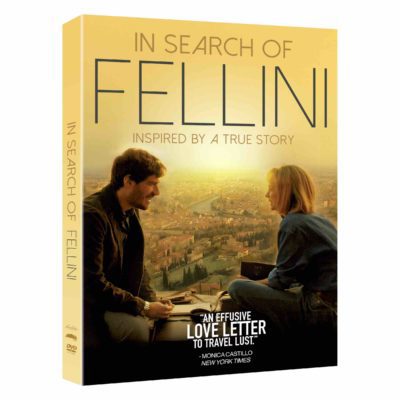 In Search of Fellini, the new movie from writers Nancy Cartwright and Peter Kjenaas, is a whimsical journey from rural Ohio to the wonders of Italy. The one making this journey is Lucy (Ksenia Solo), a quiet young woman who has been sheltered her entire life by her mother, Claire (Maria Bello). When she breaks free of her home life, Lucy heads to the European country in search of her favorite film director, Federico Fellini.
As to be expected, Lucy finds a lot more on her journey than just the famed Italian filmmaker, who was responsible for such classics as La Strada, La Dolve Vita and 8 1/2. Lucy, for example, makes a stopover in Verona, a picturesque city that served as inspiration for William Shakespeare's Romeo and Juliet. In that lovely town by the river, Lucy finds a friend in Pietro (Enrico Oetiker). They explore the city together, and their conversations prove to be exactly what Lucy is looking for: a change from the ordinary. Although her mother is loving and caring, Lucy hardly left the house as a child and never had any relationships in the outside world. Pietro shows her a different way to live one's life.
As Lucy's adventure continues, and she encounters many cultural wonders, her pursuit of finding Fellini begins to fade. It's always there, and serves as her overall mission, but that ultimate jump to Rome, where Fellini has invited her for a meeting, is constantly pushed to the periphery.
Lucy's travels are not free of disappointment or even violence. Even though her time in Verona features a storybook romance with Pietro, the same cannot be said of her time in Venice, which ends in horrific fashion.
The film, directed by Taron Lexton, is inspired by the experiences of Cartwright (voice of Bart Simpson on The Simpsons). At one point in her life, Cartwright was also in search of Fellini and obsessed with the maestro's oeuvre.
Solo is an impressive actress, perhaps best known for her role on Lost Girl. She imbues the Lucy character with wide-eyed wonder, hesitant innocence and curious obsession. The character grows up watching American films, including Frank Capra's It's a Wonderful Life, and these almost ritualistic viewings bond Lucy to her mother. But when she stumbles upon a Fellini festival at the movie theater in the local city, a whole new cinematic world opens up, and that drives her passion to call Fellini and travel to Italy. Throughout these jarring, life-changing events, Solo keeps the character quiet, curious and utterly believable.
Bello is given an important part in the narrative, but the Claire character can never overcome its inherent predictability. She is suffering from a terminal disease of some kind (the audience finds out by the ultimate of movie cliches: a cough), and it's tough to understand her motivations. She seems perfectly positive around Lucy and a wonderful mother, yet she kept her daughter in the house, robbing Lucy of a childhood. It's almost like Claire deserves her own movie.
Oetiker (Lucy's Verona love interest) and Mary Lynn Rajskub (Lucy's aunt) are solid in supporting roles.
In Search of Fellini is an original idea told in a somewhat cliche manner. For Fellini fans, it's fun to watch the film and find the obvious influences from the Italian master. La Strada, especially, weighs heavy on the story. For fans of Italy's beauty, this is a must-see as well. For the casual moviegoer, this one feels too high on the predictability scale.
By John Soltes / Publisher / John@HollywoodSoapbox.com
In Search of Fellini (2017), directed by Taron Lexton and written by Nancy Cartwright and Peter Kjenaas, stars Ksenia Solo, Mary Lynn Rajskub, Maria Bello and Enrico Oetiker. Running time: 103 minutes. Rated R for sexuality, nudity and language. Rating:




Now available on DVD.