REVIEW: Acorn TV's 'Alibi' is an enticing mystery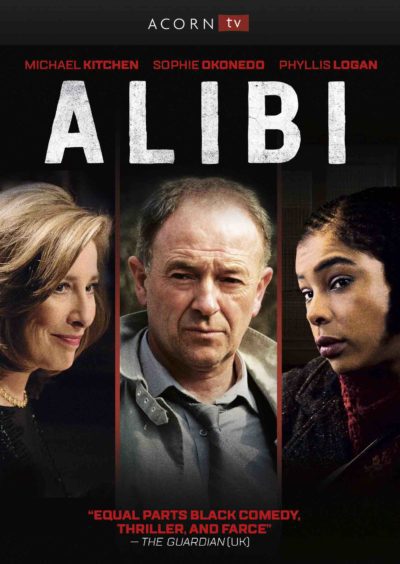 It's tough to describe the unusual engagement audience members will undoubtedly have with Alibi, a three-part miniseries from 2003 that's now available on DVD and Acorn TV's streaming service. The British mystery stars some well-known faces, including Michael Kitchen of Foyle's War, Sophie Okonedo of Hotel Rwanda and Phyllis Logan of Downton Abbey. Perhaps that acting talent is what makes Alibi work so well, or perhaps it's the writing of Paul Abbott and direction of David Richards.
Whatever the reason, Alibi creeps up on its viewers and proves to be transfixing television. It doesn't rise to the level of other British mysteries (Broadchurch this is not), but for two-and-a-half hours of entertainment, there's enough intrigue to keep watching.
Kitchen plays Greg Brentwood, a nervous businessman who throws a special party for his wife, Linda (Logan). He cannot afford such an extravagant celebration, but he's a showman, someone who likes to impress. At the party, he meets Marcey (Okonedo), one of the caterers.
It doesn't take long for Marcey to realize that Linda is, in fact, cheating on Greg with a close family friend. After the party, Marcey, having returned to the house to retrieve her lost bag, finds Greg hauling his friend's (and wife's lover's) dead body through the house.
Now, most people would react in the exact way that Marcey does: She screams and runs for refuge. However, during the first episode of the series, she eventually comes around and realizes maybe there is more to Greg's story than immediately meets the eye.
To be honest, the motivation behind Marcey's eventual connection to Greg and his predicament remain a mystery for the entirety of the series. Abbott's script never gives her enough of a backstory or understanding so that the audience believes in her actions. Why would anyone help Greg with a dead body? Why wouldn't they immediately call the police when given the chance? That's one of the rare missteps in an otherwise solid series.
As Alibi progresses, Greg and Marcey need to stay one step ahead of the inquest looking into the mysterious death of Greg's good friend. Like all quality mysteries, their attempt to get away with it is filled with obstacles, which makes the drama quite thrilling.
The performances are excellent, as to be expected with such a fine cast. Kitchen sticks to his nervous characterization from beginning to end. He mumbles his lines, looks down at the ground and is easily thrown off his mark. He's probably the last person one would expect to get involved in the murder business.
Okonedo is effective as the most mysterious character of the central trio. She holds down dual jobs as a caterer and benefits officer, and her surety during the entire ordeal calms Greg and gives him added confidence.
Logan is believable and interesting as Linda, although the character suffers from some underdevelopment. Quite quickly this becomes the Marcey-Greg show, and Linda is presented more as a supporting role.
The series is enticing and quick, and that seems to perfectly match the easy-to-understand story. Audience members will find Alibi well worth a visit and yet another entry in the strong canon of British TV mysteries.
By John Soltes / Publisher / John@HollywoodSoapbox.com
Alibi, written by Paul Abbott and directed by David Richards, stars Michael Kitchen, Sophie Okonedo and Phyllis Logan. The miniseries is now available on DVD and Acorn TV. Rating: