REVIEW: 'Shadowman' depicts struggles of artist Richard Hambleton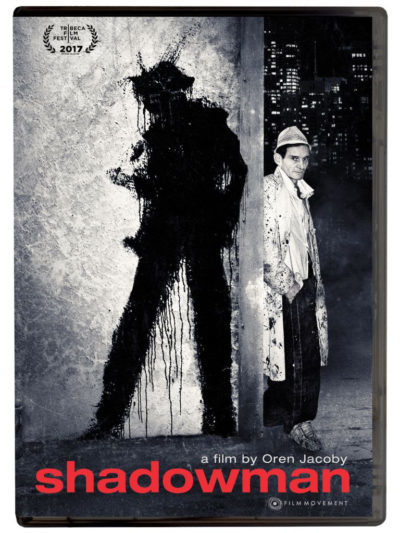 Richard Hambleton was an influential artist who counted Keith Haring and Jean-Michel Basquiat among his contemporaries. He was a staple of the Lower East Side in the 1980s and then slipped into relative obscurity in the 1990s. This transition from the top of the art world to being forgotten is largely attributed to his declining health and ongoing drug addiction.
Hambleton's journey from bottom to top to bottom to top is the subject of the new documentary Shadowman, from filmmaker Oren Jacoby. Using archival footage and new interviews, the director is able to paint a complicated portrait of a tortured artist, someone who seemed hellbent on self-destruction and never fit the status quo of the art world.
Former girlfriends add some interesting personal details about Hambleton's life, obsessions and tribulations. He spent most of the money he earned, and he counted himself homeless a few times throughout his life. He suffered from skin cancer, which eventually disfigured his nose and face, causing him to wear a bandage while in public.
Amidst the drugs and lost opportunities is an unceasing devotion to his art. Hambleton is known for several periods throughout his career, including his early faked murder scenes that featured chalk outlines and red paint splattered on the sidewalk. He then transitioned into perhaps his most memorable period, that of the Shadowman series. These were hastily painted pieces of street art depicting shadowy figures in New York City. They eventually made their way onto canvases and into collections throughout the world.
Viewing the Shadowman series in 2017 almost instantly calls to mind the controversial art of Banksy, perhaps the most well-known street artist of all time. In the film, a confidant of Banksy says that the painter is heavily influenced by Hambleton's oeuvre.
Other periods in Hambleton's career include sweeping landscapes with blurred horizons and a crashing wave scene featuring splattered white paint.
Each time Hambleton would create a piece of art, he would struggle with the next step. Collectors and gallerists wanted to display and sell his pieces, and Hambleton could surely use the money. But he did not like to release his masterpieces and insisted that he was not finished. Sometimes he would cover his canvases with paint, seemingly starting over.
The backdrop to Hambleton's undoubted skill is his drug addiction. If he had a studio and didn't need to worry about rent, he may have flourished, but time and time again, the circumstances of the real world would catch up with him. He would walk the streets, sometimes not having a place to sleep, and yet his talent was never turned off. At some low points, he would even trade his art for a hot meal.
Shadowman as a documentary is a transfixing portrait of a difficult man. The film does not sugarcoat the lows of Hambleton's life, but it still tries to focus on the many images — both powerful and haunting — that he left behind. The film doesn't make one feel good about Hambleton's circumstances; he seemingly needed help and yet refused it throughout his life. One commenter, performance artist Penny Arcade, says in the film that these qualities are what made the artist who he was. There's no doubting those sentiments.
By John Soltes / Publisher / John@HollywoodSoapbox.com
Shadowman (2017), directed by Oren Jacoby, will be released Tuesday, Jan. 2 on DVD. Rating: