INTERVIEW: Pond Theatre Company dedicates itself to British, Irish theater
Hey, New York theater lovers, there's a new kid on the block. The Pond Theatre Company is dedicated to producing work in New York City from the best British and Irish playwrights, and they have found almost immediate success with their first two productions.
Last season, they produced Mike Leigh's Abigail's Party, a seminal work for the playwright, and the company sold out its run. Now they are in the midst of performing Muswell Hill, a play by Torben Betts that is co-produced by the Barrow Group Theatre Company. Much like Abigail's Party, Betts' play deals with a dinner party that turns simultaneously hilarious and tense.
At the center of Muswell Hill and the Pond Theatre Company are Lily Dorment and Colleen Clinton, the two founders of the company. In the play, Clinton plays Jess, while Dorment plays Karen. They recently talked with Hollywood Soapbox. Here's what they had to say:
On their inspiration for producing Muswell Hill …
Dorment: "Well, the Pond Theatre Company, part of our mission is to bring new British and Irish plays to New York that haven't been seen before, and when we chose Abigail's Party, which was a revival, we very much wanted to find a companion piece that was a contemporary play but that was in the same similar world as Abigail's Party or focused on some of the same themes. So in our reading, we read many, many plays, and Muswell Hill really felt for us, although it's a completely different play than Abigail's Party, it felt to us like it resonated with a number of the same themes, except in a much more contemporary setting. So I think that's what drew us to it originally, and we are also very interested in doing an ensemble piece that was really focused on an ensemble way of acting. And that was also very appealing to us."
Clinton: "Both plays lend itself to the aesthetic that we ascribe to. … They're very prompt-heavy, business-heavy plays with a lot of prop-specific behavior and just stuff that we really love to do and love to play with."
On whether acting roles for themselves go into the decision making of choosing a play to produce …
Dorment: "I think it's one of many factors, but it's certainly not a deciding factor. Colleen and I run the theater company. Obviously, we're actors, and we love to act. And we're interested in continuing to find plays that perhaps have roles for us, but that's certainly not the main consideration. It happened to be that the last two plays we've done have had roles that are really right for us, but that may well not be the case going forward necessarily."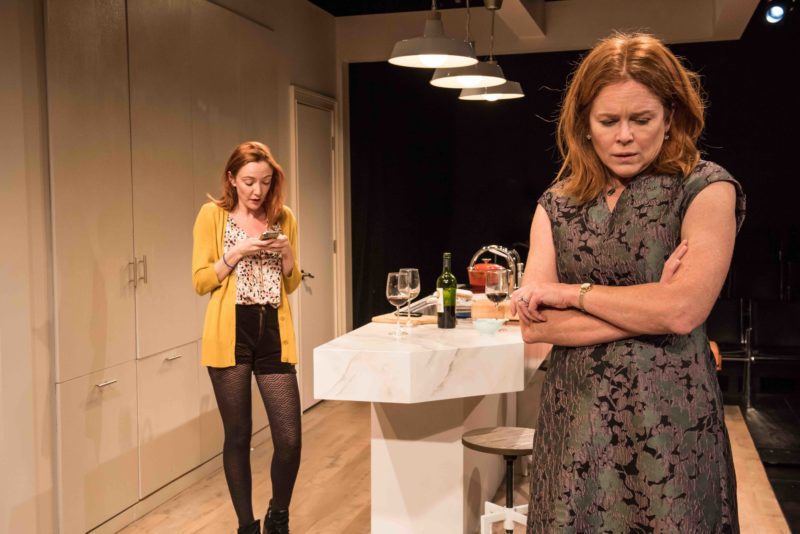 On her character of Jess …
Clinton: "There are so many things about Jess that resonate with me and my life. I find that she's a caretaker, and she carries the load in her household and her family. And she's a hard worker and kind of has a goal. I just found her beautifully vulnerable and trying to keep it all together. … She's putting on a dinner party, and in this play, she's really putting it on. She cooks and does the dishes and puts stuff out. It's just really, really fun business to do besides a lot of stuff emotionally. I really love her."
On her character of Karen …
Dorment: "Karen has been really fun to play. She's sort of the single friend who comes over for dinner, and she's a big personality. So for me I think it's been fun to explore those particular characteristics, which are particularly maybe bigger, louder, more in your face than I think of myself. But yet she is also very vulnerable, which I think is true for actually all of the characters in this play, that they all have different shields that they put up in different ways to protect themselves maybe from really connecting with each other or maybe even really feeling how they feel. In terms of Karen, a lot of that comes out in rather loquacious and loud behavior, which as an actor is always really fun."
On the uniqueness of the Pond Theatre Company in New York City …
Dorment: "I think that certainly there are other theater companies and other presenting theaters in New York that do present new British and Irish writing, and those places like Brits Off-Broadway at 59E59 and the Irish Rep and certainly a number of Broadway and larger off-Broadway houses do that. And they do that extremely well. … We were really interested in doing our own work and tapping into the extensive resources of British and Irish actors living in New York to create new productions of those works that may have been on the other side of the Pond, so I think that was partly our interest.
"It has always struck us that while there is an Irish Repertory Theater and while there are a number of theaters in New York that, as I say, bring over British plays, there isn't an equivalent British Rep in New York. And given the huge amount and quality of plays that are being produced in England and Ireland, we have been surprised at how few of them do make their way over to this side of the Atlantic."
By John Soltes / Publisher / John@HollywoodSoapbox.com
Muswell Hill, produced by the Pond Theatre Company and Barrow Group Theatre Company, is currently playing through Dec. 16 at the Barrow Group Mainstage Theatre on West 36th Street in New York City. Click here for more information and tickets.