INTERVIEW: 'Naples '44' remembers Italy during WWII
The new film Naples '44, currently playing the Film Forum in New York City, depicts the events during and after World War II in one of the most dynamic cities of the world. Naples, Italy, faced many obstacles during the Nazi occupation and fascist era, and they were poignantly brought to bear in Norman Lewis' original memoir. Now director Francesco Patierno has crafted a unique documentary that reexamines and relives the experiences of that time period and that city.
Benedict Cumberbatch (Doctor Strange) offers a narration, using Lewis' words to evoke a spirit of distress and hope amongst the communities of Naples. Coupled with his iconic voice are film clips of Italy in the mid-20th century and archival footage of the time period. Taken together, Naples '44 proves to be an engaging lesson in riveting history and sad reality.
Patierno "was inspired by his father and his father's history during World War II, and he wanted to do something about the period and his father," said producer Francesca Barra on behalf of Patierno. "And his father told him that the best book to read that would exemplify [this] was Naples '44, and additionally what's very interesting is that his father was 14 during the war. He was 14 years old, and he almost died in a bomb. Everyone on one side of the street died, and he survived. … [His father] felt that Normal Lewis' reaction, his memoir was the best book possibly ever written on Naples and on his experience at the time, so that's how he became fascinated with it. He read it, and he immediately thought I want to make this into a film."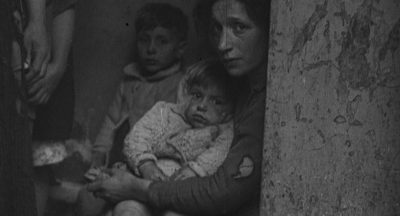 Barra said she secured the rights to the book years ago and began developing a feature film. That project eventually entered turnaround at a studio, but she was still "obsessed" with making the movie. She eventually reached out to fellow producer Davide Azzolini. Eventually Barra, Azzolini and Patierno joined forces and morphed the feature film into a documentary project, and Naples '44 was born again.
"It took more than three years to finish the complete process because we started first working on the text," Azzolini said. "It's incredibly wide and needed to be cut to be shaped for the vision that Francesco got in his mind, and then [we] started a very long, very long work of finding footage. … You can say that we made a very loyal work to Norman Lewis, and his family, his wife, confirmed [this] with us when they saw the film."
The producers and director didn't so much have trouble finding the archival footage. There was almost too much available, but securing the prints and clearing their copyright proved to be an extremely arduous process.
"The color footage of the military, we found it in all over the world basically, in Europe, in the U.S., from private collectors," Azzolini said. "We hired a researcher here in the U.S., for instance, to work on Francesco's request, and then another different and not less tough job was to [claim] the rights to the film clips because some films were fundamental to describe to some part of the book. So we really needed to have exactly the clips that Francesco chose for completing the storytelling, and this is why we needed three years to complete the film."
The other film clips in Naples '44 — featuring scenes with famous actors like Marcello Mastroianni, Alan Arkin and Ernest Borgnine — came from Italian films, but most of the rights were actually with studios in the United States, such as Warner Brothers and Paramount. "So it wasn't a local clearance," Barra said. "It was much more complicated than that."
Cumberbatch came onboard after some convincing. Barra first suggested the actor, and Azzolini and Patierno immediately loved the idea.
"It was a very, very, very long and hard slog," Barra said. "He had just finished Hamlet. He was doing Doctor Strange. The studio completely controlled him, so we didn't have access to him. It was almost impossible to get him into the studio, [but] we eventually got him into the studio. The film wasn't in the state that you see it in now. Actually he recorded a lot more than is in the film, but we just weren't sure when we were going to be able to get him. … [Cumberbatch] was actually visibly moved by the passages. I mean, he was so moved."
Being moved by the stories in Naples '44 is not hard because the emotion tied up in the cities and the families is palpable. Barra knew all they needed was to have Cumberbatch read the original book and maybe view some of Patierno's previous films, and the actor would join the projet as the narrator. "He would be convinced that it was worth doing," she said. "And he did say yes, but it was just pinning him down and getting a day with him to do it was the hard part."
By John Soltes / Publisher / John@HollywoodSoapbox.com
Naples '44 is currently playing New York City's Film Forum. Click here for more information and tickets.