INTERVIEW: BroadwayHD lets audiences check back into 'Holiday Inn'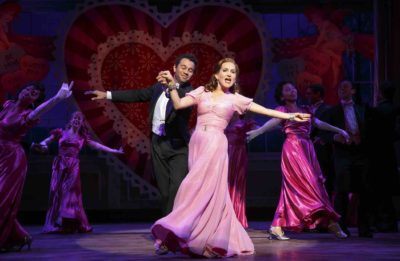 For theater lovers who missed out on Roundabout Theatre Company's acclaimed show from last season, Holiday Inn, which played Studio 54 in New York City, there's no need to fret. BroadwayHD is here to save the day.
That's one of the wonderful yet finicky qualities of live theater. Once the final curtain drops, the experience is complete, living on in the memories of those who saw the show and causing angst among those who missed it. BroadwayHD helps to bridge that gap, offering up-close-and-personal recordings of top-notch New York theater. The streaming service is building a respectable catalog of shows, including Present Laughter with Kevin Kline, Falsettos with Christian Borle, The Man Who Came to Dinner with Nathan Lane and She Loves Me with Zachary Levi and Laura Benanti.
Holiday Inn begins streaming on the service today, Nov. 17. The musical, based on the famous movie, features more than a few memorable tunes from Irving Berlin. The original Broadway cast included Bryce Pinkham (A Gentleman's Guide to Love and Murder), Lora Lee Gayer (Doctor Zhivago), Megan Sikora (Curtains), Corbin Bleu (High School Musical) and Megan Lawrence (The Pajama Game).
Recently, Gayer spoke with Hollywood Soapbox about her experiences in the show. Here's what she had to say …
On working with such a top-notch cast …
"I always joked about the fact that not only did I get one beautiful handsome leading man, but I had two on either side of me. So my job was very hard, and by hard, I mean absolutely wonderful. We all became very close. Bryce and Corben and the two Megans, we just had a blast and lots of laughter and lots of fun. Bryce himself has got this gorgeous voice and is a clown and super funny, and Corbin, not only is he an incredible dancer and he's so handsome and charming and everything, he couldn't be nicer, which is also just infuriating. Bryce and I, I remember the first time the three of us were all in the same room and met, this was a couple months before we started rehearsals. Bryce and I left, and we looked at each other. And we were like, 'Do you think [Corbin's] like that all the time? Do you think he's that nice all the time?' Then when we started rehearsals. We found out that he is that nice all the time."
On the memories that still linger from each show she has performed in …
"Something that's beautiful about being in this business is that you get to meet all different kinds of people constantly. You're going from company to company, and I like to say, I have a collection. I have this collection of people. I take a couple of people from this show and a couple people from this show, and my friend group is from all these different shows that I've done, which is amazing.
"But the sad thing though, too, is that you're around these 25 people six days a week, and you're really in the trenches with people. And so it's more that you're realizing, oh, I'm not going to see these people every day anymore, and that's always a bit sad. No matter what, no matter how hard you try to stay in touch or things like that, to get those 25 people in the same room again would be very hard. But it was a beautiful and wonderful thing, and the cast was so much fun together."
On the prospects of streaming shows on BroadwayHD …
"I think it's so exciting. As much we like to say that theater is so inclusive and everything, which it is, I feel so honored to be a part of a theater community, but truth be told, when it comes to Broadway, it's very isolated in a way. Broadway is truly only a 10-block radius on an island. That's a very, very small place in the grand scheme of the world, so not everyone can get to that 10-block radius.
"Not to mention, even if people can get to that 10-block radius, tickets are expensive, and this allows all different kinds of people to experience Broadway. And not only that, but I just think BroadwayHD has done such an amazing job of really capturing the live show. It's very hard to. I think looking at past recordings of things, you get more of a one shot kind of thing and maybe two other shots, but they get really in there and close. It's wonderful. …
"I think sometimes maybe producers are nervous about ticket sales or things like that, but I think if someone is sitting in their living room and they're watching a Broadway show and seeing how magical that is, it will give them even more incentive to say, 'Oh, now I really want to go. I'm going to save my money to get to New York to buy a Broadway ticket.' So I think it will only help us, so it's very exciting."
By John Soltes / Publisher / John@HollywoodSoapbox.com
Click here for more information on BroadwayHD.