INTERVIEW: 'No Dress Code Required' documents struggles for marriage rights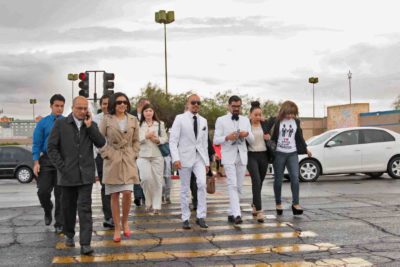 Cristina Herrera Bórquez's new documentary, No Dress Code Required, follows Victor and Fernando as they struggle to receive a marriage certificate in Baja California, Mexico. The conservative government places many obstacles in their way, and Bórquez's lens is there to document the frustrations, anger and devastation of their relationship and headline-grabbing union.
The issue of same-sex marriage is one that countries across the world are dealing with, including in the United States and Mexico. Bórquez's documentary offers a personal angle on the important issue and displays what it's like to live a life contending with these legal uncertainties.
Bórquez first met Victor and Fernando at their beauty salon. She was their acquaintance and client, and when she realized there was an opportunity to focus on their story, the camera started recording.
"I've known them for years, but we're more of acquaintances than friends," Bórquez said in a recent phone interview. "Fernando was my hairdresser. … Years ago, he told me they wanted to get married, but they knew it was not something they could do legally, at least in our state. They were planning this spiritual wedding on the beach, and they were going to join two types of sand, black and white, this whole story."
Those initial plans changed, the director said, and the couple started to consider a legal ceremony in their home state. Bórquez realized that Victor and Fernando could be the first same-sex couple in Baja California to apply for a marriage license, so she decided to document the process.
"I said, 'Wait, let me try to fly home, like in the next week and talk to them first because I don't know if they know,'" she said. "They jumped on it. They really, really jumped on it. At first, I guess we were all very naive about what was going to happen, but that's how it started."
Little did Bórquez know that Fernando and Victor would face many legal challenges and delays, enough to fill an entire feature-length documentary. The couple worked their way through the process, staying respectful and patient, but the emotions were real and difficult. At any point, they could have dropped their struggle to be married in their home state of Baja and headed to Mexico City, where licenses were being handed out. They decided, instead, to stick it out in their home state.
"I think in the very, very, very beginning, they really wanted to get married in our state because of having family and friends together," Bórquez said. "I think way at the beginning, this is the opportunity to get married with our closest friends and our family present. We want to try this because they wanted really to celebrate their union, and as time went along, it wasn't about that anymore because they realized they could have a party anytime. But they realized the ball was rolling, and everything that was happening had consequences. And for them to just decide, oh, no, screw it all, let's go to Mexico City, would be letting so many people down, would be letting themselves down."
Bórquez said at the beginning of the process, when they faced so many hurdles, there was anger and frustration. As the delays continued to mount, they were devastated. During this process, the filmmaker needed to ensure authenticity but also respect the privacy of Fernando and Victor.
"I was very respectful of them," she said. "When they said, 'Stop filming. Don't film this,' I didn't, and now we both, them and I, we both say, 'We should have never decided that. We should have kept rolling the camera,' now that we can think clearly. … They were really not angry. They were devastated. I mean, they didn't know how to handle it. They were lost. We go naive through this process. You're equipped to handle things at the beginning, but as things are escalating, you're not equipped anymore. You have no clue how to make this work when it's just bizarre, and it has no reason behind it."
She added: "It's a very conservative state. … Every decision that's made is very tied to Christian values, Catholic values."
By John Soltes / Publisher / John@HollywoodSoapbox.com
No Dress Code Required is currently playing in New York City at the Village East. Click here for more information.