INTERVIEW: Queen's music lives on thanks to Marc Martel's spot-on singing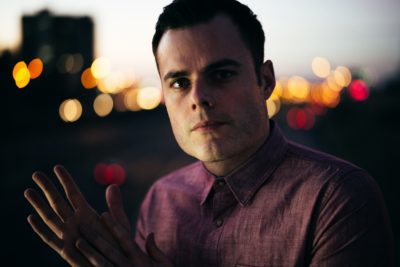 Marc Martel has the awesome and unique ability to mimic other singers. He can listen to a song, study the voice he's hearing and then produce a vocal output that is similar and familiar. It's a rare treat, and Martel is putting his mimic talents to to the test with The Ultimate Queen Celebration, a rock show inspired by Freddie Mercury and Queen.
Martel brings his rock-infused vocals Friday, Oct. 20 to the New Jersey Performing Arts Center. The 8 p.m. show promises a rollicking journey into the back catalog of one of the most influential bands of all time, and once audience members hear Martel's voice, they'll see how he's able to powerfully channel Mercury, a singer who died in the early 1990s but whose memory lingers on.
"I think they can realistically expect the best sounding Queen show in a long time," Martel said in a recent phone interview. "It's The Ultimate Queen Celebration. It's a high-energy rock show, all of Queen's greatest hits and then some. We throw a couple curve balls at the audience because with my similarity to Freddie's vocals, I feel like we can take some more liberties and do a couple tunes that necessarily aren't Queen songs but do them in the style of Queen and still have that reminiscent sound. It's a great show. The instrumentalists are off the charts, incredible players, and it's a really fun show."
Martel was a latecomer to the Queen fandom. He grew up mimicking other singers, but Mercury's unique vocals only got on Martel's radar when he watched Wayne's World starring Mike Myers and Dana Carvey. In that comedy film from the 1990s, Wayne and Garth lip-synch a version of "Bohemian Rhapsody."
"I was probably in my mid-teens at the time [of Wayne's World], and I didn't get into more of their repertoire probably until the early 2000s when a really good friend of mine told me, 'Hey, you know, since you're a mimic and all, and you listen to other singers and sort of make their styles your own, you should really check out Freddie Mercury a little more,'" Martel remembered. "And so I did, and I was like, oh my goodness. There are so many just natural similarities in our voices, and so I learned a lot how to develop and strengthen my voice by listening to Queen. But, yeah, I didn't really grow up listening to them like a lot of rock artists do, but never late than never."
The Ultimate Queen Celebration Starring Marc Martel fills the stage for almost two hours, and it just so happens that Queen's most recognizable hits are so numerous that they can easily produce a rockified set list that lasts 120 minutes. For Martel, it wasn't hard to choose the songs; the difficulties came in finding the appropriate place for them throughout the evening.
"The toughest part is where to put 'Bohemian Rhapsody' to make it the most effective, the most emotional point, and how to keep the energy up, and let off every now and then with a song like 'Love of My Life' to just give a bit of a sonic respite," he said. "It's not hard to put together a really great concert of Queen material because they just have so much incredible material."
Martel couldn't pinpoint an absolute favorite among Queen's repertoire, but he said the chance to perform "Under Pressure" is something special. The original had Mercury and David Bowie trading off vocals in a rare collaboration for the band.
"They knocked that one of out the park," Martel said. "That is such an emotional song for me, and the fact that I get to share the lead with another band member on that song is a really nice moment to showcase the camaraderie of what it's like to be in a band. It sort of invites the crowd into it even a little more. My favorite part of a concert is when people sing along with me, and 'Under Pressure' just really kind of steps up that whole idea."
He added: "One thing I learned from studying Queen's repertoire is that — which is a huge compliment to them in their artistic abilities and desires to just be different and creative — they could not bring themselves to repeat themselves inside a song. Even if they were repeating the same chorus, it always had to be a little different than the first time, and so the format of their songs, especially the ones they did in the '70s, are very unlike what popular song is today. … With Queen's music, you basically have to memorize every song because everything is changing all the time."
By John Soltes / Publisher / John@HollywoodSoapbox.com
The Ultimate Queen Celebration Starring Marc Martel will play Friday, Oct. 20 at the New Jersey Performing Arts Center in Newark, New Jersey. Click here for more information and tickets.