INTERVIEW: Isaac Sutton celebrates Las Vegas at NYC cabaret club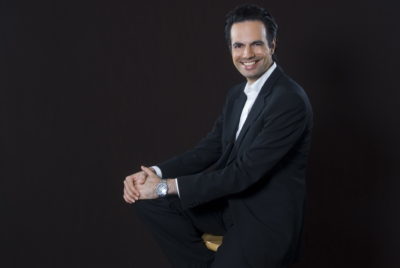 There's a way to travel back in time to golden days of Las Vegas without ever leaving the Big Apple. The trip comes courtesy of Isaac Sutton, the accomplished singer who will offer his latest cabaret show Saturday, Oct. 21 at Midtown's Feinstein's/54 Below.
Sutton is a theater and concert star in Israel who is making a big mark on the global stage. He'll bring some of his musical chops to New York City for the exclusive engagement of Las Vegas-NYC!
Sutton is a regular performer on the prominent stages of Israel, having played alongside the talents of the Jerusalem Symphony Orchestra, Habima National Theater, Cameri Theater Tel Aviv and Gesher Theater Jaffa. He's also left a lingering memory in the minds of tri-state fans, having recently performed a duet with Kristin Chenoweth at the Mayo Performing Arts Center in Morristown, New Jersey, and an engagement at the Metropolitan Room.
As far as theatrical roles, Sutton's résumé is extensive and varied, including Bobby in Stephen Sondheim's Company, Jason Robert Brown's Parade, The Mikado, 1776 and the French musical version of Romeo and Juliette. He also was MC and singer at Yitzhak Rabin's memorial services and is a graduate of Tel Aviv University.
Recently, Hollywood Soapbox exchanged emails with the singer about the new show. Questions and answers have been slightly edited for style.
What can audiences expect at Feinstein's/54 Below? What was your inspiration for choosing Las Vegas as a focal point?
My upcoming show at Feinstein's/54 Below on Oct. 21 is really coming full circle for me. I've been to that venue many times before and have been inspired by some of my all-time favorite Broadway performers. My show will be a musical journey to the greatest sin city of the world. I've always loved Las Vegas, not because I'm a gambler. … In fact, I never gambled a dollar in my life.  However, I've always been addicted to the shows in Vegas ever since I can remember.
The last time I was in Vegas was to see the wonderful Celine Dion in concert at the Colosseum in Caesars Palace, which was a great experience. But my upcoming show is going to focus more on the legendary performers who made Vegas what it is today, icons like Frank Sinatra, Dean Martin, Barbra Streisand, Elvis Presley and more. And since Feinstein's is Broadway's supper club, I will also be combining some of my favorite Broadway tunes. After all, some of the best Broadway shows found their way to Las Vegas. And speaking of Broadway, I will have a very special guest singer, Broadway star Carrie St. Louis (Wicked, Rock of Ages) will be joining me on stage.
Is an entire evening of singing physically draining?
Absolutely. Singing live for an hour and a half each night is tough. You don't get a break, and you basically stand on stage and perform nonstop the whole time. I personally find this harder than being in a musical theater production, where you get to rest a bit in between numbers, which is why I try to take very good care of my voice. … So there is no talking in between shows, no drinking, no dairy products, no clubbing. It's really all about protecting your instrument like an athlete.
Was it difficult to settle on the set list?
It is very important for me that everyone that comes to my show will be able to relate. So I do put in a lot of thought into choosing what I feel is the right material for this show in NYC. The set list changes all the time, according to the venue, the city and the country that I perform in.
Also, since I recently performed at the Metropolitan Room in NYC, I wanted to make sure that we're including some new material for the audience that will come to see me again. It was especially important for me to include songs in different languages. I will be singing in English, French, Italian and Hebrew at my upcoming concert at Feinstein's/54 Below.
I've always been fascinated with the French language ever since I studied seven years of French in Alliance High School in Tel Aviv and fell in love with French culture and the French chansons. As for Italian, I remember being exposed to Italian singing the very first time I stayed in Vegas at the Venetian Hotel and took the gondola ride attraction with an Italian singer on board who chanted Neapolitan songs and Italian songs.
I'm also really looking forward to explore some songs that I haven't sung in a long time. One of them is 'Being Alive' from Stephen Sondheim's musical Company. I got to see the wonderful production at the Barrington Stage Theater about a month ago, conducted by my great musical director, Dan Pardo. It brought back so many wonderful memories of the production I did in Israel a couple of years ago, where I had the joy to play the lead role of Bobby. So I can't wait to revisit this particular song in NYC, where the musical actually takes place.
When did you first get into theater and singing?
The first time I sang live in front of an audience was when I was 21 years old. At that time, I was a soldier in the Israeli Army, and I was asked to be the emcee and singer at the memorial of prime minister Yitzhak Rabin. That was a life-altering experience which I'll never forget. But it was only after I finished my MBA at Tel Aviv University that I decided to follow my heart and dreams and really give it a shot professionally. And so I produced my first show!
Since then, over the last decade, I've had the great privilege to bring the Great American Songbook to Israelis with my one man shows at the National Theater. On top of that, I've had the great joy of doing musical theater work. The first musical theater that I was ever in was 1776 The Musical, where I played … the bad guy, of course. Since I'm a bass- baritone singer, I have a low voice, which means I'm always cast as the villain, the killer or the murderer. But I compensate with singing my favorite songs in my one-man shows, where I have control over what I sing.
Do you like the intimacy of a cabaret evening versus a big-budget musical?
I absolutely love the intimacy of a cabaret setting, where you get to feel everyone in the room and create a one-on-one special connection with the audience. I personally love reacting to the audience and have a back-and-forth communication throughout the entire concert. So much so that I've recently added a Q&A segment in my shows and concerts, which is called 'Ask Isaac,' where people get to ask me questions and even request for a particular song they would love to hear.
What can fans expect from you in 2018?
Definitely a brand-new show and hopefully a new CD out as well. I would love to keep traveling the world with my shows and do some more musical theater work. My opening night in Israel is Oct. 28 at the National Theater, followed by concerts throughout Israel. And I definitely look forward to performing more frequently in the United States in 2018!
By John Soltes / Publisher / John@HollywoodSoapbox.com
Isaac Sutton will perform Las Vegas-NYC! Saturday, Oct. 21 at Feinstein's/54 Below in Midtown Manhattan. Click here for more information and tickets.