INTERVIEW: Maxine Linehan celebrates U2 at 54 Below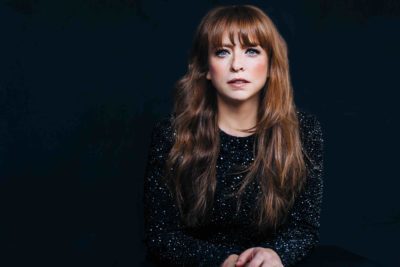 Maxine Linehan, accomplished singer and recording artist, has a love for U2 that is palpable. She has been listening to the songs of the famous rock band for years, and now she has fashioned a new tribute to the musicians called ONE: The Songs of U2.
Linehan will offer her unique show Friday, Oct 13 at 9:30 p.m. at Manhattan's Feinstein's/54 Below. This is actually not her first tribute show. She debuted at Théâtre du Châtelet with What Would Petula Do?, a show dedicated to the music of Petula Clark. Her career since those performances has taken her to New York City and around the world. Other shows over the years include An American Journey and Beautiful Songs.
Recently, Hollywood Soapbox exchanged emails with Linehan about ONE: The Songs of U2. Questions and answers have been slightly edited for style.
What can audience members expect from ONE: The Songs of U2?
This is a tribute to U2, but importantly, not an impersonation. So the audience will hear these beloved songs performed in a way that honors the timeless melodies and profound lyrics, and brings a different musical style. We have arranged these songs with piano, violin, two cellos, guitar, bass and drums, so it's a different sound yet still has the drive and power of the famous stadium rockers!
I also present these songs in context. When people truly understand what a song is about, they have an ability to connect with it on a deeper level. Bono is a genius lyricist, and oftentimes you need to dig deep to unearth the true meaning behind the song. For example, the beautiful, melodic song, 'Stuck In A Moment You Can't Get Out Of' is about the desire to talk someone out of suicide. Setting the songs up with background gives the audience, especially those not so familiar with U2, a window into the songwriting.
How difficult was it to choose the set list for the evening?
Choosing the set list was one of the most difficult elements of creating this show! How do you pick from 13 award-winning studio albums? For me as a singer, I need a deep, personal connection to the lyrics — that helped me narrow down the songs to those that meant the most to me. I want to take the audience on a journey through a song with me, to explore all the feelings, good and bad.
When did you first get into U2? What do you find so inspiring about their songs?
I grew up in Ireland, so U2 was part of our culture from the early '80s. But I wasn't a diehard fan early on. I always listened to their music and appreciated it, but when I started going to live performances, that's when it changed for me. They are electric when they perform live, and the energy that emanates from the stage is unforgettable. A few years ago, I covered my first U2 song, 'One,' and I truly realized the power of their music. That power, through intense and meaningful lyrics, conveys a message about anything from war to heartache. Each song is a mini musical; that's the depth of the storytelling in Bono's lyrics.
Why is this the final performance? Will this truly be the last time audiences can see the show?
This is the final performance this year. I can only hope that as more people hear the covers and understand my passion behind the songs and the theatricality of the performance, we can take it to more cities and bigger stages across the country and around the world. This is just the end of the first phase!
When did you realize you wanted to be a singer?
From what my mother told me, I've wanted to sing since I could talk! Aside from being a mom myself, singing gives me the greatest joy in the world, and I'm very, very fortunate to do what I love.
By John Soltes / Publisher / John@HollywoodSoapbox.com
Maxine Linehan will present ONE: The Songs of U2 Friday, Oct. 13 at Feinstein's/54 Below in Manhattan. Click here for more information and tickets.