INTERVIEW: 'Dinner Detective' brings murder-mystery theater to NYC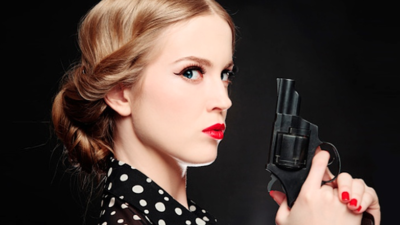 The Dinner Detective, one of the most successful murder-mystery shows in the United States, is currently playing in more than 50 cities. However, up until this month, the biggest city of all was never on the list. That will now change.
On Saturday, Oct. 21, The Dinner Detective will begin playing at The Millennium Broadway Hotel's Gotham Room and Bugis Street Brasserie. The performances will mark the 13th anniversary of the interactive show, which finds unsuspecting audience members enjoying a meal and a mystery over the course of one evening.
Co-creator and executive producer Scott O'Brien originally opened the show on Halloween weekend in 2004 in Culver City, California. Since those early days, he has built a murder-mystery empire. After New York, productions are planned for St. Louis, Nashville, New Orleans, Baltimore and Washington, D.C.
"We have 54 cities that we operate in right now," O'Brien said in a recent phone interview. "Every Saturday night we do public shows, and we do private shows throughout the week. All of those shows are four-course sit-down dinners, and then in between each course of the act, you have another course of the meal. We have appetizers. Then we have Act I, then the entree, Act II and so on and so forth. But with New York, it's a little bit different because we had to change our models with the unions, and work with their terms and what not."
In New York, the evening will begin with an interrogation reception. The audience checks in and retrieves their name-tag aliases. At this time, they are asked to provide code names for the rest of the evening.
"Part of the fun of what we do is we want everybody to kind of step outside their shell and be someone who they've always wanted to be," O'Brien said. "When you have the introverts and the extroverts, they don't always play well in the sand, but if everybody had an alias, then they kind of get to step out of that shell, if you will, and be somebody else for the evening. So they don't have to worry about what people think, or what people say or if they're goofy or not."
Mingling among the audience members are the "actors" for the evening, but their identities are the best-kept secret of The Dinner Detective. They are trained to seamlessly blend in with the rest of the ticket holders. This way, when the blood starts flowing, it's truly a whodunit that's not easily solvable.
"So our actors are dressed like everybody else, so nobody in the audience knows who is a part of the show and who is not," he said. "So that's what I think makes it so different than pretty much anything else out there is that you have everybody making up code names. You have everybody under a different alias, and you can get anything from rated G to rated X. And I've seen it all, and that will be your name throughout the night. That's what people will call you when they're interrogating you, or when they're asking you questions and working with you on certain clues, and then the actors at the same time are doing the exact same thing. They have regular names, regular jobs, dressed just like everybody else."
The shows are based on actual cold cases, and for this background material, O'Brien relied on his years of experience working with David E. Kelley Productions on such TV shows as The Practice and Boston Legal.
"There was a lot time for me to do research and a lot of cases that I was reading and things of that nature, and so we kind of took those ideas and put them into real-life situations," he said. "So then basically we have clues that are passed out. People die. Things happen, and detectives come in. They start interrogating everyone. They start trying to decipher these clues, and then more things happen. Then, at the end of the night, we kind of give everybody an answer form, if you will, to try to figure out — based on the clues, and what they've seen and what's happened — who was killing these people and why."
The person who rightfully selects the killer receives a special prize.
Many murder-mystery shows are built as period pieces. Think of something akin to Westworld on HBO or a 1920s noir setting. The Dinner Detective is actually set in the present day.
"It also allows us to have a lot of pop culture references and able to play with the audience a lot more, and then the other thing that makes it very different is that the majority of the show is improvised," O'Brien said. "So when we have characters in the audience — when I say characters, I just mean really flamboyant, outgoing people who have nothing to do with the show — but they take part in it as if they do, and we embrace that. It actually helps the show because then the the other audience members can't tell if that person is an actor or if that person is really just kind of nutty. Then from there, everybody works together throughout the night. They're questioning each other. They're interrogating each other, and at the same time, they're socializing and having a good time."
The Dinner Detective is clearly cut from a different theatrical fabric than most shows in New York City, especially Broadway fare. That uniqueness is what drives O'Brien and his team.
"Broadway is struggling to really find something different," he said. "I think they're really stuck on an old model. … It's just getting more and more expensive, and it's almost the same shows over and over just with different costumes."
The Dinner Detective embraces its cutting against the grain.
By John Soltes / Publisher / John@HollywoodSoapbox.com
The Dinner Detective will begin Saturday, Oct. 21 at The Millennium Broadway Hotel's Gotham Room and Bugis Street Brasserie. Click here for more information and tickets.