INTERVIEW: World-renowned sitar player, Nishat Khan, to play NYC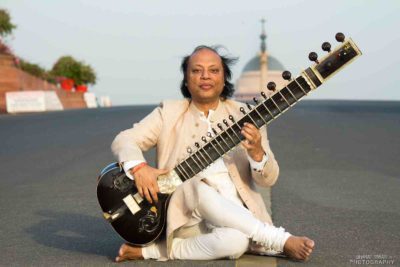 Ustad Nishat Khan is one of the most impressive and celebrated sitar players in the world, and his family pedigree is something to behold.
Khan will bring his interpretive ragas Sunday, Oct. 8 to the Merkin Concert Hall at Kaufman Music Center in Midtown Manhattan. The World Music Institute is presenting the event, which will feature a discussion with Khan at 6:30 p.m., followed by his concert.
Audience members should expect plenty of improvisation at the show because Khan likes to have the emotions of the crowd inspire his performance. "The music is based on ragas, melodies which I call ragas," Khan said in a recent phone interview. "Part of this is fixed, and part of this is improvised. So I play very much according to the mood of the evening and how I'm feeling. It's all about emotion, and it's all about the time then [in the venue]. I'm really excited about this because I love New York, and I like to play New York a lot. It's been a little while since I played here, so I'm very much looking forward to doing this."
Khan's unique sound extends beyond the traditional music he learned and mastered in India. He's also one to slip into different styles and genres, including classical, jazz and even flamenco. He's at home on stage by himself, but he's also comfortable with a full orchestra accompanying his ever pluck of the strings. The maestro has collaborated with the likes of John McLaughlin, Philip Glass, Paco Peña and Evelyn Glennie. He recently composed his first Bollywood film score, and a career highlight has to be when he offered music to Bernardo Bertolucci's Little Buddha in the 1990s.
"When one is playing in a certain way, things come out," Khan said. "They're very organically, very naturally, very spontaneously coming out at that moment when I'm playing whatever is needed. … The thing is that the classical ragas are hundreds of years old, and some of them are a couple thousand years old. What we do within those ragas, they are a system of notes. [I] play the melody, but you improvise upon that melody. And so there's the possibility that there is something else coming in my head, like a tune that is coming in my head while I'm playing the harmony of the raga, and I might play that tune within that melody."
Considering his family's history and his famous last name, it's no wonder that Khan is a sitar player. He inherited a long history of relatives who played the instrument. In fact, he said the sitar goes back to the 16th or 17th century in his family.
"So the sitar that you see today anywhere in the world that anybody is playing, it has been standardized in its form, in its size, in its presentation, in the way the pegs are, the number of strings, the measurement of the strings, what we play on it, it has been standardized by my great-grandfather; my grandfather; then my uncle, Vilayat Khan; then my father, Imrat Khan; and myself in my own humble way," he said. "So each generation gave something to the sitar."
He added: "I could barely sit at the time my father gave me my first sitar. I don't really know if I was playing anything else. Before I started talking, I was playing sitar. I did my first concert when I was 7 years old. I was a child prodigy, and this was for thousands of people in Calcutta. It was a concert that my father was playing, and then I was put on the stage to play. Basically, I played from that time, and I already  started making a name in India in my very early days. So when I was 12 years old, I was playing major music festivals in India."
From those early days to today, Khan continues to evolve his playing and be an improvisational master of his family's instrument.
By John Soltes / Publisher / John@HollywoodSoapbox.com
Ustad Nishat Khan will play Sunday, Oct. 8 at Merkin Concert Hall at Kaufman Music Center on West 67th Street in Manhattan. World Music Institute is presenting the show. Click here for more information and tickets.