REVIEW: 'The Tick' is the ticket to superhero comedy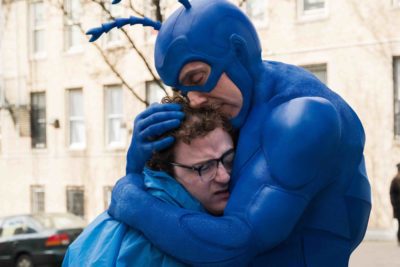 The Tick has gone through numerous incarnations. The comic superhero from creator Ben Edlund has been seen in print and two other television shows (one animated, the other live action), and now it's back with an all-new live-action version starring Peter Serafinowicz as the title character and Griffin Newman as his sidekick, Arthur.
The first set of six episodes on Amazon Prime Video is a wonderful display of inside-baseball humor about superheroes and genre conventions, but there's also a genuine heartfelt feel to the show that can be appreciated by fanboys, fangirls and newcomers. Serafinowicz and Newman are able to find the right chemistry for their dynamic duo, with the Tick being the more buffoonish of the two, while Arthur is practical, nervous and perpetually in over his head.
Their arch nemesis is the Terror (Jackie Earle Haley), whom the world believes is dead, but Arthur knows that the villain must still be alive. These characters have a history. The Terror is responsible for killing many of the heroes in the city, and while he was dispensing his evil ways, the Terror also killed Arthur's father right in front of the young child's eyes. This origin story feels lovingly ripped off Bruce Wayne and Batman.
Ever since the untimely death of his father, Arthur has been obsessed with finding the Terror and stopping him once and for all. The problem is that not everyone believes Arthur has all of his mental faculties. Rather than coming off as a crusading hero, Arthur is portrayed as mentally ill to his loving family, who worry that he is on the edge of a breakdown. His sister, played by Valorie Curry (memorable in TV's The Following), is always there to help Arthur, but she's also involved in her own obstacles. As a emergency responder, she secretly helps mob members with their wounds, but she's afraid this backdoor, unlicensed medical help will catch up to her professional ambitions.
The humor is never outrageous and laugh a minute, but that's not The Tick. Instead, most of the chuckles come from Serafinowciz's deadpan delivery of some memorable one-liners.
The character has a lot of question marks and mystery. He's a fish out of water who can't remember his own origin story. Is he an alien? Is he able to take off his blue suit? Why does holding on to his antennae seem to be the only way to stop him?
Serafinowicz, an alumnus of Shaun of the Dead, buys into the character wholesale, and it's this characterization that makes The Tick sweet and, dare I say, wholesome. He's so oblivious to how people perceive him that it's almost impossible not to love him. He's fierce with his superhero action, but there's a real heart underneath the blue suit.
Newman is also well cast in the series. He's a basket of nerves, someone who constantly readjusts his eyeglasses, doubts the Tick's helpful claims and yet can't break his obsession with finding the Terror. In many ways, even though the Tick receives top billing, the main arc of the series involves Arthur's story. Will he become heroic? Will he break from his shell and stop the Terror?
The Tick's first six episodes serve as an excellent superhero appetizer, and one hopes Amazon Prime Video sticks with the series through the full course.
By John Soltes / Publisher / John@HollywoodSoapbox.com
The Tick's first six episodes are now available on Amazon Prime Video. Click here for Hollywood Soapbox's interviews with Griffin Newman and Ben Edlund.