INTERVIEW: 1901 play climbs up the social ladder at Metropolitan Playhouse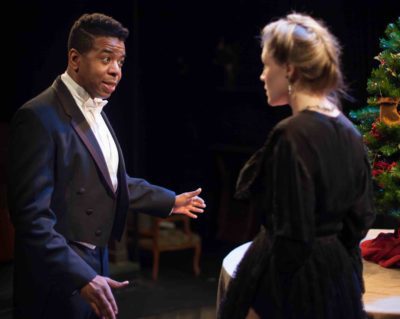 Metropolitan Playhouse alumnus Michael Hardart is sinking his teeth into a Clyde Fitch play that's more than a century old; however, for audience members of The Climbers, the themes may prove topical and relevant to 2017.
"It's really wonderful," Hardart said in a recent phone interview. "It's a beautiful show, wonderfully acted. It's got a lovely cast, and the whole thing — from the sets, the costumes and lights — are really pretty spectacular and lovely. It's a show from 1901; however, extraordinarily, maybe somewhat sadly, appropriate for our times about social climbers or people striving for the American dream and frequently coming up short and sometimes achieving that dream."
The Metropolitan Playhouse, located on the Lower East Side of Manhattan, will run The Climbers through Oct. 8. The cast includes Levi Adkins, Becca Ballenger, Erin Beirnard, Margaret Catov, Ian Eaton, Alexandria Ann, Marc LeVasseur, David Licht, Matt McAllister, Erin Leigh Schmoyer and Alyssa Simon.
Fitch's play depicts the Hunter family as they struggle to maintain their economic standing amidst changing times. It's Chekhovian in scope and O'Neillian in temperament. The Playhouse is no newcomer to Fitch's plays. Previously, the company produced The Truth, The House of Mirth and The City. In fact, The City was Hardart's debut on the Metropolitan Playhouse stage.
"I was acting in it way back when, 15 years ago or so, so was aware of his work, aware he was a wonderful playwright and in his day fantastically successful," Hardart said. "He wrote something like 62 plays. At one time, he had four plays on Broadway. At another time, he had five plays on Broadway, and he was sort of American theater in his day. Passed away early at the age of 44, and sort of when Eugene O'Neill came roaring into the scene, I think much of what Fitch did was lost to memory."
Hardart said he believes that Fitch's theatrical output bridges the gap between 19th-century melodrama and 20th-century realism. In The Climbers and other plays, there's a good deal of melodrama, heightened language and over-the-top circumstances; however, there's also real, three-dimensional characters.
"He starts out in a very fun, almost farcical tone at times, and you're expecting a certain kind of comedy that's going to end with lots of wonderful pairings of couples," the director said. "He takes it into a dark place to really examine what happens when you're desperately trying to keep up with the Joneses, and find that you can't or that you lost your moral compass, and then you're lost. So I think in that way his importance to American theater is really significant, and he's not very well known."
He added: "Working with Michael LeBron on the set, and [Sidney] Fortner on the costumes and Chris Weston on the lights, you know, each of them have brought in their unique and brilliant perspectives into it. And so, you know, that has been an evolution in its way, and, of course, the actors bring in their wonderful talents and ideas. And I try to let them own the characters as much as possible."
Concessions had to be made. The Climbers features a family that sometimes numbers more than 20 members, and one point, each of these characters is on stage at the same time.
"So had to be creative with some of the doubling and how the staging was going to go," Hardart said. "We came up with a concept. You're going to see actors move from one character to another, sometimes right there on stage in front of you, and decided that that was going to be our guiding light, that we're going to pull back the curtain a little bit on the production and let you see some of the strings that control the puppet in this play. You can see some of the live sound effects done on stage, and some of the costume changes that you get to see and some of how the theater magic works. Obviously, there will be some fun surprises for the audience as far as that's concerned."
By John Soltes / Publisher / John@HollywoodSoapbox.com
The Climbers is playing through Oct. 8 at the Metropolitan Playhouse on the Lower East Side of Manhattan. Click here for more information and tickets.