INTERVIEW: 'Gear Dogs' finds car restorers in 'The Doghouse'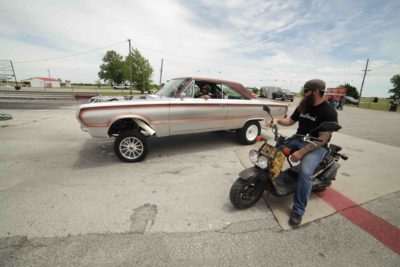 The new Discovery series Gear Dogs follows the motor-vehicle adventures of Nate Boyer, owner of Kultured Customs, as he maintains a unique community garage nicknamed The Doghouse. He invites car enthusiasts and hobbyists to use the garage's space to restore some of the coolest cars on the market: hot rods, Boyer's specialty. For use of the space, Boyer takes a cut of the final sale, so he has an incentive to help these hobbyists succeed.
A new episode of Gear Dogs is set to premiere Monday, Sept. 25 at 10 p.m. as part of Discovery's Motor Mondays lineup. Recently, Hollywood Soapbox spoke with Boyer about the series. Here's what he had to say …
On how the series came about …
"Well, really, I don't want to say it was all luck or being in the right place at the right time. I got a phone call from Coolfire Studios out of St. Louis. Honestly, I don't know how they came to contact me. I just know that they did contact me probably in 2015 maybe on a Wednesday or something like that, and we talked over the phone about the idea of doing a show for a couple of hours. And then they were out here the next week to start filming."
On having cameras record his every move …
"You know, it takes some getting used to. Fortunately for us, which may have been one of the reasons that Coolfire was intrigued, was that we had done another show a couple years before that, Chop Cut Rebuild on MAVTV, not near as in-depth of a show. We did 12 episodes where we built one car throughout all 12 episodes, so we've had some exposure to the cameras. I guess we understood the idea of taping an interview, doing an interview, having cameras around and how tedious it can be to work around them."
On how the community garage works …
"It's called a community garage because it really is all about community. We're not the first people to come up with the idea of renting out spaces in a garage. That existed for a long time. …
"What makes ours different is it's purely hot rod and restoration based, and it's connected to my professional hot rod shop. So you have the knowledge and know-how of all the guys down in Kultured that can kind of branch out and help out with the guys at The Doghouse. … You know, they all come from a car background. They all excel in different aspects of cars. Some guys work on engines. Some guys do interior. Other guys do bodywork and paint, and together all those people in the same facility, they can kind of trade out some of their skills and end up with a nicer car than they would be capable of building by themselves in a garage."
On the expertise he's able to provide …
"It's more about helping somebody get over the hump in their own project. You know, 95 percent of the projects that come into The Doghouse are projects that people just stalled out in their garage on. When it's in their garage, connected to their house, getting pulled away by family, it takes so long to unbury your car from your kids' bikes and toys that by the time you get it uncovered and get ready to work on it, it's time to put it away again.
"So I think, for me, it's the ability to help out others. I mean, the cool factor is definitely there, too. When you see a project that's something unique and different, I definitely take a liking to that. It definitely helps out in my motivation to want to bring it in and help out on it, but more or less, it's the same reason I love building cars down at Kultured. I get to see the customer's reaction when it's done. I get to hear their stories that they have with each car. There's a reason that somebody is building this car because they're sentimentally attached to it, and you get to hear those stories, and be a part of that car's history and be a part of a huge investment of these people."
On his history with cars …
"I started mowing my neighbor's yard probably when I was about 7, and I got paid $6 each time I mowed it. And my parents let me spend half of it and put the other half in the bank, and by the time I was 13, I had about $1,000 in my bank account and, for whatever reason, really, really, really wanted to have a cool car. Unfortunately, all I could find at that time, money burning a hole in my pocket, was a '59 Volkswagen Beetle. It ran. It drove, so I figured that was a great place to start — restored that in my driveway, helped out my neighbors, my parents. And then a local bodyshop got the car done when I was 16 — been doing it ever since."
On whether the car industry has changed since he was young …
"I think it's the same love. I'm not that old. I'm only 30 years old, so when I was 13, that was 17 years ago. So not a lot has changed. I think maybe my perspective on the car culture has changed a lot. You know, doing it in my garage, being just an average Joe working on it in my driveway with my parents and neighbors to build a car, in my head that a car could cost to build more than $10,000 was mind-blowing. How could people afford more than $10,000? Because when you're 13, that's a ton of money.
"As I've moved in my career path into Kultured Customs and building six-figure cars, you start to see how I've changed, now focusing more on building it to I guess the closest to perfection that's attainable, focusing on all the details. That's where I changed. Instead of building a $10,000 restoration in my driveway to building hundreds of thousand dollar cars as a professional."
By John Soltes / Publisher / John@HollywoodSoapbox.com
Gear Dogs continues Mondays at 10 p.m. on Discovery. Click here for more information.