INTERVIEW: Mary Barton's work to be celebrated by American Repertory Ballet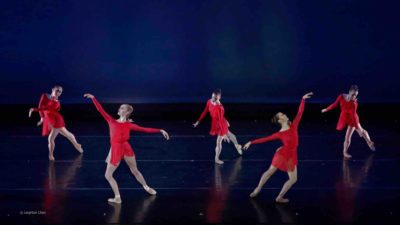 The first event of the season for American Repertory Ballet in New Jersey will be a celebration of the choreography of Mary Barton, an alumna of Joffrey Ballet and current faculty member at Rider University.
The Sept. 22 and 23 performances will showcase three of Barton's well-known works, including Scarlet Sonata, a challenging work for five women; Five Men and a Concerto, set to the melody of Antonio Lucio Vivaldi's Concerto for Oboe; and Straight Up With a Twist, set to the sounds of Kaila Flexer and Third Ear.
Barton has had an illustrious career. She received her dance training at The Washington School of Ballet, an institution where she also offered a solo in George Balanchine's Scotch Symphony and a principal role in Tom Paczik's Tzigane. She spent a great deal of time with Joffrey Ballet in New York City, and Robert Joffrey created the role of Clara in the world premiere of his new interpretation of The Nutcracker.
Recently, Hollywood Soapbox exchanged emails with Barton about the special showcase from American Repertory Ballet. Questions and answers have been slightly edited for style.
What can audiences expect at Woman of Dance: Celebrating the Work of Mary Barton?
My expectation for the audience is first and foremost that they will be entertained. I hope that they can see the music come to life through the bodies of the dancers. The evening has moments of whimsy, thoughtfulness and sheer technical bravado from the dancers. So basically there's humor, stuff that makes them think and sheer physical prowess. There are a lot of moods evoked due to the musical selections.
The three pieces performed during the program are quite varied, which is motivated by the three separate styles of music.
How challenging is Scarlet Sonata from the dancer's' perspective?
It's very challenging for the dancers.. There isn't a story involved, but they do need to create a mood. To perform the work, dancers need to have very clean technique, lots of stamina and strength. It's a technically  challenging piece, especially when the five women dance in precise unison. Some of the port de bras are not strictly classical; they have quirkiness to them. They have to take extra care to perform them in unison and with uniformity.
When choreographing Five Men and a Concerto, did Vivaldi's piece come in the early stages? Was the movement truly inspired by the music?
My choreography is always informed and inspired by the music. For me, it's always what the music is saying to me. I like to listen to the music over and over. I will then go into the studio and create movement from what I'm hearing.
Some  choreographers create fantastic, unique and interesting movement phrases, and then insert the phrases into the music. But I don't tend to create in this way.
The music truly did inspire the choreography for Five Men or as the cast calls it Five Guys. I really loved the adagio section, and that is why I initially picked the music. Then I was delighted to hear the other sections, which I felt had a very danceable, jubilant and heroic sound.
Straight Up With a Twist has become a signature piece for American Repertory Ballet. What is it about this piece that has fascinated audiences?
I think that Straight Up With a Twist is just plain fun — fun for the dancers and fun for the audience. There is nothing terribly serious about it. It's just a frolic. The music is an interesting blend  of klezmer and folk music — very quirky and fun on the ear. There is even a marimba in some sections. I believe the audience enjoys it because they get to see the dancers as carefree, frolicking people.They are not necessarily characters; it's just fun. I think it's a piece that people who are new to the ballet, or are not convinced they like ballet, will still be intrigued [by].
When did you know your professional life would be centered on dance? Did this dream come at a young age?
According to my mother, I announced at a very early age, before formal ballet lessons, that I was going to be a ballerina. I am forever grateful for the total support of my parents. They came to most of my performances, even the ones overseas.
When I started taking ballet classes seriously, I was about 10. I knew instantly and without question that I wanted to be a professional ballet dancer. From then on, I was on track to becoming a professional dancer. I went to Washington School for Ballet, and when I was old enough, I attended The Academy of Washington Ballet for seventh and eighth grade. The Academy closed after that to facilitate the  expansion of The Washington Ballet company.
I ended up doing a University of Nebraska correspondence course with a tutor because I was invited to take class with the Washington Ballet and was dancing all day long. Our school didn't do annual recitals. We performed The Nutcracker. I went up the ranks of Nutcracker roles every season. When New York City ballet, Joffrey, and ABT needed children or young adults dancers in their productions, I would audition and get the parts in performances at the Kennedy Center and Wolf Trap.
So, as a young person, I was privy to how professional ballet worked. Mary Day, founder and director of Washington Ballet, picked me to perform in several soloist and principal roles with the company, but I was not given a formal contract with the company due to my height in relation to the rest of the company. I am 5'2″-ish! I then traveled to Germany to Oldenburg State Ballet where I was engaged as a principal guest artist. I was there for six months as a principal guest artist. I was 18 years old. That is the early part of my professional career. I loved it all.
By John Soltes / Publisher / John@HollywoodSoapbox.com
Woman of Dance: Celebrating the Work of Mary Barton, a production of American Repertory Ballet, will play Sept. 22 and 23 at 7:30 p.m. at Rider University's Bart Luedeke Center Theater in Lawrenceville, New Jersey. Click here for more information and tickets.