INTERVIEW: Immersive dance event comes to NYU Skirball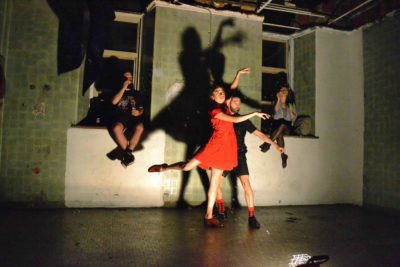 New York University's Skirball Center for the Performing Arts will host an immersive event Friday, Sept. 15 for fans of contemporary dance. Funny thing is the voluminous stage of the Skirball will be off-limits for the evening. Instead, AUNTS will be performed in the center's backstage area, dressing rooms, hallways and lobby.
The creators of AUNTS, which presents immersive dance events around the nation, are James Kidd and Rebecca Brooks. Today, the initiative is organized by Liliana Dirks-Goodman and Laurie Berg.
There have been more than 50 AUNTS events, all of them cherishing uniqueness and breaking boundaries of space, movement and collaboration. At the NYU event, audiences should expect to see performers Alexandra Tatarsky, Christine Elmo, Freedom Dabka Group, Imma, Jahmal B. Golden, Katrina Reid, Lime Rickey International, Nia Love, Jeremy Toussaint-Baptiste and DJ Br0nz3 G0d3ss, among others.
Recently, Hollywood Soapbox exchanged emails with Dirks-Goodman about the experience of AUNTS. Questions and answers have been slightly edited for style.
What can audience members expect at this year's AUNTS?
We have organized a group of 15 artists and artist groups throughout Skirball's spaces, including the backstage areas, dressing rooms, the lobby, and rehearsal spaces — everywhere but the theater! Some of the performances are short and happen a few times. Others take place over the entire duration of the event. Often one artist's work will overlap onto another, creating chance collaborations and surprise situations that may never happen again. [The] audience is invited to move through the Skirball and take in as many or as few of the performances as they wish. The bar will be open and after the performances. DJ Br0nz3 G0d3ss will play a set where everyone is invited to dance and let loose.
When you start looking for artists to join AUNTS, what qualities are you searching for?
We don't envision ourselves as curators but more as organizers of a temporary community. We look for artists and people who are interested in working with our model of experimentation — being outside of the (black) box and immersed in the audience. We take in artists who both ask to perform and those who we think might be able to use the time and space of AUNTS.  
When audience members leave AUNTS, what do you hope is in their mind? What do you hope is the takeaway?
We hope that the audience is able to see something that they might not have seen before and envision dance and performance in all the myriad ways that it can and does happen — where, when, how, who and why.
AUNTS was started as a space for artists to be together socially and, in making art, a place for a community of people. So we also hope that the audience can envision art-making as part of what brings us together and connects us in real time, and that they are able to make connections with those that they are sharing the space with. 
How long does it take to plan an AUNTS performance?
We have planned AUNTS events in two weeks and some within a year. It always depends on how intricate the idea and the community that we are working within. AUNTS at Skirball was planned in a few months with the help of Ali Rosa-Salas and Ash RT Yergens. We also are working within the community of artists in New York City, where we live and make art, and we all have tons of artists and people that we are always dying to get into a space with. 
Why is it important to have the event remain free?
In the early AUNTS events, [the] audience had to bring a contribution to the free bar or free boutique to be admitted. This barter system worked well for us in terms of offering accessibility but also creating a system of non-monetary exchange that the audience and artists could take part in and mutually benefit from. Everyone in the event was able to drink from the free bar and shop at the free boutique all night long and as organizers. We try to carry out this system as much as possible when working within institutions like Skirball. This often results in the event being free or some other type of exchange taking place.
How did you come to organize AUNTS?
Laurie and I (Liliana) inherited AUNTS in 2009 from James Kidd and Rebecca Brooks who started organizing events in 2005. We had both shown work in, and helped with a lot of events, and knew and loved the structure of AUNTS. When James Kidd moved to L.A., she asked us to take over AUNTS and do some events, and we've been doing it ever since.
By John Soltes / Publisher / John@HollywoodSoapbox.com
AUNTS will be performed Friday, Sept. 15 at the NYU Skirball Center for the Performing Arts in New York City. Tickets are free. Click here for more information.