INTERVIEW: Dan McCormick's 'The Violin' makes world premiere at 59E59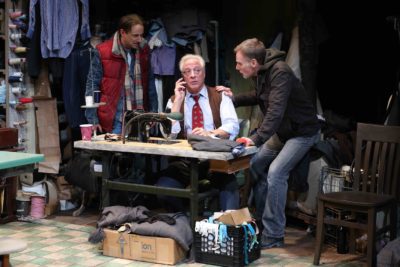 Playwright Dan McCormick, the writer behind The Morons and Homeless and How We Got That Way, has spun a tale of fate, friendship and happiness with his new play The Violin, which is currently playing its world-premiere engagement at 59E59 Theaters in Midtown Manhattan.
The production, which officially opens Sept. 19 and runs through Oct. 14, stars Broadway veterans Robert LuPone, Peter Bradbury and Kevin Isola. The plot deals with two brothers and a local tailor who find a priceless Stradivarius violin in the back of a taxi. What happens next provides the dramatic weight for the play, which is directed by Joseph Discher and produced by The Directors Company and ShadowCatcher Entertainment.
Recently, Hollywood Soapbox exchanged emails with McCormick about The Violin. Questions and answers have been slightly edited for style.
What inspired you to write The Violin?
I can't say it was any one thing in particular. I write every day, and when I'm tapping into characters and a possible story, it's just kind of this back and forth thing. And then suddenly something takes hold, and then I'm back again to when I first started breaking down plays at The Stella Adler Conservatory-West, the drama school where I studied in Los Angeles. Why do I as the playwright say this instead of that? Why does the character talk this way instead of that way, and on and on.
It's literally going back and forth with myself until the answer is solved. I suppose it's similar to when a math teacher gives the students the answer at the bottom of an equation, and it's up to them to try and figure out how the teacher got to the solution. And so what do they do? They go back and forth over and over again until they solve the problem. An old friend of mine told me once, when referring to looking through a camera lens to capture a scene, "What needs to be there?"  I think of that question very often.
What came to you first?  The premise or the three central characters?
I don't know actually. Circumstances and characters gradually start to reveal themselves, as I continue to peck away at the story. With each new line of dialogue comes a new question that needs to be resolved, and for me, often times I don't know what the story is about or who characters may be, until many pages into it. And then once I do, it's a bit of an 'Ah ha' moment where I say, 'So this [is] what it's about!' or 'So this is who this guys is! And from there, I have have to go back to the very beginning and do more revisions, so as to make what I just discovered make sense. If there is anything fun in writing, this would be it: discovery!
How has the show developed from the writing stage to what audiences will see at 59E59?
The actual writing of the first draft was perhaps only a few months at most. Now that said, The Violin has gone through countless revisions over many years that have shaped the story significantly. I had several table readings and staged readings, and with each stage of development, it made the play better and better. I then worked very closely with David Skinner of ShadowCatcher Entertainment, the co-producer of the play, who asked me to keep digging deeper into character and possibilities, again making it just that much better. And now with The Directors Company guidance, along with director Joe Discher and our cast Robert LuPone, Pete Bradbury and Kevin Isola, rehearsing it with such detailed passion and belief, the story is literally coming to life right before my eyes! And so when 59E59 audiences see it for the first time on stage, they will experience absolute truth; and that, I hope, is a very powerful and memorable evening of theatre.
How have rehearsals been going?  Are you actively involved?
Rehearsals for The Violin are going great! I've been able to work every day with our director and cast, diving together head first into the script, literally line by line, and talking about motivation, and reason, and want, and need and why. Again, it all goes back to my earlier training, yet all these years later, it's in a world premiere production with an exceptional Directors Company and ShadowCatcher Entertainment team around it! It's an incredible feeling! Especially a few weeks back, when our entire production team — must have been 20 people or so — were all in one room because of this three-character play called The Violin!
When did you first get interested in theater?
In college, I was always reading plays in the back of the classrooms, yet I can't really say why I was drawn to plays in particular. The only thing I can think of was that I always knew I wanted to be an actor, even though I had no real exposure to the theatre.
We were a very sports-driven family, so I didn't know how to go about pursuing theatre. I went to a university in Philly, and it was then that I started taking acting classes at The Walnut Street Theatre. After graduating college, I took a job at a local theatre in their marketing department, but when I was exposed to all of these professional actors doing new plays and classic plays, I just knew that I needed to be part of it on a much more dedicated level.
Long story short, I drove across the country to L.A., where I studied acting at The Stella Adler Academy-West, where  I was exposed to the great plays and playwrights of all time. When I moved to New York, I started to write. And so [for] nearly 20 years I have been writing plays, along with my continuing acting endeavors, that has also led me into writing screenplays, short stories, a novel and lyrics and music, with my two CDs, Edge of America Bound and Broadway Lights making the Grammy Award entry ballots.
As far as my latest projects, I am writing my first half-hour TV series called Stories From My Old Neighborhood, based on my life growing up in a time that doesn't exist anymore: big neighborhoods, big families, a lot of laughs, wild times, some poignant moments, too. I'm also about to start workshopping another play of mine called Hardware in the Actors Studio Playwrights and Directors Workshop, and I'm hoping to get back into the recording studio soon as well.
By John Soltes / Publisher / John@HollywoodSoapbox.com
The Violin, written by Dan McCormick, is currently playing 59E59 Theaters in Midtown Manhattan. Performances run through Oct. 14. Click here for more information and tickets.