INTERVIEW: 'Joshua Show' expands puppet fun to 'Episode 2'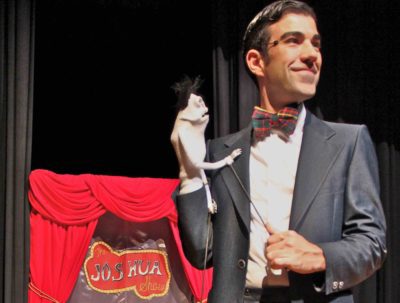 Few original ideas get the chance to see the light of day, and fewer find enough success that a second installment is produced. Count The Joshua Show, the brainchild of puppeteer Joshua Holden, one of those rare success stories.
His family-friendly play, The Joshua Show, won awards and toured the world, and now he's back off-Broadway with The Joshua Show: Episode 2, which officially opens Sunday, Sept. 10 at HERE in New York City.
The puppet play centers on friendship, confidence and the value of being oneself, all while the world and its barrage of news point people in the opposite direction. The Joshua Show: Episode 2 uses puppetry, songs and dance to tell a story that bucks the negative trends in society and instead focuses the audience's attention on positivity and overcoming of obstacles.
Holden wrote and stars in the piece, while Jessica Lazar directs. Jeb Colwell composed the music and performs as well.
Recently, Hollywood Soapbox spoke with Holden about the second part to his successful puppet creation. Here's what he had to say:
On what audience members can expect …
"It's a family puppet show with singing, and dancing and a really heartfelt and wholesome message of spreading kindness to everyone that you meet."
On the development of the original Joshua Show …
"So The Joshua Show began about five years ago as a 10-minute piece at a puppet slam in Chicago, and the show grew over the course of a year into a full-length piece that ended up winning Best Performance and was voted Fan Favorite at … the Puppeteers of America's National Festival. And so we've been touring that piece around the country and internationally for the past five years, and a year and a half ago, I started writing Episode 2 of The Joshua Show, which is what we're doing in September."
On the relevancy of the themes in The Joshua Show: Episode 2 …
"It's unfortunately very relevant to 2017 in that a year and a half ago I wrote it because I started feeling very disheartened about the world and my place in the world because I was waking up every day, and hearing about another person being murdered, and another terrorist attack, and another terrible thing that was happening in the world and our news. And I just started really losing confidence in my ability and my importance of being an artist. I just didn't know how that was going to affect anything, make any positive change in the face of all that we human beings were being given on a daily basis, so I just pulled myself together, and started writing these feelings into Episode 2 of The Joshua Show about the feelings of wanting to escape when the world feels really scary, and reminding myself and reminding others that in those moments you need to really find the power and the courage within yourself to stand up, and fight for joy and find joy in this world. … You just got to know that just by the simple act of being kind and the simple act of being joyful to other people, spreading joy to others, it has a ripple effect, and that is a very powerful thing that we can do and something that we can feel good about every night when we go to bed."
On the nostalgia built into The Joshua Show …
"There's a lot of homages to a lot of classic children's television in the show. It's very nostalgic in nature in a lot of ways and very original, too, but it's episodic in that you don't have to see every show to understand the next one. There's similar segments that happen. The second show's structure is similar to the first. The characters are similar. Some of the same characters come back for Episode 2, but it's a whole new story. And you get reintroduced to all the characters. No one is going to feel left out by any means."
On how he came to the world of puppets …
"I would say I didn't love puppets as a kid; I liked them. I loved performing. I loved dancing. I loved singing, and I loved acting. And so I pursued that all through my life. … I just remember wanting to be a performer, and I don't remember really what prompted that, maybe seeing a play or something. But I really have always been an actor my whole life, but about 13 years ago, 12 or 13 years ago, when I was in Chicago, I was really poor. And I was asked to audition for The Selfish Giant at the Chicago Children's Theatre. A man named Blair Thomas, who is an incredible puppeteer, was looking for an apprentice to help him build this show, and I wasn't turning down anything at that point. And I thought, OK, sure, I'll go help this man with this show, or I'll go audition for it at least. And I had this really strange audition where I had to animate some puppets, which I had never ever done or considered was even a thing that people did, and I got the job. And I thought, oh my gosh, well, I got a paycheck."
On his journey to Avenue Q …
"I thought it was just a really interesting way to express yourself, and that was it. And people kept hiring me and paying me more. It really was about the money at first, and then a transition happened. And I started really loving it, and I booked myself on the Broadway tour of Avenue Q. And I moved to New York, and, yeah, I think it really was when I made The Joshua Show that I really, really fell in love with it because that was the first time I had ever created something of my own. Before, I was a puppeteer working for other people. I was hired by puppeteers to bring their work to life. This was the first time that I've ever created something on my own. I built all the puppets. I wrote all the music. I wrote the story. I built the set, so it really is my own little baby here."
By John Soltes / Publisher / John@HollywoodSoapbox.com
The Joshua Show: Episode 2 is currently playing at HERE in New York City. Click here for more information and tickets.