INTERVIEW: Silent comedy 'Chalk' explores possibilities of imagination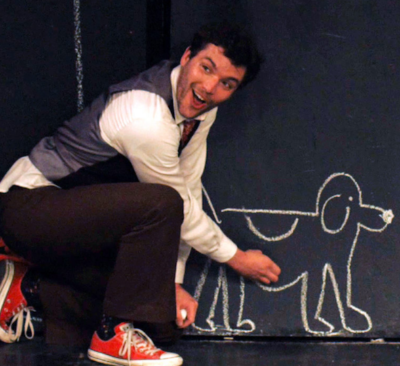 Alex Curtis, a writer and performer, has been working on his one-man show, Chalk, for a number of years, and it appears he'll be going strong with the theatrical journey for a few more years. Chalk is currently playing a monthly residency at the Kraine Theater on East 4th Street in New York City. The second Saturday of every month at 2:30 p.m., audiences can be delighted by this silent comedy and its playful homage to silent-film comedians.
Chalk is a combination of Charlie Chaplin and Harold and the Purple Crayon — a little bit of wonderment mixed with a tad of goofiness.
"The show is a nonverbal physical comedy, so it totally plays in the world of Charlie Chaplin and the great silent comedians," the performer said in a recent phone interview. "The world that we create though is very playful and child-like, and has a great thematic connection to things like Harold and the Purple Crayon or Shel Silverstein's The Missing Piece."
The theatrical presentation began as a final project for Curtis during graduate school at Brown University/Trinity Rep. "The last thing that you do there is you have to do your recital, which is 20-30 minutes," he said. "You can do anything you want, but you have to be alone on stage. And initially this project was conceived as something where people would do a series of monologues to show off their technical skills and the ways that they've grown as actors in their ability to do a pre-existing text. … But the Brown/Trinity program also has a playwrighting component, so over the years, people started to write their own pieces. And that was the [approach] that I ended up taking, feeling that this way I would have something to do when I moved to New York. If work wasn't coming to me, I was in a position to do my own work, which has been really successful as a model for me."
Curtis started with a rough outline for the show, and then he worked with professionals in playwrighting, physical theater and clowning. The first performances were met with positive responses, and then he was invited to present at the Providence Fringe Festival.
At this time in the development stage, the performer began soliciting feedback from the audience to improve the piece and also lengthen its running time. "So what would happen is I would do the show," he said. "Somebody would come up and say, 'That's so great. Have you thought of this?' And most of the time that would then make it into the show, so even though it's a one-man show, it really is the product of a whole bunch of people making little contributions over time."
Eventually, the show came to the Kraine Theater, where Curtis has been performing ever since. When the residency began, he started collaborating with director Caitlin Ryan O'Connell. The two worked together on the timing and flow of the piece, and ensured the play was appropriate for the Kraine Theater's specifications.
One would think that Curtis has been interested in clowning and physical comedy since he was a young child, but he actually came to the art form in 2005. He was an undergraduate student at the University of California, Berkeley, and signed up for a class that he thought centered on comic acting, but it actually covered commedia dell'arte, the famous Italian art form that is half-improvised and half-scripted.
That semester, he took in a performance and master class from Piccolo Teatro, an Italian company that is expert in commedia dell'arte. He called the experience of watching their Servant of Two Masters production "extraordinary."
"The moment that sticks out to me most clearly is there's a moment when Arlecchino … mimes a door around his heart that he pushes open, and his heart beats out of his chest," Curtis said. "That felt like … the Looney Tunes moment of seeing the girl, and your eyes bug out. The jaw drops to the floor, and the tongue unrolls. And so to see that level of play, and joy and energy on stage was really exciting, and that was the start of this."
He added: "Commedia is a form that's half-improvised and half-scripted. The performances all have an outline, but then the exact way that you get from A to B, the performers would make up on the spot. So I took an ensemble of actors. We had an outline, and then we improvised, and worked our way through it and built a show. And it was in preparing for that that I started delving into the silent comedians, just to keep building a palette of what are those jokes like, how do we set them up, how do you layer them, which Charlie Chaplin is so great at. And then clowning came to the forefront when I was in graduate school because I knew that I wanted to keep developing in this area, so I looked for MFA programs specifically that had a clowning faculty, and through that got exposed to a whole new generation, the contemporary clowns. And it's gone from there."
By John Soltes / Publisher / John@HollywoodSoapbox.com
Chalk continues its monthly residency at the Kraine Theater in New York City. Performances run on the second Saturday of the month at 2:30 p.m. Click here for more information and tickets.