INTERVIEW: Giddy up and get ready for Oak Ridge Boys concert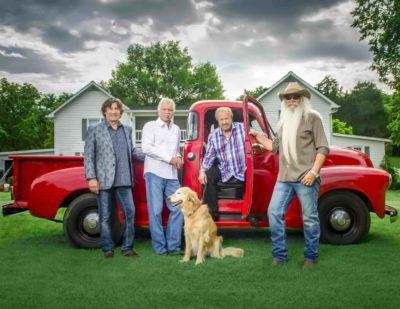 The Oak Ridge Boys, the legendary country band that has been inducted into the Country Music Hall of Fame, will bring their hit songs Friday, Sept. 8 to the State Theatre in Easton, Pennsylvania. Audience members can expect their many hits, including "Elvira," "American Made" and "Thank God for Kids."
The Oak Ridge Boys have been going strong for decades, and in a music business that sees many bands come and go, they have withstood the test of time and triumphed from year to year. In the band, there's lead singer Duane Allen, bass singer Richard Sterban, tenor Joe Bonsall and baritone William Lee Golden.
Sterban, recently talking with Hollywood Soapbox, said the concert will be a night of entertaining music with plenty of the good old hits. "We're looking forward to coming your way certainly," Sterban said in a recent phone interview. "What we're going to do is basically we're going to do our hit songs. We've been very fortunate over the course of our career to have a lot of hit records, 23 #1's I believe and about 50 chart records, so we're going to do a lot of the hits. We're going to do our signature song, which is 'Elvira,' of course. You can count on that."
He also promised a touching rendition of "Thank God for Kids," a song that promises to emotionally move the people in the audience. Beyond the hits, The Oak Ridge Boys will bring some of their gospel background to the State Theatre, in addition to some patriotic songs.
"There's something for every member of the family, from Grandma and Grandpa on down to young kids," he said. "We even encourage parents to bring their kids to see The Oak Ridge Boys, and like I say, we plan to have a great time. We've been doing this for a long, long time, and one of the reasons we've been able to experience longevity is because we love doing what we do. After all of these years, we still look forward to taking our music live on stage to our fans and to our audiences. That has not changed over the years. We're still having fun doing this, and we do not plan, even though we're not young kids any longer, as you probably know, we do not plan to retire anytime soon because this is what we love doing. We plan to have a good time basically."
The Oak Ridge Boys have been actively recording new music as well, and Sterban said the band tries to find a happy medium for their set list. They are interested in audience members leaving the concert thoroughly entertained, and that means the hits will dominate. However, the newer material offers the band members a chance to change it up as well.
"In recent years, we have actually gone into the recording studio and recorded new music, and new music puts new energy into us and then into our show," Sterban said. "We try to find a happy medium of not getting too carried away with the new stuff. We will include a few new things, like I said, because that really helps us and puts new energy into us, and, in turn, it makes The Oak Ridge Boys show better. But we still like to do those familiar songs as well."
Sterban joined The Oak Ridge Boys back in the early 1970s, but the decision to join the country music group wasn't an easy one. Sterban had been playing with J.D. Sumner and the Stamps Quartet. Plus, there was about a year and a half when he played with the King himself, Elvis Presley.
"Back then when I was singing with Elvis, I'm singing background harmonies basically," he said. "Elvis was the biggest star in the world. There's no question about it. His tour was the biggest tour in the music business, and it was very exciting to be a part of that. One day I got a phone call. It seemed like almost out of the clear blue, and the phone call was from William Lee Golden, who is the guy in our group with the long beard and the long hair. Back then, he didn't have the long beard, long hair. That's 45 years ago, but anyway, he called me up. And he said, the bass singer in their group was leaving. He's trying to get off the road. He wanted to know if I would be interested in the job, so I had to make a major decision."
Sterban enjoyed his time with Presley, but he was also swayed by the potential presented by The Oak Ridge Boys. He eventually made the difficult decision to leave the King and become a member of the Boys.
"A lot of people questioned my move," he said. "How could you leave singing with Elvis and join The Oak Ridge Boys? But I really believed I was doing the right thing, and I think time has proven that I made a pretty good decision right there because in the last 45 years so many great things have happened to me personally as well as all The Oak Ridge Boys. We've had a great, great career, and we've been very blessed. And so many good things have happened to us over the years."
Few people can say they have sang with such chart-topping acts as Elvis Presley and The Oak Ridge Boys, so Sterban put down some of his biography into a book, appropriately named From Elvis to Elvira: My Life on Stage. In the memoir, there's great stories about his career and also how Sterban became a bass singer in the first place.
"Believe it or not, I was a boy soprano," he said. "I was in church. I was in Sunday school, and I had a high voice. And as a young boy, I had a high voice up until I was in junior high school. In seventh grade, in junior high school, I was still singing tenor in what we called the Glee Club, and over the summer between my seventh-grade year and my eighth-grade year, my voice made a drastic change. And, boy, did it change. When I went back in the fall for my eighth-grade year, the choir teacher could not believe the difference in me. She ended up putting me in second bass section, and obviously I've been there ever since."
By John Soltes / Publisher / John@HollywoodSoapbox.com
The Oak Ridge Boys will play Friday, Sept. 8 at 7:30 p.m. at the State Theatre in Easton, Pennsylvania. Click here for more information and tickets.