ANALYSIS: 'Twin Peaks: The Return' — exactly what TV needed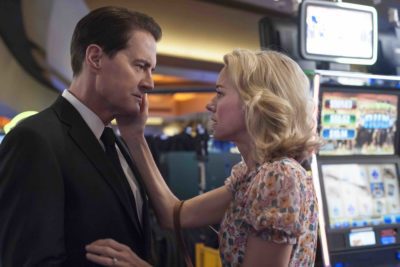 Twin Peaks: The Return, the triumphant continuation of David Lynch and Mark Frost's TV series from the 1990s, completed its 18-episode run last night, Sept. 3. What a summer it has been for Agent Dale Cooper (Kyle MacLachlan) and company.
If fans of the show thought the new series would be a retread of the past, they were wrong. If fans of the show thought the new series would disregard what came before, they were wrong. Instead, the third season of Twin Peaks proved to be wholly original and wonderfully complementary to not only the first two seasons of the series but also Twin Peaks: Fire Walk Me, the cult movie that came out after the original series was canceled.
It would be too easy to say that Twin Peaks came full circle with The Return. In Lynch's works, the idea of "circle" is debated and augmented. There are no straight lines, only curved ones that jump through vortexes and travel to different dimensions. Time and space are theories in Twin Peaks, and audience members soon learned that any type of storytelling was fair game over these 18 hours of television.
Spoiler alerts ahead!
The Return has many plot lines, many of them brand new and many of them fitting into the Twin Peaks canon. For most of the 18 episodes, MacLachlan plays two characters: one bad, long-haired version of Cooper (let's say Black Lodge Cooper) and one good version of Cooper (let's say White Lodge Cooper, or Dougie Jones). But that is too simple an explanation because White Lodge Cooper doesn't even know he is an FBI agent that has been missing for years. When audience members first see Dougie/White Lodge Cooper, he doesn't respond to people with anything but a repeat of the words that are said to him.
For example:
"Would you like some coffee?"
"Coffee," he would say.
It isn't until Dougie sticks a fork into an electrical outlet that he is able to regain his former memory. After this incident, he becomes what he was in the 1990s series, and there was probably no moment more thrilling than when MacLachlan was leaving a hospital and said, "I am the FBI." Audience members knew that Agent Dale was back in business.
In Twin Peaks, Washington, while the two Coopers are battling in their good/evil war, the usual cast of characters go on with their lives. Shelly (Mädchen Amick) is free of Leo (Eric Da Re) and still works at the RR Diner. Her last name is now Briggs, but she's been divorced from Bobby (Dana Ashbrook) for a while. Oh, by the way, bad boy Bobby has grown up to be a respectable deputy with the Twin Peaks Sheriff's Department. His deceased father, Major Briggs (Don S. Davis), would no doubt be proud of him (although, truth be told, it's difficult to accept this turnaround given the events of Twin Peaks: Fire Walk With Me).
Also at the diner is Norma (Peggy Lipton), who is still trying to find a way to marry Big Ed (Everett McGill). Hank (Chris Mulkey), Norma's ex-husband, is no longer an obstacle, but Nadine (Wendy Robie) still pulls Ed away. Thankfully for longtime fans, this love triangle is largely solved. Nadine, working off the advice of Dr. Jacoby (Russ Tamblyn), who has become backwoods conspiracy theorist, decides to use her golden shovel and reorder her life. That means she can let Ed leave her for good and let him enjoy what time he has left with Norma, whose diner has grown since the original series. She has a mini-franchise of RR restaurants, but she decides to sell her stake in the company and only keep the Twin Peaks spot.
Audrey Horne (Sherilyn Fenn) is now married to Charlie (Clark Middleton) but stuck in a difficult world, one where her son (Eamon Farren) is a murderous villain. Most of the series, Audrey fights over whether to leave the house and go to The Bang Bang Bar, and she constantly repeats character names that may or may not be real people in her life.
Benjamin Horne (Richard Beymer) still owns the Great Northern, and his brother (David Patrick Kelly) still has trouble with drugs and often leaves for long stretches of time. Add to the mix Beverly Paige (Ashley Judd), Benjamin's new assistant.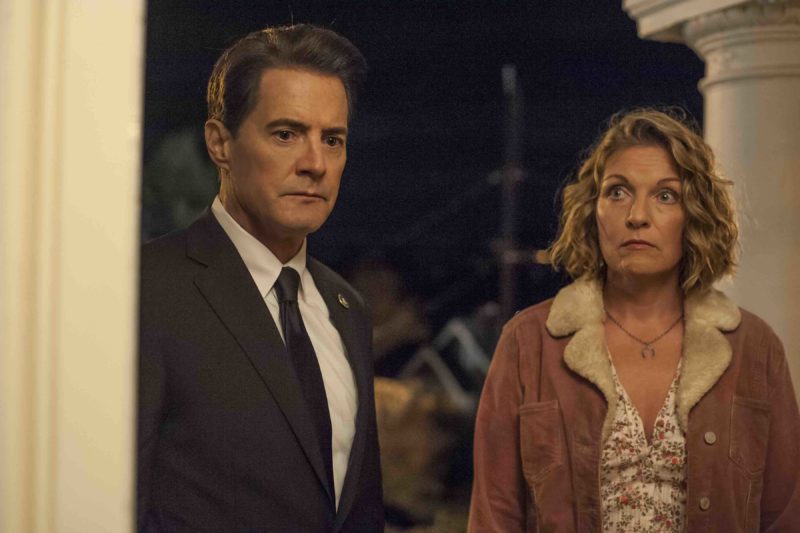 At the sheriff's department, Andy (Harry Goaz) is married to Lucy (Kimmy Robertson), and they have a Marlon Brando-ish son (Michael Cera, a scene-stealer). Hawk (Michael Horse, a personal favorite) is still around, but Sheriff Harry S. Truman (Michael Ontkean) is quite sick and does not appear in The Return. In his place is his brother, Sheriff Frank Truman (Robert Forster). There's also the corrupt Deputy Chad Broxford (John Pirruccello).
One should also call the Log Lady, Margaret Lanterman (Catherine E. Coulson), another deputy because she often calls Hawk and offers him some cryptic advice.
Laura Palmer (Sheryl Lee), the subject of the original series and Fire Walk With Me, is still dead. However, given that this is Twin Peaks and the world created by Lynch/Frost, not everything has to remain the same. By the end of The Return, it appears that time has changed, and Laura never died. However, there's also the strong possibility that Laura never existed in the first place. Audience members are left with a Laura doppelgänger from Odessa, Texas, who doesn't recognize her old house in Twin Peaks. It appears she's someone else, but right at the last moment, right before the credits roll on episode 18, she screams.
That's a scream that will stay with Twin Peaks enthusiasts for years. What does it exactly mean?
James Hurley (James Marhsall) comes back for a few episodes. He works security at the Great Northern and moonlights at the Bang Bag with a still intoxicating rendition of "Just You." Ray Wise returned as Leland Palmer, but only in the red-curtain Lodge scenes. His character is dead, after all. Grace Zabriskie returned as Sarah Palmer, still grieving and now struggling with alcohol. She also has the ability to pull off her face and offer a view into a dark world where mysterious characters ask "Gotta a light?" Phillip Gerard (Al Strobel), the one-armed man, occupies the red-curtained Lodge and offers advice to Cooper. The Fireman/giant (Carel Struycken) is back and seems to be the god-like figure in control of everything.
Sadly, Lara Flynn Boyle, Piper Laurie and Joan Chen did not return for The Return. A few other cast members have died in the intervening years, although David Bowie's Phillip Jeffries is seen in flashbacks (ditto for Laurie, Chen and Jack Nance's characters). Warren Frost's Dr. Will Hayward is seen during a Skype conversation; he's enjoying fishing and retirement.
On the FBI side, Lynch's Director Gordon Cole is back. There's also Miguel Ferrer's wise-cracking Albert and David Duchovny's Denise. The newcomer to the team is Chrysta Bell as Agent Tammy Preston.
In fact, there are numerous newcomers. Here are some of the most memorable:
Laura Dern as Diane Evans, longtime assistant to Cooper and now mysterious woman who chain smokes and says the "f" word a lot
Naomi Watts as Janey-E, Diane's half-sister and Dougie's wife
Pierce Gagnon as Sonny Jim, Janey-E and Dougie's son
Don Murray as Bushnell Mullins, owner of an insurance company in Las Vegas and Dougie's boss
Jane Adams as Constance Talbot, a forensic science expert and possible love interest for Albert
James Belushi as Bradley Mitchum, one half of the Mitchum Brothers, corrupt casino owners
Robert Knepper as Rodney Mitchum, the other half of the Mitchum Brothers
Patrick Fischler as Duncan Todd, a middle man between the White Lodge/Black Lodge Coopers
Jennifer Jason Leigh as Chantal Hutchens, a hitwoman for hire and wife to Gary
Tim Roth as Gary Hutchens, a hitman for hire and husband to Chantal
Tom Sizemore as Anthony Sinclair, a fellow insurance agent working for Bushnell
J.R. Starr as the MC of The Bang Bang Bar
Harry Dean Stanton as Carl Rodd, proprietor of the New Fat Trout trailer park
Amanda Seyfried as Rebecca Burnett, Shelly's daughter and occupant of a trailer at New Fat Trout
Caleb Landry Jones as Steven Burnett, Rebecca's husband
Matthew Lillard as William Hastings, a school principal caught up in a sordid homicide case that brings Cole and the team to South Dakota
Plus a host of bands that played The Bang Bang Bar, including Nine Inch Nails wth Trent Reznoer, Lissie and Pearl Jam's Eddie Vedder
Confused yet? For longtime fans, this cast of characters moves in and out of the narrative with ease. It was surprisingly simple to follow the many people in and around Twin Peaks, Washington. What was difficult was trying to read the hidden messages over the course of 18 episodes (and even more, if you count the original series and movie). However, that's the joy of Twin Peaks and Lynchian filmmaking. Some answers are provided. Some answers are hinted at. Some answers will confound for years.
A trip to Twin Peaks is a trip into the bizarre landscape of Americana. The series offers commentary on relationships, families, love, loss and longing. There's also odes to many genres, including soap operas, horror, sci-fi and romance.
It's a trip that not everyone enjoys, but for the dedicated fans, it's a trip filled with memory and meaning. If this is truly the end of Twin Peaks, then the audience has been gifted one of the best series of all time, and there's enough head scratching to keep the influence lingering for years.
By John Soltes / Publisher / John@HollywoodSoapbox.com