REVIEW: 'Facing Darkness' tells the medical story behind Ebola crisis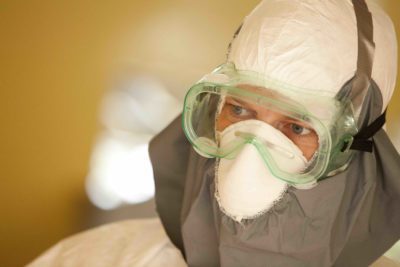 Facing Darkness, the new documentary from director Arthur Rasco, details the horrors that West Africa faced a couple of years ago during the Ebola pandemic. The countries of Liberia, Sierra Leone and Guinea were devastated, and the medical professionals on the front lines faced many dangers. This film offers an angle on the disaster unlike any other: through the eyes of the doctors and workers with the Samaritan's Purse organization.
The film pieces together the pandemic and its response through taped interviews with medical professionals, including Dr. Kent Brantly, a familiar face to any TV viewer during those hellish months. He not only sought to help the local communities; he also contracted the Ebola virus, which proves fatal in many circumstances. Thankfully, he survived but not without a tremendous struggle.
Once news of Brantly's diagnosis is shared in the film, the narrative switches to a more personal angle of how he and Nancy Writebol, another Samaritan's Purse worker who contracted the virus, fared with their medical recovery. This intimate look at first responders is not an angle that was captured in too many headlines, mostly because Brantly and Writebol were under such strict medical guidelines and unavailable to tell their stories. In this way, Facing Darkness is a welcome portrait of what it means to help another human being under extreme pressure and near-impossible circumstances.
One can critique the movie for focusing too much on Samaritan's Purse, an organization run by Franklin Graham, eldest son of Billy and Ruth Bell Graham. However, such an emphasis should be expected because the organization serves as executive producers of Facing Darkness. There's also no denying that these professionals risked their lives to help save other people, and their stories have real humanity, kindness and drama.
Facing Darkness might have been better served by taking a holistic approach to the Ebola pandemic, including a better focus on the local community, but the angle of the medical professionals who tried their hardest to help out is an important tale to tell.
By John Soltes / Publisher / John@HollywoodSoapbox.com
Facing Darkness (2017), directed by Arthur Rasco, is now available on DVD and Digital HD from Virgil Films. Running time: 93 minutes. Click here for more information. Rating: