INTERVIEW: McKenzie Westmore puts on her 'Game Face'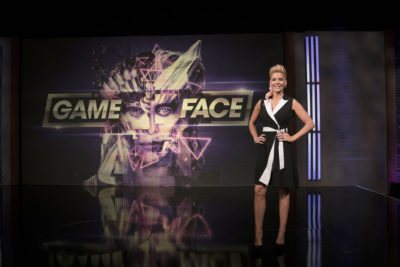 McKenzie Westmore has been at the center of the Hollywood makeup universe for years. For starters, her last name has a lot of pedigree. Her father, Michael Westmore, is the legendary makeup artist behind many Star Trek TV shows, and McKenzie followed suit as the host of Syfy's Face Off, a reality competition series that sees aspiring makeup artists battling one another for Hollywood gold.
McKenzie is about to broaden the family business a bit more. She's now hosting Face Off's new spinoff series, Game Face, set to premiere on the network Tuesday, Aug. 22 at 10 p.m.
"I am so pumped for Game Face, and don't get me wrong because I love Face Off," McKenzie said in a recent phone interview. "I've been doing it now for seven years and could do it for 70 more years and be thrilled. I think Game Face was the accompaniment show that needed to happen. It's almost like with Top Chef they have Chopped, so this is really the exact same direction. … Face Off on steroids is kind of what I've been saying. It's bigger, bolder. It's faster."
On the new show, each episode will find four contestants competing in quick-paced challenges. By the end of the episode, one will be crowned the winner.
"The fun thing is that these are all going to be familiar faces," she said. "These are all fan favorites, a lot of Face Off fan favorites, so it's going to be a very familiar feeling for a lot of the fans. But this new, different format is just so quick and so heart-pounding that it's riveting. I was working crazy long hours for this show, but even for me, normally I would go back to my dressing room [and] do my thing. But [for Game Face] I would sit backstage and watch because it was so riveting. It was just so incredible what they were whipping out in such a short amount of time, I mean, way shorter than what they have on Face Off."
One marked difference between Face Off and Game Face is the DIY element of the new show. The creations on Face Off are meticulous and intended for professionals, but the dazzling designs on Game Face can be achieved by viewers at home. It won't be easy, but because of the time constraints placed on the contestants, there's as much creativity as there is technical prowess.
"The show is perfect timing because I think that these are some things that people will get some great ideas for Halloween," McKenzie said. "They are actually doable."
When she was working on the set, the days would often stretch to 15, 16 or 17 hours. Even though the productions were long, McKenzie said they were worth it given the results. "It's just so fascinating to watch these contestants really be put through the ringer," she said. "In fact, some of them said that this was more difficult than Face Off. There were actually quite a few that said this was more difficult because it was so fast-paced. There was no time to breathe. It was like go, go, go, go."
McKenzie came to the Face Off franchise thanks to her father, who was being interviewed as a judge when the series was first being developed. At the time, he asked the executive producers whether they had a host for the program. They hadn't settled on any one person yet, so McKenzie's father recommended her for the job. As fate would have it, one of the executive producers, Dwight Smith, had written for the soap opera General Hospital. McKenzie had starred in Passions for years, and now a connection was made.
"[Smith] goes, 'Your daughter was on Passions,'" McKenzie remembered. "My dad goes, 'Yes, she's a soap actress, and she's an actress. However, she grew up in the lab. She was by my side. She helped me in the lab. She took classes. She was going to be an artist at one point.' … So I got called in then, and I interviewed about four different times before it was settled upon for me to be the host. So it was like chewing my nails down every other day. Do I have the job? Do I not? Do I have it? Do I not? I really wanted to do it so badly. It's such a perfect fit. It just made so much sense to me because this is something that I grew up around, and it's something that's in my blood. It's the family business, so I was really hoping to get it. And thank God I did."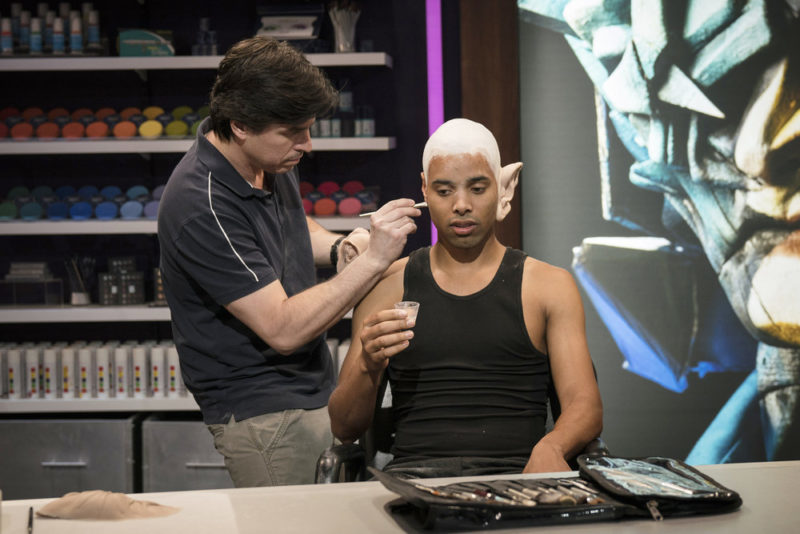 Since those early days seven years ago, Face Off has become a reality mainstay. Other shows have come and gone, but McKenzie's series continues to dominate on Syfy. And now with Game Face set to premiere, it appears the franchise shows no signs of stopping.
"I was amazed in the early days only because you never know," she said. "TV shows, viewers, all of it can be so fickle, and you don't know if people are going to take to something or not. I mean, I thought it was amazing. I loved it, but I didn't know if it was like a mother and her child. You think everything is amazing, so I didn't know if I was looking at it through a different set of eyes. But I remember in the early days just thinking, oh, please God, I hope this takes off. I hope fans really react to it, and when I saw how the fans were reacting, I was so proud of it. I was so excited, but to be honest with you, it still amazes to this day the reaction only because it's exciting to see in a world where CGI has taken over so much, you see so many people now gravitate to the practical."
McKenzie referenced Patton Oswalt's recent Facebook post about his love for the reality series. She was impressed by his words and believes the success of the series comes down to imagination.
"Patton Oswalt had written an unbelievable speech basically about why you should watch Face Off, and watching it with his children has taught them that there is a world out there of kindness, of helping each other, and also follow your dreams, think big, imagine," she said. "It was really beautifully put how he worded it because it was exactly what Face Off is about. It is about imagination, and it's really the crux and the foundation of Syfy. It's taking these people that have a dream and using their imagination to make those dreams come true."
By John Soltes / Publisher / John@HollywoodSoapbox.com
Game Face will premiere Tuesday, Aug. 22 at 10 p.m. on Syfy. Click here for more information.