INTERVIEW: Jody Lambert puts comedic spin on 'War of the Worlds' broadcast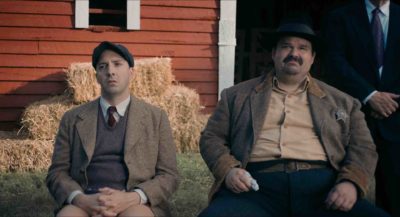 The new comedy Brave New Jersey travels back in time to 1938 when Orson Welles released his legendary radio broadcast called War of the Worlds. The fake news of that generation centered on an alien attack in New Jersey, and for those listeners who didn't receive the message that the broadcast was a work of fiction, pandemonium ensued.
The new movie, which is now in theaters and on VOD, stars Veep's Tony Hale, True Blood's Anna Camp, Sam Jaeger, Heather Burns, Dan Bakkedahl, Raymond J. Barry, Erika Alexander and Mel Rodriguez. Jody Lambert directed the comedy and co-wrote with Mike Dowling.
Recently, Hollywood Soapbox exchanged emails with Lambert. Questions and answers have been slightly edited for style.
What inspired you and Mike Dowling to tell this story? Were you very familiar with the infamous broadcast?
Mike and I thought it would be fun to use the War of the Worlds broadcast as our way in to a story about a bunch of characters who all think they have one night to live. The legend of the panic the broadcast created and the reactions of people who think Martians are coming to kill them seemed like a really fun movie to us. We knew about the broadcast but were surprised at how scary and well-produced it still is. It's terrifying. People fell for it because it sounded real, not because they were a bunch of gullible yokels.
What is it a particularly difficult production? How did the shooting schedule go?
It was a tough shoot. Twenty-five shoot days, three weeks of night shoots, a period piece, with kids and special effects and bad weather in the middle of Tennessee. Fortunately, we had a group very talented and focused artists on both sides of the camera. As hard as it was at times, the cast and crew made it fun, and we powered through the difficult moments together.
What do you think this story says about our society in 2017?
Certainly there's a bit of 'fake news' happening in the movie; the War of the Worlds broadcast was a fascinating collision of entertainment and journalism. But we were more interested in the human side of the story, how people react and behave when they think they're going to die and what happens when they find out none of it was true. It's a universal story in that way. I think we've all wondered how we'd deal with the end of our lives if we knew it was right around the corner.
What was it like working with this ensemble?
I can't say enough good things about these actors. From our lead, Tony Hale, to the day-players who had one line, everyone was collaborative and in synch with each other and the movie we were trying to make. There were no egos, no tantrums, just soulful, hilarious performers who came to work every day ready to rock.
When did you know a life in movies and TV was a life for you?
I grew up in Los Angeles. My dad was a very prolific songwriter/producer, and my mom loved movies. So it was a natural step for me to gravitate toward film and TV. I started as a kid actor; thank God I wasn't a very successful one, but I worked enough to know that I really enjoyed being a part of that world and that I'd keep doing it as long as I could.
By John Soltes / Publisher / John@HollywoodSoapbox.com
Brave New Jersey is now playing in theaters and on VOD. Click here for more information.