INTERVIEW: Peter Porte finds 'Love at the Shore' on Hallmark Channel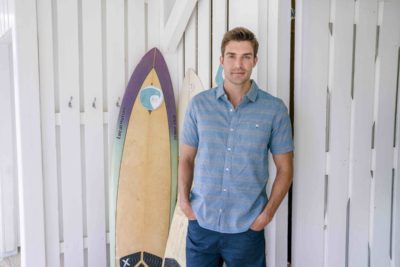 Hallmark Channel is set to premiere Love at the Shore Saturday, Aug. 5 at 9 p.m. The TV movie stars Amanda Righetti as author Jenny Thompson and her stubborn and unconventional neighbor, a surfer named Lucas McKinnon (played by Peter Porte). Their budding relationship, which has a rocky start, might just prove that opposites attract.
Porte, a graduate of New York University's Tisch School of the Arts, has been seen on Broadway in Mamma Mia! and on TV screens in Cold Case, CSI: Miami, Baby Daddy, The Young and the Restless and Devious Maids. Never too far from a theatrical stage or a TV shoot, Porte has built a career of projects that have energized him creatively.
Recently, Hollywood Soapbox spoke with Porte about the new TV movie. Here's what he had to say:
On why he signed up for Love at the Shore …
"I had done a couple other TV movies in the last year, and I think perhaps it sparked a little interest with the people over at Hallmark. And I've always wanted to work with them, and I think they found a project that fit me. And the timing was right, and they gave me a call. And the rest is history."
On the relationship between Lucas and Jenny …
"Well, the story is very much a classic love story about this guy and first impressions, and so if I were to describe him, he's a young entrepreneur who is motivated but enjoys having a lot of fun. The way that my co-star, Amanda, would see it is that he is direction-less, cocky, arrogant, lazy, all of the above in that archetype.
On working with Righetti …
"Yeah, we had a great working relationship. She's amazing and incredibly professional. These 15-day shoot movies are very intense and this one particularly because I've done other ones where, you know, if it's a horror or if it's a family drama, they often take place within the confines of a house and if you're lucky a living room. You know, so there's not much that you have worry about as far as … outlying factors. …
"For instance, we were shooting at a pool in direct sunlight. We were shooting on a beach. We were surfing. We were playing volleyball with a crane. There were so many other different entities that were at work that I think our relationship had to be really solid right out of the gate, and to create that kind of chemistry was very easy with her."
On enjoying the beach during his off hours …
"There were times where I wasn't in a scene or Amanda wasn't in a scene, which is very rare because she was in nearly every scene, but I got to walk out to the beach, and watch them windsurfing, and sailing kites, and walking along the sand, and watching the tide come in and out. It's really a beautiful place."
On how Lucas is similar to him as a person …
"This character was pretty close to who I am as a human being, so it was easier to tap into. And I also love these kind of movies, these feel-good, family, heart-warming love stories. Like who doesn't love those. So it's fun to do, but my favorite is to play a character that is not as close to who I am as a person."
On how he entered the world of acting …
"I started doing theater in high school and then college. I studied at Tisch at NYU, and then I went to the Royal Academy of Dramatic Art and studied the classics and [William] Shakespeare, and did a bit of that outside of school. And then my first big professional job was Broadway, Mamma Mia!, and from that I came out to Los Angeles and did quite a bit of theater out here while I was also pursuing film and TV."
On jumping from one project to another …
"It can be feast or famine, and when you have the opportunity to do something, it's always a blessing. I've been lucky that the projects I got to work on, especially this year, have been really diverse and interesting, but, yeah, I hope that I can always have some kind of projects lined up, although the 10 years I've been doing it's rarely the case. You go from one, you sit, you wait, you're patient, you try to bide your time taking class and other things that interest you, and then knock on wood. Luckily something has come up without too much time between."
On whether he would do another Hallmark movie …
"Hallmark takes such good care of us. They're really hands on. They had their producers come out to Georgia to visit with us to see how we were doing. Their whole crew that they had assembled was fantastic. The cast was amazing. They do a great job of making it feel like a family, so if they were to call, of course I would. I'd love to do a holiday movie with them, something in the snow."
By John Soltes / Publisher / John@HollywoodSoapbox.com
Love at the Shore premieres Saturday, Aug. 5 at 9 p.m. on the Hallmark Channel. Click here for more information.