INTERVIEW: Marty Raney is ready to work on new season of 'Homestead Rescue'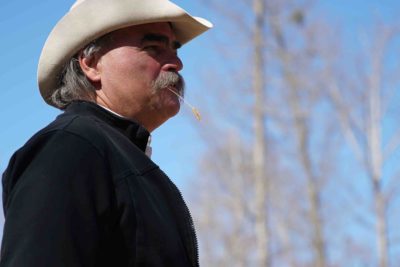 Homestead Rescue follows the Raney family from Alaska as they travel throughout North America helping other families with their homesteading problems. They are determined to make connections with these fellow off-the-grid pioneers and ease their transition from the hubbub of the United States to the serenity of subsistence living.
The challenges along the way for Marty Raney, the paterfamilias, and his children are immense. Oftentimes the obstacles are physical in nature and require a great deal of sweat and strain. Other times, the obstacles are more emotional and even mental as the Raneys try to prepare these families for this new mode of living.
The new season of the Discovery series returns Wednesday, June 14 at 10 p.m.
"What you can expect is seeing a real bona-fide, authentic Alaskan family leave Alaska and travel around North America, including Canada … and help people seeking to live simply and desiring to live off grid," Marty Raney said recently in a phone interview. "Those people are also as real as we are, so it's not pre-scripted. I've never talked to the people before in my life until the viewers watch me walk down their respective driveways. I've never had one word of contact, no social media. I don't have a clue really what I'm stepping into, and that is every episode. So if people want reality as it's meant to be, and if they're looking for authenticity, look no further than Homestead Rescue because I have raised the bar high in this medium, and I strive to keep it higher every day, meaning authentic."
Marty, a craftsman and survival expert, spoke with Hollywood Soapbox as he was working on a homestead in Missouri for the upcoming season. When the Raney team showed up on the property, the family had a simple cabin in the woods — and not much else. One of the great challenges of this particular adventure involves the trees around the cabin. Some of the oak trees measure 40 inches, and it's a hefty job to bring them down without incident or physical injury.
"That's dangerous, real dangerous to clear that kind of land from scratch," Marty said. "The danger is extremely real, and people will never know the risks that really are happening here. I mean, I moved 44,000 pounds of concrete … off of a truck yesterday. … It's everyday a constant challenge to figure something out without a lot of resources and manpower to do it, and it's one of the reasons I did the show because in my everyday real life in Alaska, that's what I've done for over 43 years is scratch out a living the best way that I could."
The reason for Marty's insistence on subsistence has to do with the preciousness (and relatively shortness) of life and the daily slog that so many workers have to endure on a regular basis.
"Have you looked around America lately?" he asked. "I looked at my life here really hard in the last two years personally, and I think about what's real. And I think about what isn't real. I think about what has true value in the short lives we are granted, and I think about things that are ostentatious, things that lack substance, things that fall under what people call the American dream. And for a lot of us, it doesn't bring happiness. It's, in a sense, a trap of credit, of a stressful job, of a lengthy commute through rush-hour traffic, and a lot of people don't find that satisfying. A lot of people are unhappy. A lot of people in that system have had experiences, traumatic experiences, which we'll discover on specific episodes as to why they went off grid. Most important of all, who wouldn't want to live simply? Who wouldn't want to live freely, and who wouldn't want to live less stressful and self-sufficient, quite frankly?"
His endorsement of living off the grid doesn't necessarily mean every person is cut out for such an existence. It's not an easy task to unplug from the daily trappings of life. Marty called it "hard" and requiring constant "sweat equity."
"Go feel the main breaker on the house or the building that you're at, and then try to use the restroom, which now won't work because we're going to shut off the water as well," he said. "Then go to the fridge and empty it out because all of that stuff was purchased at the store, and then see how long you last. And that's kind of what these people are facing. They do rush into it; that's fine. I've done the same thing. I would say a significant number of people who move off grid or homestead didn't count the cost financially and maybe even more importantly the sweat equity that is demanded of that lifestyle to succeed. … I admire anyone that does it, and I'll help most that ask me to come assist them in succeeding."
The human factor of homesteading was not something that Marty thought would affect him. It's certainly not the reason he signed up for Homestead Rescue, but it is the reason he continues with new episodes and new adventures.
"This show has blindsided me with something I didn't foresee, and that is the human factor, which is the most important factor," he said. "I didn't agree to do the show for that reason, and now it has become an integral part of why I do it. And I've become emotionally impacted by these people that were once strangers, and within 10 days, I find myself working really hard trying to help them on many levels."
By John Soltes / Publisher / John@HollywoodSoapbox.com
Homestead Rescue returns to Discovery Channel Wednesday, June 14 at 10 p.m. Click here for more information.