INTERVIEW: Celebrate Patsy's, Frank Sinatra, Dean Martin at NJ gala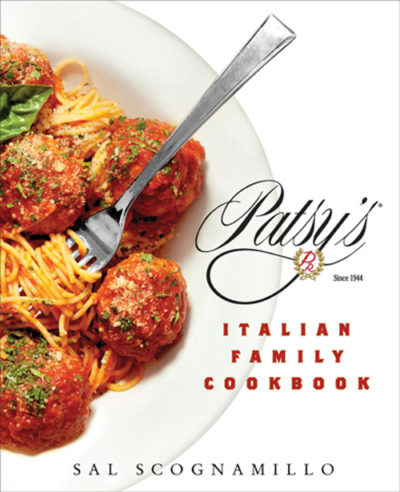 Patsy's Italian Restaurant on West 56th Street in Manhattan is a legendary place for food and celebrity spotting. The famed establishment will be honored Saturday, April 29 at a special gala at the Ciccone Theatre on the campus of Bergen Community College in Paramus, New Jersey. Providing entertainment for the night will be a host of special guests, some of whom have a direct connection to the days when Patsy's hosted the likes of Frank Sinatra and Dean Martin.
On the bill are Deana Martin, daughter of Dean Martin, and America's Got Talent breakout star Sal Valentinetti. Those in attendance will also be able to hear from Sal Scognamillo, the chef and proprietor of Patsy's. To sweeten the deal — literally — audience members will have a chance to taste Patsy's fine Italian cuisine during a pre-performance reception. On the way home, fans can also pick up an autographed copy of Scognamillo's cookbook, Patsy's: Italian Family Cookbook.
Patsy's (If These Walls Could Sing) is the brainchild of producer Peter LeDonne, director of community and cultural affairs at Bergen Community College, who actually worked in advertising for Sinatra back in the days when the singer would frequent the westside Italian restaurant. For him, this is a special night.
Recently, Hollywood Soapbox spoke with LeDonne about what fans can expect at the special gala. Here's a sample of what he had to say:
On the impetus for presenting Patsy's (If These Walls Could Sing) …
"Well, they can expect a cornucopia of food and entertainment. It's, as you know, a tribute to not only Frank Sinatra and Dean Martin but the famous Patsy's Italian Restaurant in New York City on 56th Street where both Sinatra and Dean Martin and Sammy Davis Jr. and all of those guys known as the Rat Pack used to hang out, especially Sinatra because, in the days when I handled Sinatra's advertising, whenever I got a call that there was a meeting, that meant I went to Patsy's."
On his memories of working for Sinatra …
"It was, of course, a stunning experience when I was a young advertising guy to be working with Frank Sinatra, and it was a relationship that continued. He was most kind to me over the years and was just a terrific not only client but human being. And the event at the Ciccone Theatre on April 29 is going to have not only a pre- and post-show reception with plenty of signature Patsy's dishes, but we're going to have some folks there that are going to share Sinatra stories and performances by not only Dean Martin's daughter, Deana Martin, but this young man who is kind of following in the footsteps of those crooners, Sal Valentinetti, who was the runner-up and the young man that go so much attention on America's Got Talent."
On how the evening came together …
"I know the Scognamillo family, the owners of Patsy's, very, very well because of its show business history and because of the Sinatra connection, so I called Sal, who is now the third-generation chef at Patsy's and said, 'Let's do something special.' … This year I think is the 100th anniversary of [the birth of] Dean Martin, and there's always good reason to celebrate Sinatra. So we started putting the event together. I reached out to Deana Martin. She was delighted to come perform. She too is a big fan of Patsy's restaurant."
On the legendary nature of Patsy's …
"You never know when you walk into Patsy's who you're going to see. It's literally a crapshoot. You walk in, and it may be George Clooney and his wife sitting there having dinner or Tony Bennett, Michael Buble, Tony Danza. It goes on and on and on, so Patsy's is kind of a connection to show business. It's one of the few places, like Sardi's in New York, that is known for its show business hook."
On the satisfaction of producing such an evening …
"At this stage of my life and career, what I get out of nights like this and any event that I'm lucky enough to present at the theater is tremendous satisfaction and pleasure. … It's quite a remarkable theater on the campus of Bergen Community College, and people discover it all the time. And participating in that discovery is most rewarding."
By John Soltes / Publisher / John@HollywoodSoapbox.com
Patsy's (If These Walls Could Sing) will be presented Saturday, April 29 at the Ciccone Theatre on the campus of Bergen Community College in Paramus, New Jersey. Click here for more information and tickets.