INTERVIEW: Chain Theatre revives David Rabe's 'In the Boom Boom Room' for 2017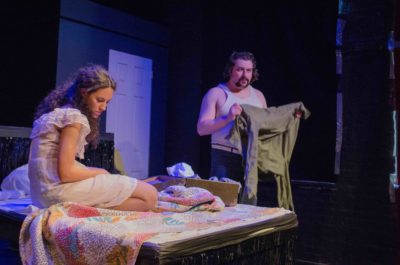 Chain Theatre is currently reviving In the Boom Boom Room, David Rabe's 1970s play about a young woman with aspirations to become a professional dancer. Performances at the American Theatre of Actors run through May 6.
In the production, which has been approved by Rabe, Chrissy (Nina Kassa) finds herself in Philadelphia's The Boom Boom Room trying to navigate a living nightmare of sex, betrayal and seduction. Her goal is to become a professional dancer, but so many people and situations stand in her way. The show premiered at Villanova University with Pete Mattaliano in the cast, and the actor is featured in this 2017 update, which is directed by Greg Cicchino. The play eventually transitioned to a Broadway production thanks to Joseph Papp and the Public Theater. That version starred Robert Loggia, Charles Durning and Madeline Kahn.
Kirk Gostkowski plays Al in the play, and he also serves as artistic director of Chain Theatre. The experience of working on In the Boom Boom Room has been a special one for Gostkowski, especially because Rabe has been involved in the rehearsal process and approved of changes to the play.
Recently, Hollywood Soapbox spoke with Gostkowski about the production. Here's a sample of what he had to say …
On his inspiration for reviving In the Boom Boom Room …
"Well, we had done Hurlyburly in 2014, and David Rabe is one of my favorite playwrights. So going through the catalog of his work, this play has always been really, really interesting to me, and I think producing it right now in the political climate and the world climate, I think it was a good time to take a look at it again."
On the challenges of the piece …
"I was re-reading it again because I hadn't read it in quite a while actually. I had only read the three-act version at that point, and that's the version that they did at the Public Theater when it debuted there. But now when you get the rights to the show, you get the two-act version, which is the one that he workshopped at Villanova before it went to the Public, so it's a little bit different. It's shorter actually, and the roles are a little different. But when I started reading it, I saw that Al is something I could do. It's a bit of a challenge not because of the length of the role — as usually these kinds of things that we do, I tend to pick these big, large roles — but just the way that he thinks. It's difficult because it's very opposite to the way I feel and think as a person, and I thought it would be a challenge in that way."
On working with this ensemble …
"I'm very happy to be working with people that I've worked with many times before for the most part. These are all people that we've done multiple shows with, the bulk of them, and I really kind of dig the ensemble being this tight group of people. … I'm very proud of the people that I work with, and there's a lot of talent amongst the cast."
On the importance of the production …
"Because of the concept that we're going with with the show, that we're changing the race of the main character, we felt it was necessary to get [Rabe's] approval and make sure that it wasn't going to change anything in his mind or that he would have any concerns about it. It made sense particularly to reach out, not that we hadn't reached out in the past. … So I made the reach out. I explained that we wanted to try this new concept with the piece, that Chrissy would be biracial. She's going to have a white father and black mother in this version, and he called me and said he was very intrigued. We had a long conversation, and now he's involved in the rehearsal process, which is just so exciting."
By John Soltes / Publisher / John@HollywoodSoapbox.com
In the Boom Boom Room from Chain Theatre is currently playing the American Theatre of Actors Sargent Theatre at 314 W. 54th St. in New York City. Click here for more information and tickets.