INTERVIEW: With new documentary, songwriter Bert Berns is not forgotten anymore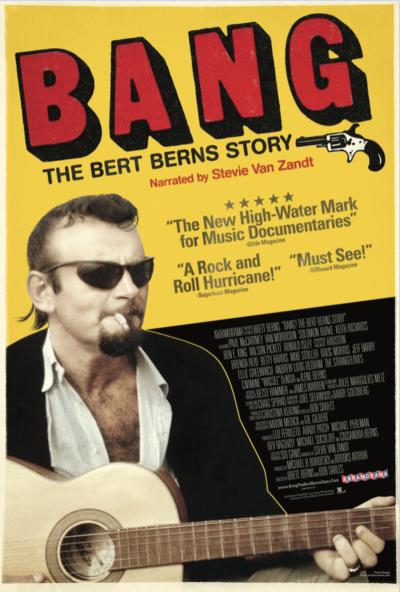 The songs "Twist and Shout," "Hang on Sloopy," "Here Comes the Night" and "Piece of My Heart" were made famous by a variety of bands, but the tunes have one thing in common: They were touched by the genius of songwriter and record producer Bert Berns.
To the unbeknownst, Berns is a forgotten name, someone relegated to an historical footnote, even though his rock 'n' roll contributions were immense. To change that perception and knowledge, Berns' son, Brett Berns, has crafted a full-media campaign to have his father's story told once again. There is a book called Here Comes the Night: The Dark Soul of Bert Berns and the Dirty Business of Rhythm and Blues by Joel Selvin and a musical, Piece of My Heart: The Bert Berns Story. Now Brett and his co-director, Bob Sarles, are ready to tell the story in cinematic form.
Bang! The Bert Berns Story recently premiered at New York City's IFC Center after an engagement at last year's SXSW Film Festival. Other cities and dates are on the horizon, including May 5-11 at North Hollywood's Laemmle Noho.
The documentary features interviews with Ronald Isley, Ben E. King, Solomon Burke, Van Morrison, Keith Richards and Paul McCartney. The E Street Band's Stevie Van Zandt provides narration.
Recently, Hollywood Soapbox spoke with Brett Berns and Sarles about their new project. Here's a sample of what they had to say:
On his motivation for telling his father's story …
Brett Berns: "I was 2-and-a-half years old when my father died in 1967, and he just disappeared from the history books. The sands of time buried his legacy. It was also very political, and so I set out to tell this story once I realized it was really down to me to do it because nobody else was going to recognize this extraordinary story and this body of work that my father left behind. So we just set out to tell the story in every medium. We had a book and a Broadway musical and now this documentary, which is really one of the greatest achievements we could have hoped for."
On how Sarles became attached to the documentary …
Sarles: "Well, Joel Selvin, who wrote the biography, is an old friend of mine. I live in two cities. I live in San Francisco, but I'm also in L.A. about a third to a half of the time. I base my living primarily as a film and television editor, and Joel was doing a book signing and a reading of this latest book when I was in L.A.. And I went to go see it, and during that afternoon, I was introduced to Brett Berns, who told me that he was making a film about his dad. And I mentioned to him, 'Well, my wife and I have a little company, and we produce a lot of music content. So if you ever need any help, don't lose my number.' …
"Selvin had been talking me up for years and that I was totally on his radar. So I didn't realize that I was being set up on a blind date that day, and about six months later, Brett hired me initially as an editor on the project. But then our contributions to the project were such that he decided that it was the right thing to do to share credit as a director with me, which just proves what a mensch that Brett Berns is to share that credit with me."
On his father's unbelievably productive output …
Brett Berns: "All these songs that people have grown up listening to and have been involved in weddings and bar mitzvahs and moments of their life, these songs have a common thread in that they were all either written or produced by Bert Berns, and so it is a journey of discovery for every person who sees the film or reads the book that this great record man left this extraordinary legacy that even people in his own lifetime didn't really know his depth of his contributions. So I think when you see the totality in the 90 minutes of this film, people are really struck that this was one of the greatest record men and songwriters and producers of American history."
On the challenges of making the documentary …
Sarles: "Well, there were a couple challenges. The biggest challenge was there was no footage of Bert Berns. To do a feature-length documentary about somebody that all you have is photographs, and then we did have about a minute or two of talkback during a recording session that he had done with Betty Harris in the early '60s. So we had a little bit of his voice, but to try to make him come alive and feel as if he were a three-dimensional person that the audience got to know, without actually having any moving footage of him, I'd say that was the biggest challenge.
"The second challenge was that I came in after about 90 percent of the interviews were already completed. Brett had spent nearly a decade gathering these interviews before I came on, and when Brett had seen previous films that I had produced, he liked the fact that … we often make our films without narration. But as I went through the interviews, I discovered that the connective tissue, the narrative didn't really exist. There were a lot of great anecdotes and great stories about Bert, but the actual story of his life wasn't really laid out in the interviews. So I went back to the book that Joel Selvin had written and extracted out the 20 pages out of the 420 that he had written that served as the narration of the book, so finding that connective tissues was a bit of a challenge.
"And then the third challenge was one that was solved brilliantly by my filming partner who also happens to be my wife, Christina Keating, and that was searching out the archival footage to make the film come alive, to make it feel as if you're actually in New York City in the '30s, '40s, '50s and particularly in the '60s. And she unearthed a lot of great previously unseen footage of street scenes of Manhattan, so that New York City really comes across as a major character in the film, which was something that we wanted to do."
On why his father's legacy was lost …
Brett Berns: "Well, it was clearly losing him at such a young age so long ago that I think was the main reason that he disappeared and, of course, the fact that the people who could have championed him decided that it was better just to leave this story untouched. So again he just disappeared so completely from the history books that it was, really like I said, down to us to tell this story, and so we just went at it with everything that we had. So it was a combination of time and politics that buried him and that motivated us to tell it."
On the emotional journey of revisiting his father's story …
Brett Berns: "I know I've probably cried 10,000 tears during the course of making the musical and then doing these interviews and seeing all my father's friends and colleagues pour their heart and soul out during these interviews. A lot of them broke into tears during the interviews, so it has been a very emotional journey for me and my family. And then seeing him being inducted into the Rock & Roll Hall of Fame last year was really the great goal of our lives achieved, and we're still coming to terms with that. It's just incredible."
By John Soltes / Publisher / John@HollywoodSoapbox.com
Bang! The Bert Berns Story, directed by Brett Berns and Bob Sarles, is currently playing New York City's IFC Center. The documentary will roll out to other cities and theaters in the coming weeks. Click here for more information.