INTERVIEW: James Sewell brings Wiseman documentary to ballet stage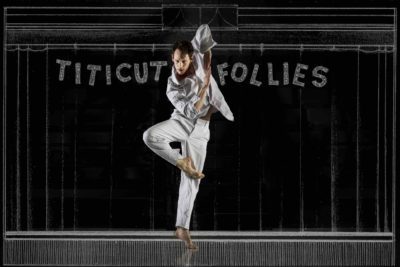 Documentarian Frederick Wiseman is being celebrated at New York City's Film Forum with a retrospective of his early cinematic works, and now one of his most iconic films is making the jump from the silver screen to the ballet stage. Choreographer James Sewell and his dance company have adapted Wiseman's Titicut Follies, a documentary from 1967, and will premiere the work at New York University's Skirball Center for the Performing Arts, April 28-30.
Wiseman's film tells the story of a Massachusetts prison for the criminally insane where the inmates stage a variety show known as Titicut Follies. A press release promises that the evening-length piece will capture the ideas and feelings of the documentary rather than literally translate the film to the stage.
Recently, Hollywood Soapbox exchanged emails with Sewell about the new production. Questions and answers have been slightly edited for style.
How did this project begin with Frederick Wiseman?
Fred had the idea to turn his movie Titicut Follies into a ballet, and I received a call from him out of the blue asking me to choreograph it. I was certainly intrigued but had not seen the film. He sent me a copy. After watching it, my first thought was that I had no idea how to turn this movie into a ballet. What this ultimately meant was that I would need to grow as an artist in order to meet the challenge, and I called him back and said yes.
Did you immediately see a choreographed ballet inspired by the movie? Did it take some convincing that you could pull off an 85-minute production?
Luckily there were a few sections that had more obvious solutions to their choreographic realization. By beginning with these, I was able to begin to discover the world and language of the piece. One by one they came into focus. A few eluded me though through multiple attempts and trashings, but by the week of the opening, I finally cracked the last creative challenges. One specific challenge was how to drive the extreme behaviors and situations in the movie into the form of ballet, a technique designed to be beautiful.
Is it a challenging piece for the dancers of James Sewell Ballet?
There are definitely physical challenges for the dancers, but the emotional nature and difficult subject matter presented the larger issues. Because of potential and some actual personal issues, we spent a lot of time talking and processing things so that they could feel safe to fully inhabit their roles.
What do you hope the audience's takeaway from the piece will be?
The movie tries to simply represent the conditions that existed at the prison in 1966 when it was filmed. My goal was to create the ballet in direct response to that bare honesty with as little spin or comment as possible — the goal being to represent, in this new ballet form, the elements that were there in the movie in order to get people to think about the many issues represented in a way that does not tell them what to think about them. We as a society are still grappling with these issues, and I felt that the piece could be relevant today if it shined a fresh light on them.
What have you learned from adapting and digging deep into Wiseman's original documentary?
Working with Fred has been an amazing and endlessly inspiring process. His lifelong journey as an artist has taught him so many things that he has consciously and unconsciously passed on to me. Chief among them his aversion to ever being didactic or sentimental. The movie is uncompromising in its nature, and finding a way to capture this spirit has been terrifying and liberating.
By John Soltes / Publisher / John@HollywoodSoapbox.com
Titicut Follies: The Ballet will be presented April 28-30 at New York University's Skirball Center for the Performing Arts. Click here for more information and tickets.