INTERVIEW: School is in session with Rick Worthy on 'The Magicians'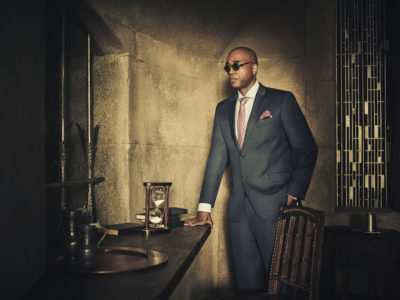 The Magicians is set to air its season-two finale Wednesday, April 19 at 9 p.m., and one thing is for sure, the magic spells are going to fly left and right. Fans can also expect the story to continue as Syfy has renewed the hit series for another season.
The series is based on the successful books by Lev Grossman and surrounds Quentin Coldwater (Jason Ralph) as he navigates his magical abilities and takes on the perilous dangers of the world. At the center of the action is Dean Henry Fogg, played by Rick Worthy, a steady presence in many sci-fi and fantasy TV series.
"I feel really blessed and lucky to be able to work different genre shows and different TV shows that are sci-fi-related and fantasy-related," Worthy said in a recent phone interview. "I initially started off doing Star Trek: [Voyager] 20-something years ago, and long story short, went on to other really popular shows like Battlestar Galactica. … Maybe a little bit more than 12 years ago, John McNamara, who is our co-executive producer for Magicians, was doing a show on ABC called Eyes about private eyes. And it starred Tim Daly, Garcelle Beauvais, myself and about five or six other actors both from New York and Los Angeles, and we lasted for probably, oh I don't know, maybe 10 or 12 episodes. And then we were canceled. Long story short, there was a young lady who was one of our staff writers on Eyes, and her name was Sera Gamble. And flash forward to the future, to the present day, and Sera Gamble is working with John McNamara. And they got the book rights from a great series of books called The Magicians by Lev Grossman."
Worthy received a call from his agent asking the question whether he remembered Gamble on the set of Eyes. He sure did, and he also remembered working with her on Supernatural when Gamble was the showrunner.
That phone call from his agent included an offer to play Fogg, the head of Brakebills University, the school where these magicians test our their abilities. Worthy read the script of the pilot and would have immediately dove into the books by Grossman, but he needed to start filming within a few days in New Orleans. He signed aboard and headed to the Crescent City.
"I thought it was great, even though Dean Fogg dies at the end of the pilot," he said. "They liked what I was doing, and they said, 'If we get picked up, we'll find a way to maybe keep the dean around.' So that's how it all started. I feel like the circle has become full in terms of my relationship with them."
When filming the pilot, Worthy was excited to be in New Orleans, a city he had never visited before. Because he didn't have enough time to read the books, he based his characterization on the script and hoped that the creative time liked his creation. "So we finished the pilot, and then I said, OK, now I can start reading the book," he said. "So I kind of did it in reverse. In a way, I think maybe it helped me because I put my own unfiltered stamp on it."
Worthy has been a fan of the magic featured on the show and how the spells have specific objectives. He said he is a self-proclaimed 50-year-old nerd and proud of that fact. So being on a genre show has been a professional delight.
"I love the genre," he said. "So in terms of Harry Potter and Lord of the Rings and movies like that, I've seen all of them. I enjoy the genre itself, so the show kind of gives me everything that I've always wanted. I came into Los Angeles 22 years ago to be a police officer on NYPD Blue, and I did it. I did an episode of NYPD Blue. I thought it was fun, but it wasn't what I thought it was going to be. And then probably a few months later, my next job was on Star Trek: Voyager, and something about being on the Star Trek set, it got in my heart and my soul. And I said this is the genre for me."
He added: "I feel like the universe has given me everything that I asked for. All I've ever really wanted to be was a working actor and to work on a great one-hour show, particularly science fiction or fantasy. That's the genre that I love, and to be a part of it from the beginning and then to be asked to continue on is just a real blessing. And I love it, man. Sometimes it doesn't seem real because I've been a regular on other shows and other pilots throughout the years, and sometimes they work. Sometimes they don't. … In five or six years, I can retire from the biz just because I'll be 55-56 years old, and it's so nice to be where I am right now. I'm really appreciative of all the things that I'm receiving, and I came close to maybe saying adios to the industry a few years ago. And I'm so glad I didn't because someone else would be on The Magicians and not me. I fully am aware and appreciative of this show and everything it has given me, so I just hope we can continue on."
By John Soltes / Publisher / John@HollywoodSoapbox.com
The Magicians will air its season-two finale Wednesday, April 19 at 9 p.m. on Syfy. Click here for more information.