INTERVIEW: Comedian Marty Allen turns 95 with no plans to retire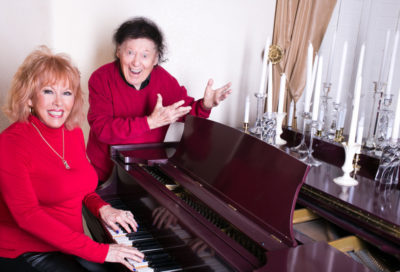 Marty Allen has been there and done that for decades, and now he's resigned to one fact in life: It's important to have fun. And that's exactly what the 95-year-old stand-up comedian plans to do in 2017. He recently celebrated his birthday and shows no signs of retiring.
The legendary comic will play Bonkerz Comedy Club at Pahrump Nugget Event Center in Pahrump, Nevada, 5 p.m. Saturday, April 1. Joining him on stage will be his wife and singer Karon Kate Blackwell. After Nevada, he heads to Pennsylvania and California for shows.
"I love doing shows, and the reaction has been phenomenal," Allen said recently in a phone interview. "Every one has been a packed show, and they walk out laughing. It just knocks me out because I enjoy it so much, and the show is good. It really is. My wife is a fabulous singer, and she's a great straight lady. And the way we have it set up, it knocks them out."
Growing up in Pittsburgh, Allen was the child in school who always "carried on" and "did all the crazy things," which suited him for a life in comedy. And what a life it has been.
"So when I got out of school, I start playing little joints, little bars, little restaurants, anyone that had a banquet that wanted comedy, and that's the way I was going," he said. "I really enjoyed it so much."
Before his comedy career accelerated, he enlisted in the service, and during World War II, he served in the 15th Air Force and was stationed in Italy. He received a Soldier's Medal for Bravery, according to his official biography, for saving a plane from catching fire from a refueling truck.
After his service, Allen appeared on most of the top-notch entertainment shows in the 1960s and 1970s, including Hollywood Squares, The Ed Sullivan Show, Hollywood Palace and The Mike Douglas Show. He opened for the likes of Sarah Vaughan, Nat King Cole, Eydie Gormé and Frank Sinatra.
His star took a meteoric rise when he partnered with Steve Rossi and toured the country as Allen & Rossi. That's the comedy pairing that landed Allen on The Ed Sullivan Show on the most auspicious of dates: that memorable 1964 concert when the Beatles rocked the world.
He married Blackwell in 1983 and continues to perform for audiences at theaters and casinos. "As long as God's got me walking," he said. "We're going to Pittsburgh. We're going up to Mill Valley in San Francisco, and as long as they want to book us, we'll go."
He added: "I love performing. I love making people laugh. The reaction is they said they had a wonderful time, and they enjoy the show so much. This is all I want. I just enjoy playing for people. I have a lot of people who still write in. They watch me on all the old shows that I've done. I did almost every show that was possible, all the game shows."
That't an understatement, and in addition to the comedy shows and game shows, Allen also appeared in movies and dramatic TV shows, including The Big Valley with Barbara Stanwyck.
"It's so hard for them to believe that a guy 95 years old can walk out and do these kinds of things," he said. "It knocks them out. Being that it was my birthday on March 23, we were sold out. I never got so many birthday cards in my life, I swear. It's unbelievable, but I enjoy it. I really do, and I don't do it for any other reason. … People come over and say, 'Oh, we had a wonderful time. We loved your show. We enjoyed it so much.' That's all. I'm not asking for anything other than that, and God willing, if I can keep going, I'll keep going. But it is unbelievable, that when they hear a guy is 95 years old, it's hard for them to believe. I think a lot of them come to see what's going on, and when they see me in action, it makes them feel good."
Allen's catch phrase — "Hello, Dere" — is part of any comedy show he performs. It's even the name of his memoir. Those two words are a window into a career that has lasted decade after decade after decade. The phrase's origins date back to the days of Allen & Rossi.
"We were appearing in Philadelphia at a night club, and [Rossi] said something to me," Allen remembered. "I kind of blanked out, and instead of answering him, I looked at him and went, 'Hello, Dere.' And he said, 'What?' I said, 'Hello, Dere.' [louder] All of a sudden I could pick up the laughter from the audience, and people start yelling it back at me. … I guess it just caught fire. I guess that's the way a lot of them remember me. They could look at me, and they may not remember the name Marty Allen. But they say, 'Hello, Dere.'"
By John Soltes / Publisher / John@HollywoodSoapbox.com
Marty Allen will perform with Karon Kate Blackwell at Bonkerz Comedy Club at the Pahrump Nugget Event Center in Pahrump, Nevada, 5 p.m. Saturday, April 1. Click here for more information. Other dates include April 21 at the Rampart Hotel & Casino in Las Vegas; May 4 at the Throckmorton Theatre in Mill Valley, California; and May 19 at Holiday House 70s Reunion Party in Monroeville, Pennsylvania.