REVIEW: 'Lion in Winter' depicts a Christmas gathering for the ages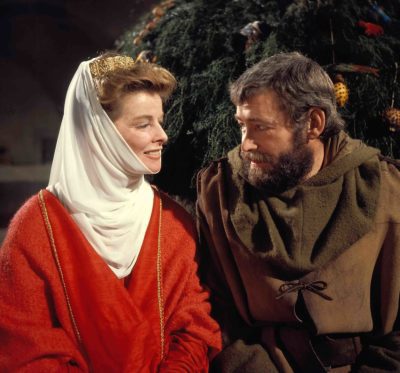 The Lion in Winter, starring the inimitable Peter O'Toole and Katharine Hepburn, is a tense drama that puts a Middle Ages royal family under the microscope as they fight and strategize against one another. The 1968 gem, which recently played in a 4K restored version at New York City's Film Forum, also features early performances from Anthony Hopkins, John Castle, Nigel Terry and Timothy Dalton.
The movie is based on the play by James Goldman, and thankfully Goldman's script breaks from the strict theatricality of the drama and lets the narrative breathe with intricate sets and cinematic flourishes.
O'Toole plays Henry II, the king of England whose succession is weighing heavily on his mind. His wife, Eleanor of Aquitaine (Hepburn), has been imprisoned for helping to stage a rebellion against the crown. However, it's Christmastime, and the whole family has decided to come together and play politics with the visiting king of France, Philip (Dalton).
The main topic of discussion is what will happen when Henry II dies. Will the kingdom go to Richard (Hopkins), who is mother's choice; John (Terry), who is father's choice; or Geoffrey (Castle), who no one seems to like?
Richard is a sword-wielding, militaristic man who believes he is the best candidate for the throne, even though he is not the oldest. A revelation about his personal life keeps Henry from supporting him. On the other hand, John is a buffoon, someone who cowers at intimidation but demands to have the throne, much like a child demands dessert without eating his vegetables. He is the oldest and also has Geoffrey in his corner.
The strategizing among the family members is great fun to watch and teaches many vital lessons about the quest for power and the burning of bridges.
The drama serves as a master's class in acting. O'Toole, who was robbed of an Academy Award for this performance, is a fireball of energy, someone who can look upon Eleanor or his lover, Alais (Jane Merrow), with doting eyes, but within a split second be able to raise his arms in the air and curse the gods for his present predicament. He is a natural leader but one who struggles between sympathy and stubbornness, one who knows exactly how to hurt someone he supposedly loves.
Hepburn, who rightfully won an Oscar for her performance, has so many awe-inspiring scenes. Her line reading of Goldman's dialogue is so spot on and scarily perfect. Her Eleanor is strong, witty and precise. She doesn't dole out a mother's love to her adult sons; instead, she commands them and chides them like an army general. She's smart and political, strong and human. In her quieter moments, when she drops her facade, she reveals her true love for her husband, despite her banishment and their family's undoing.
Bravo to director Anthony Harvey and cinematographer Douglas Slocombe. They are able to capture this (melo)drama with both grandeur and intimacy. There are no large war scenes, no cutthroat battles with flashy special effects. However, thanks to the performances and familial strife, this may be one of the best war movies of all time.
By John Soltes / Publisher / John@HollywoodSoapbox.com
The Lion in Winter (1968) was directed by Anthony Harvey and written by James Goldman, based on his play. The movie stars Peter O'Toole, Katharine Hepburn, Anthony Hopkins, Timothy Dalton, John Castle, Nigel Terry and Jane Merrow. Running time: 135 minutes. Rating: