INTERVIEW: Matt Wright flies into action on new season of 'Outback Wrangler'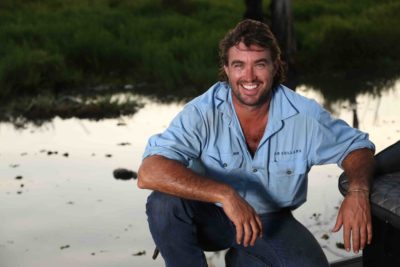 Few people in the world can place both helicopter pilot and dangerous animal expert on their résumé, but that's the professional reality for Matt Wright, star of Nat Geo WILD's Outback Wrangler. The reality series airs new episodes Fridays at 8 p.m.
Wright uses his helicopter skills and animal knowledge to re-locate animals that are causing an issue on the ground. He tracks the species, captures them and transports them to a different region. His stated goal is preservation rather than culling.
His office space includes the wild wonders of Australia, and his chopper allows him the logistical freedom to go places few travelers are able to see in the Outback. Wright, a native of the Australian bush, at home in the far reaches of his home country.
Recently Wright exchanged emails with Hollywood Soapbox about his adventures on the series. Questions and answers have been slightly edited.
How did you first get into this unusual line of work? Does your love of animals go back to when you were a child?
I believe that you've got to invest in yourself if you want to get anywhere in life. I had a deposit saved to buy a house and decided to throw all the money into getting my chopper license. It was hands down the best decision I've ever made. Now, I get to to combine my love for animals, which started as a kid, with my passion for flying. Doesn't get much better than that.
What can fans expect on the new season of Outback Wrangler?
In this new season, viewers can expect a lot of adventure set in the rugged Aussie outback. This season we have bigger crocs, more action and plenty of laughs with the lads. Every episode is exciting, gripping and real, and I think it paints a good picture of the Aussie bush life while shedding light on important wildlife conservation messages.
When you're flying to a destination to take care of an animal issue, what are your priorities for the project?
My main objective is to keep the animal calm and ensure its well-being at all times. If an animal's safety or comfort looks to be compromised in any way, I will cancel the relocation immediately until I can figure out a better way to handle the situation. At the end of the day, my main priority is protecting these amazing reptiles, so their safety as my main concern for every project.
You deal with a lot of crocodiles on the show. What makes this animal such a unique challenge?
I love the prehistoric nature of crocs, and their big presence and intense energy is always fun to work with. I learn new things every day from working with crocs, which always keeps work interesting. They are one of the most interesting animals in the kingdom.
What's the toughest aspect of flying a helicopter?
The hardest thing about flying helicopters is flying over extended periods of time. It's exciting and fun, but it's always important to stop and have a break to ensure you're mentally sharp and on the ball.
What makes Australia such an interesting and unique country to work in?
The landscapes are so vast and diverse. One moment you're in arid desert, and then five minutes later you're in a lush rainforest. The people here also make it a unique and great place to live. In these small Aussie towns, the locals are very laid-back and friendly, and some of the people out here are my closest friends. Also, the wildlife here is incredible and unlike anywhere else in the world.
By John Soltes / Publisher / John@HollywoodSoapbox.com
Outback Wrangler airs new episodes Fridays at 8 p.m. on Nat Geo WILD. Click here for more information on the show and Matt Wright.