REVIEW: 'The Joneses' looks at one family's personal bonds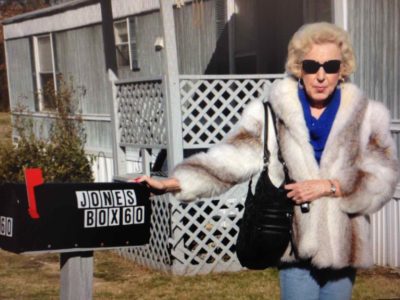 The Joneses, which recently played DOC NYC, is an engaging portrait of a family moving through the many ups and downs of life in Mississippi. Jheri Jones, a 74-year-old transgender divorcée, is the head of this family and tries to keep a smile on her face, even when faced with seemingly insurmountable obstacles.
Her adult sons — two living at home with her — have come to accept her transition, but they still have numerous issues to deal with as a family. These include telling Jheri's grandchildren, dealing with the death of Jheri's ex-wife and the uncertain future of finding love and happiness.
Jheri is a dynamic person, someone who never stops enjoying the many aspects of her new life. If she's not cooking three-course meals for her sons, she's taking ballroom dance lessons, working out at the local gym, singing psalms at church or visiting her two other sons.
Director Moby Longinotto, who is making her feature-length documentary debut with The Joneses, has a lot of access to the Joneses, filming them in their home, around the neighborhood and even at the wake of Jheri's sister. At times, it seems as if the access is too personal, especially when Jheri and her family are praying over the casket of her sister.
Jheri's sons become a central part of the narrative as well. The camera follows them with their own struggles, be it mental illness, finding love and acceptance themselves, or attending church services. It's clear from watching the film that Jheri loves her children and spends most of her time with them. Ditto for her granddaughter and grandson, who come to learn of Jheri's transition during the making of the film.
Of course, the importance of The Joneses as a documentary is that it offers the audience a chance at understanding a new perspective, that of a transgender woman living a life and seeking acceptance in a conservative part of the country. There are many triumphs for Jheri; however, several setbacks are evident as well (the obituary for her sister lists Jheri as a brother to the deceased).
After spending more than an hour with the family, there are still some avenues to explore. It's unclear how Jheri is connected with her church community and what she believes about God. It also seems that Jheri was an accountant at one point and continues the practice with one of her sons, but details on her profession are blurry.
The best part of the documentary is when Jheri can simply be Jheri, a woman trying to enjoy dance, music, food and life.
By John Soltes / Publisher / John@HollywoodSoapbox.com
The Joneses (2016), directed by Moby Longinotto, recently played DOC NYC. Rating:




Click here for more information.