REVIEW: 'Black Ballerina' looks at struggles, lack of diversity in dance companies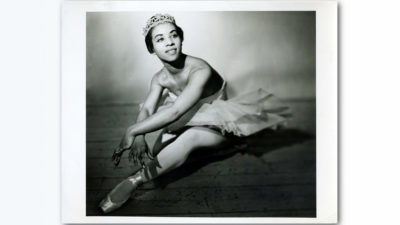 Black Ballerina, the new documentary that's set to play the African Diaspora International Film Festival in New York City, charts the struggles and triumphs of African-American ballerinas in a dance world that for too long has lacked diversity in professional companies. The 55-minute film includes interviews with many dancers of different generations, all of whom have struggled for acceptance and opportunities in their chosen profession. Although there are instances of progress and change, most of the subjects show a visible hurt at the lack of chances for accomplished black ballerinas in the business.
Frances McElroy directed the documentary, which smartly focuses the narrative on many dancers, rather than the most famous ballerinas, like Misty Copeland. The film is able to effectively build a story that connects the setbacks of dancers from decades ago with the continued challenges of dancers today. A few of the younger dancers who are still battling for acceptance provide Black Ballerina with its most dramatic and heart-wrenching content. They are brilliant performers with a passion for the art form, and yet their best efforts are not being awarded at the top companies in the world.
There are points of progress and places where diverse dancers are celebrated. For example, Dance Theatre of Harlem, the legendary company headed by artistic director Virginia Johnson, has had an up-and-down history the past few years, but they have found their footing and continue to provide professional opportunities to a growing number of dancers.
Other subjects in the film include The Philadelphia Dance Company's Joan Myers Brown, Delores Browne and Raven Wilkinson, all pioneers who share their experiences, the racism they encountered, their thoughts on dance both historical and in the present day, and how the art form should continue in the future.
The production value is not over the top or flashy, but there's something to appreciate in its simplicity. McElroy mostly couples interviews with overlapping archival footage, and it makes for a nice, effective presentation.
Black Ballerina is an important documentary that asks important questions about this traditional and beloved art form. There's no doubt that ballet is a place of hard work, artistic skill and fortitude. However, it's troubling to learn how so many dancers of color are not receiving the same opportunities as other ballerina hopefuls. For the good of the art form, for the obvious talent of these remarkable dancers, for the future of the medium, it's important that the lessons in Black Ballerina are learned, understood and, hopefully, corrected.
Diversity in the dance world is a necessity, and Black Ballerina feels appropriate for educational use, the film festival circuit and possible inclusion on television programming. It's that eye opening.
By John Soltes / Publisher / John@HollywoodSoapbox.com
Black Ballerina (2016) will play Saturday, Dec. 10 at 8 p.m. at the African Diaspora International Film Festival in New York City. The Frances McElroy-directed documentary will be paired with Dancing Forever, a new film from Christian Faure. Rating:




Click here for more information.