REVIEW: 'Under the Clouds' finds modern-day influences of diarist Carolina Maria de Jesus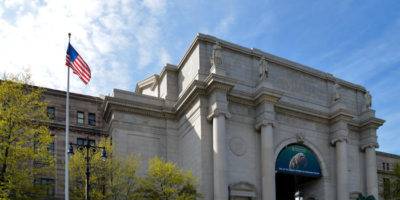 Under the Clouds (Das Nuvens Pra Baixo), which played this weekend's Margaret Mead Film Festival at the American Museum of Natural History, is a touching and poignant look at women surviving and thriving in the Maré favela of Rio de Janeiro. Their stories are woven together like a varied and beautiful patchwork by directors Marco Antonio Gonçalves and Eliska Altmann, and the words these women say and sing are influenced by the famous Brazilian diarist Carolina Maria de Jesus.
The unconventional film follows these women as they explain their lives, their yearnings and their difficulties. Continuity is achieved by an actress who introduces each new segment with de Jesus' thoughtful words of living in a favela in São Paolo (adapted from her diary, Child of the Dark).
By hearing these women talk about their successes and continued obstacles, the audience is able to witness the undeniable power of these strong favela residents and how they interpret their current allotment in life.
Too often when journalists and writers describe the daily goings-on of the infamous favelas there's an emphasis on drugs, trafficking, violence and poverty. Those issues are on the periphery of Under the Clouds. Instead, the directors follow these women in their daily lives and let them reinterpret the images of their homes.
One woman explains her love for singing and how she was castigated by family and friends for being crazy. She often breaks into song and delights in her turns of phrase. Another woman — saintly in her ambitions — talks about her desire to one day own some land, build a wall around the property and invite homeless men and women to enjoy the space. She would clothe them, bathe them, cut their hair and give them the dignity they deserve. She's even brought to tears when describing the number of people she passes on the street begging for food and water.
Another subject describes the love she has for her six children and the difficulty of raising them by herself. Their father is gone, and she's able to make only a little bit of money working in homes. Life is difficult and sometimes unsafe, but she keeps her children close to the house and always tries to provide a better life than what she endured growing up.
Another woman grew up outside the hubbub of Rio and relocated to the favela. She now runs a bar where she dispenses alcohol, soda and advice to paying customers. One of the last subjects involves a young woman trying to break into a singing career. The camera follows her as she gets ready for a performance, applies makeup, combs her hair and picks the right dress.
The film relies on its subjects to bring the audience through the narrative, and many shots linger for some time on the crowded alleyways of the favela and the wonderful life of the streets. One shot takes the vantage point of a motorcyclist, and another sequence is intentionally and artfully out of focus. But perhaps the most moving scenes are when the camera is not moving at all. It's when these women offer their stories in testimonial fashion, looking at the camera, infusing their words with the sentiments of de Jesus.
By John Soltes / Publisher / John@HollywoodSoapbox.com
Under the Clouds (Das Nuvens Pra Baixo) (2016) recently played the Margaret Mead Film Festival at the American Museum of Natural History in New York City. Directors Marco Antonio Gonçalves and Eliska Altmann were in attendance for the Friday, Oct. 14 screening. Rating:




Click here for more information.