REVIEW: 'Indivisible' set to close Margaret Mead Film Festival at AMNH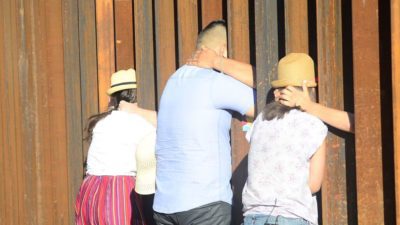 Indivisible, the remarkable and moving documentary about immigrant rights and the Dreamer movement, is a touching portrait of families torn apart by complex and beguiling immigration laws. The film, which will play Sunday, Oct. 16 at 8:30 p.m. at the Margaret Mead Film Festival, puts faces on the hotly debated topic of immigration, and in the midst of a brutally negative presidential campaign, where political issues have given way to political theater, the documentary has the chance to refocus viewers' attention on the people most affected by comprehensive immigration reform.
Director Hilary Linder follows three young subjects who find themselves separated from their parents. Their stories are unique and startlingly universal. When they were much younger, their parents were deported from the United States, and these children were stuck in a legal limbo in which they couldn't visit their mothers and fathers, or vice versa.
Renata Teodoro, Evelyn Rivera and Antonio Alarcon don't stand idly by waiting for the law to change itself. They take to the streets, to the halls of Congress, to the border with Mexico to convince lawmakers and the media to follow their stories and show some compassion. Senators Chuck Schumer and Marco Rubio are both featured in the documentary, and although there's bipartisan promise from the Senate to improve their situation, the dreams of these Dreamers are dashed time and time again.
It's painful and heartbreaking to watch these young people face uncertain futures without their families by their side. They celebrate holidays without their mothers. They celebrate important milestones, like college graduation, without the very people who inspire them to succeed. They are growing up without the same benefits, security and family presence that so many people take for granted.
However, these tough realities don't bog them down in negativity. They are proud to live in the United States. They pledge allegiance to the flag and yearn for the day of an improved immigration status. However, they remain stuck between their native homes and their current residences.
The most moving scene involves these young people meeting their parents at the U.S.-Mexico border. Mothers cradle their daughters, but there's a metal barrier between them. It's a maddening scene to watch; a fence separates these families from a proper reunion.
Be forewarned: Viewers should expect to tear up during this documentary. The saga of watching these Dreamers never lose sight of their dreams is inspiring and difficult to watch. Setback after setback after setback robs them of time with their families but never robs them of their inner drive to reach that ultimate goal.
In a time when the country is fracturing over issues of immigration, and falsity has overcome fact, Indivisible proves that the people most affected by this national debate are dedicated, invincible … and yearning, forever yearning.
By John Soltes / Publisher / John@HollywoodSoapbox.com
Indivisible (2016) is the closing-night film of the Margaret Mead Film Festival at the American Museum of Natural History in New York City. Directed by Hilary Linder and featuring Renata Teodoro, Evelyn Rivera and Antonio Alarcon, the movie will play at 8:30 p.m. Run time: 78 minutes. Rating:




Click here for more information.