JAPAN CUTS REVIEW: 'Bitter Honey' charts man's unlikely relationship with a goldfish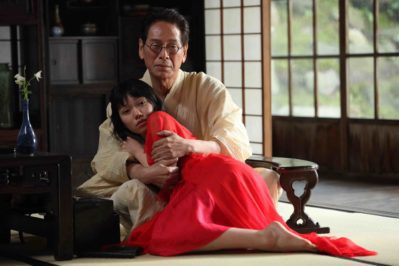 Bitter Honey, directed by Gakuryu Ishii, is a strange allegorical romance depicting an older man named Ojisama (Ren Osugi) and his relationship with a goldfish named Akako (Fumi Nikaido). It's an unconventional movie that meanders for too long and doesn't have much to say in the end; however, because of strong performances from Osugi and Nikaido, Bitter Honey can be an interesting, somewhat bizarre look at love, loss and longing.
Akako and Ojisama live a life of conversations and flirtations. He's much older than she is, and, well, she's a fish. So this is not exactly your typical romantic drama.
The rules of love and life are new to Akako. This gives Ojisama the upper hand when charting the course for their relationship. However, all is not lost for Akako. As she progresses in her understanding of the human world, a ghostly visitor stops by for a chat. Ojisama's ex-lover, Yuriko (Yoko Maki), visits Akako to give her some pointers about Ojisama and his eccentricities. This being a bizarre allegory, it's only natural that Yuriko is, in fact, dead at the time of her visit, so technically speaking this is the ghost of Yuriko.
Ahem.
The point of the narrative appears to be Akako's eventual breaking from Ojisama, and the journey to her independence can have some engaging revelations. In order to break away, she needs to mature and realize the intricacies of relationships. Similarly, Ojisama, facing the end of his life, needs to let her go and realize the unfortunate hold he has on his "pet" goldfish.
The actual goldfish part of the story is somewhat silly. Akako is always dressed in a flowing orange dress, which sometimes breaks apart in Ojisama's hands as orange scales. When she takes a step, there's an annoying bubble sound that is heard, similar to an audio sample from an early video game (a particular underwater level from Sonic the Hedgehog 2 comes to mind).
This is not to say that Nikaido is not convincing as Akako. She brings an innocence and naivety to the role that is sly and effective. These qualities match well with Osugi's set-in-his-ways style of seeing the world. The sexual undertones of their relationship are less interesting and don't add much to the narrative. Also, although Maki is a skilled actress, her charater of Yuriko feels like a disruption to the back and forth between the two protagonists.
Ishii, working off a script by Saisei Muro, is able to keep one's interest for a large part of Bitter Honey. However, the story meanders too long, and the conversations seem to repeat themselves. A more focused plot, and maybe the decision to make this a short film, could have kept these relational explorations 100-percent worthy of the audience's time. As it stands, Bitter Honey is an idea stretched out to 82 minutes.
The film recently played the Japan Cuts film festival at Japan Society.
By John Soltes / Publisher / John@HollywoodSoapbox.com
Bitter Honey
In Japanese with English subtitles
Directed by Gakuryu Ishii
Written by Saisei Muro
Starring Fumi Nikaido, Ren Osugi, Yoko Maki, Kengo Kora and Masatoshi Nagase
Running time: 82 minutes
Rating: