INTERVIEW: Lynyrd Skynyrd's Johnny Van Zant on his new live recording with his brother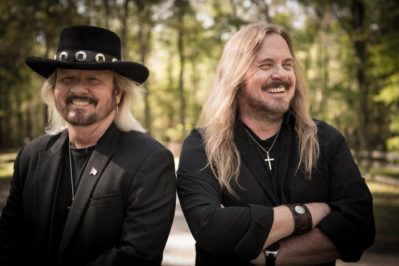 The Van Zant family name is legendary in the history of music. From Lynyrd Skynyrd to 38 Special to a myriad of other groups, brothers Johnny, Donnie and the late Ronnie Van Zant are considered the First Family of Southern Rock. And 2016 is shaping up to be a banner year for the Van Zant family. Johnny continues to tour with Lynyrd Skynyrd, and Johnny and Donnie are releasing a new live recording July 1 on Loud and Proud Records.
Red, White & Blue (Live) was originally recorded in 2006 at the Wild Adventures Theme Park in Georgia. The brothers unearthed the recording many years later, and they liked what they heard. So now audiences have the chance to hear the ultra-rare live performance of Van Zant, the name of this brotherly duo, as they play such classics as the chart-topping country song "Help Somebody," 38 Special's "Wild Eyed Southern Boys" and Lynyrd Skynyrd's "Sweet Home Alabama," among other tunes.
The impetus for the project came from Larry Junstrom, or LJ, bassist for 38 Special.
"[LJ] had just bought a new Pro Tools system," Johnny said in a recent phone interview. "And we were playing near Jacksonville, so he got a hold of Donnie and said, 'Hey, man, you want me to come out and record you guys, so you see what the heck the band sounds like.' So Donnie came to me and said, 'Hey, Larry's got this stuff.' And I said, 'Sure, that sounds great to me.' So he came out and recorded us, and we listened to it and was like, 'OK, cool. OK, we need to improve here.' Basically we were using that as a thing to see where the hell we needed to improve, you know, because we hadn't recorded us playing live yet."
After Donnie's suggestion, Johnny went back and listened to the 2006 recording and immediately called his brother. They liked the recording a lot, and after mixing the tape a bit and enhancing the sound, the brothers were convinced it would make a good live album for the fans. Johnny still has vivid memories of the concert.
"Well, we were on actually a tour with Gretchen Wilson at that time, and this was just a show by ourselves at a place called Wild Adventures down there right on the Georgia borderline," he said. "It was a good day. A lot of our family was there. I totally remember it. It was a good time, so I'm glad to be able to put it out and see what the fans think."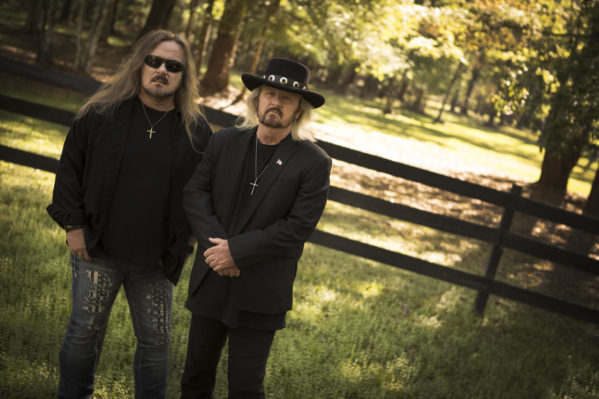 Johnny continues to keep a busy schedule. Aside from putting out Red, White & Blue (Live), he's also headlining a summer tour with Lynyrd Skynyrd. Hollywood Soapbox caught him on an off night in between concerts, and that was a good thing because he had a bit of a cold.
"We played over at Jones Beach [in New York] on Sunday, and it rained so bad," he said. "And that place, to get in and out of there as an artist you've got to go underneath this tunnel, so my feet got wet. It was cold and windy and everything, so we didn't end up going on until about 10 o'clock. My hats off to our fans. They were out there standing in water at Jones Beach over there in Long Island. … I think it was all due to this tropical storm that we had down come across Jacksonville there. Man, this tide surge came in. The fans were standing in the water. Honestly, it looked like they were up to their knees in water. I was like, man, that's crazy, so we just worked a little harder and gave them a really good show. But my case is now I've got a cold. I'm like, oh, great."
Johnny continues to write new tunes, and he's had much success in the past. The title track for the new live recording is "Red, White & Blue," a song he co-wrote with Donnie and The Warren Brothers. It first appeared on Lynyrd Skynyrd's successful 2003 album, Vicious Cycle. It was also a song that received a lot of airplay on the radio, a rarity for new tunes from so-called classic rockers.
"Me and Donnie had wrote that with some guys, some friends of ours, these crazy nuts from Florida," he said. "It's the Warren Brothers, two brothers, so you have four brothers in a room, and we're all rednecks. So we've all got big opinions on what we think America is and what it should be. Basically wrote that song real quick, and I presented it to Skynyrd."
Another successful song was "Help Somebody," which he co-wrote with Donnie and rose to #7 on the country charts and is featured on the new album. "I like writing about things that I know, or things that have happened to people or things that I think can help people," Johnny said. "For a few years man we were on the road continuously. So man we had to back off on doing the solo projects, so I think that kind of makes this live CD thing a little bit more special because really man we've done very little touring together, and for people who like what we do, man I think they're going to like this. And they'll have at least a captured moment."
With such a storied history as Johnny has, there's a push and pull between nostalgia for the past and charting new territory in the future. He became quite reflective when considering life and music in 2016 compared to days gone past.
"I think, of course, you have to progress and go on," he said. "I was hanging with a little fella the other day, and I was like, 'Hey, I live out on the land, you know. I have a bunch of land.' I was like, 'Hey, let's go out, check out my Jeep. I'll show you my Jeep.' And he was like, 'No, no, no, I want to play this video game.' So sometimes I think the future kind of takes away from the past. As a kid I was out in the yard. I was out playing. … [Today] they kind of get lost in their video games, and their chatting with their friends and stuff like that. Kind of lose out on riding a bike and hitting a baseball, those kind of things. I'm lucky. I have a 15-year-old daughter that turns me on to different music. … Hell, she was the first one to turn me on to Adele. [My daughter] was about 12 years old at the time. I was like, wow, this girl can sing."
Johnny's place in the music industry and the hearts of music fans is firmly cemented. However, he doesn't know if a similar story is possible for musicians starting today. "I think it would be very tough to be starting out right now," he said. "It's hard to make a living off of selling music, of course, and it's more in the touring part of it these days, which is fine with me. I've always loved playing live, you know, but you know I also love being in the studio, and recording and creating. But it's hard. It's a lot harder these days. There's so much more into it — social media. For us, when we got started, hell man you made a record. When you were in a town, you stopped by the radio station, talk. Nowadays you do a lot of interviews. You do a lot of things. Plus, these record labels that are signing young acts are doing 360 deals where they take part of their publishing, and take part of their merch, and take part of this and take part of that because these labels are trying to stay in business. It's a different world."
One subject that Johnny doesn't think too much about is possible retirement. As he sings in "Help Somebody," he likes to keep the future in God's hands.
"I kind of leave it up to Him, man," he said. "He's brought me here so far, and I thank Him for all good things. I don't know. I don't think musicians ever really retire, you know. I think it's in your blood to do this, or it's not."
Music is certainly in Johnny Van Zant's blood.
By John Soltes / Publisher / John@HollywoodSoapbox.com
Red, White & Blue (Live) will be released Friday, July 1 by Loud and Proud Records. Click here for more information.