NYAFF REVIEW: 'What a Wonderful Family!' looks at divorce later in life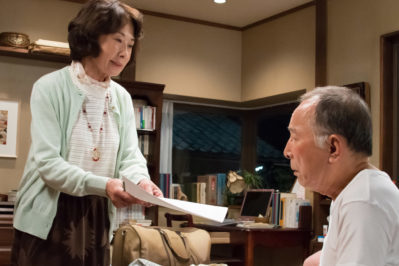 What a Wonderful Family!, part of this year's New York Asian Film Festival, is a comedic look at an older couple facing the prospects of a divorce. Shuzo (Isao Hashizume) plays the patriarch of this family, and director Yoji Yamada centers most of the narrative on his character. He has been married to his wife, Tomiko (Kazuko Yoshiyuki) for 45 years, but she's calling it quits because he doesn't respect her and is a bit of a slob around the house. Their children, including a married son, married daughter and recently engaged son, call a family meeting to try and save the marriage.
Yamada, who co-wrote the screenplay with Emiko Hiramatsu, keeps everything light and airy. The well-chosen cast is never too far from a funny one-liner, and even though Shuzo and Tomiko's marriage is crumbling apart, there's a teamwork mentality in the household that the family will make it through these challenging times.
Hashizume offers the fullest portrait with his patriarchial character. He's a man who has worked nearly his entire life to provide for his family, and he believes that retirement should be easygoing and based on his own terms. This means he whiles away the time at a local restaurant, drinking alcohol, eating and talking to his favorite waitress. When he returns home, he never asks Tomiko about her novel-writing class. Instead, he leaves his dirty socks, turned inside out, on the floor for her to pick up and wash.
On Tomiko's birthday, with no hint of acknowledgment from Shuzo, the matriarch of this family decides to take matters into her own hands. Respectfully and calmly, she hands her husband of 45 years a signed divorce paper. At first, he takes the document as a joke, but when he realizes she's serious, all matter of consequences begin to occur.
The film, which runs a quick 108 minutes, allows for a close-up examination of this Japanese family. In fact, the narrative is so close-up that some of the characters feel underwritten. This is especially true with Tomiko, whose only character development occurs when the audience sees her participating in the novel-writing course at the local cultural center.
One character that receives a decent amount of screen time is the youngest son, who still lives at home but is venturing out to a new apartment with his fiancé. There is a nice parallel struck between the fading love of Tomiko and Shuzo, and the budding love of his son and this newcomer to the family. One relationship is ending, while another still has time to grow.
The comedy is never of the laugh-out-loud type, but there's a genuine hilarity and contentment to the plot, especially when the family comes together for the all-important sit-down over the pending divorce. Rather than discussing the issue at hand, each of the children talk about their own problems. This leaves Tomiko's desires largely unheard, and it also makes her storyline somewhat heartbreaking. She's a woman who realizes that if she doesn't make a move now, it might be too late to enjoy her days of retirement.
The movie is light fare to be sure, but it has some lessons to be learned about husbands forgetting about the equality of their wives, how different generations deal with family problems and the camaraderie and reliance on relatives. There's nothing earth-shattering here, but it puts a smile on the audience's face.
By John Soltes / Publisher / John@HollywoodSoapbox.com
What a Wonderful Family!
In Japanese with English subtitles
Directed by Yoji Yamada
Written by Yamada and Emiko Hiramatsu
Starring Isao Hashizume, Kazuko Yoshiyuki, Satoshi Tsumabuki and Yu Aoi
Running time: 108 minutes
Rating: