NYAFF REVIEW: 'Bride for Rip Van Winkle' features masterful performance from Haru Kuroki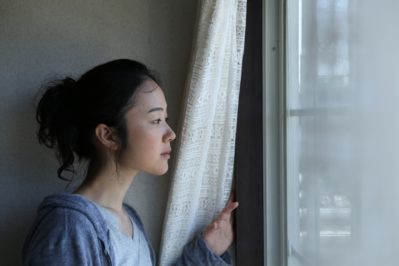 A Bride for Rip Van Winkle, a Japanese film playing the New York Asian Film Festival, features a masterful and nuanced performance from leading actress Haru Kuroki. Playing Nanami, a quiet and bashful woman looking for her place in life, Kuroki is on screen for nearly three hours, carving out an intricate portrayal.
Her character is subject to the world's cruelties, and as she floats through life, she is the subject of some unfortunate circumstances. The fact that she's able to journey on, despite some difficult events in her life, is a credit to her indomitable spirit.
Nanami begins the film meeting a man who will become her husband. Tetsuya (Go Jibiki) seems like a nice man. He's a teacher, and their love for each other is almost immediate. Sure Nanami is shy around him and his family, but that's the way she is when talking with people. The wedding ceremony works out, although Nanami and her parents have a secret: Her mother and father are divorced, and their "family members" at the reception are actually paid actors from a company who provides wedding guests for those with no extended relations.
Once the groom's mother gets wind of the deception, and another subplot involving a possible affair, Nanami finds herself losing her husband and way of life. She's also not impressing her employer as a teacher. She's too soft-spoken and can't earn the respect of her pupils. An ongoing joke among the students is their insistence on her using a microphone to teach.
The marital problems and professional hiccups send Nanami into a tailspin. Eventually she is helped by Amuro (Go Ayano), the man who helped with her wedding "family members" and someone who always seems to have an answer to her problems. Iwai Shunji, who wrote and directed the movie, keeps Amuro a mysterious character. The audience is uncertain of whether he's out to help Nanami or meant to humiliate her. Along the way, she meets Mashiro Satonaka (Cocco), who is almost as mysterious as Amuro but provides Nanami with something she desperately needs: a friend in this cruel, cruel world.
Kuroki is a marvel on the screen. She is so dedicated to this character and never breaks from the subtleties that are needed to make Nanami work within this narrative. One hopes she will learn to stand up for herself and gain a voice in this hectic world, but the actress makes the character's evolution realistic and heartbreaking.
Shunji should be commended for his original script and intimate style of filmmaking. The movie runs long, clocking in at nearly three hours, but watching Nanami's journey is a thrilling activity. There's something so unexpected in this storytelling, and it's difficult, if not impossible, to determine what is coming next. There are oddities for sure, but that's what makes A Bride for Rip Van Winkle such a fantastical rumination on the human spirit. As Nanami floats through life, the audience learns many lessons about frailty, strength, perseverance and hurt.
A Bride for Rip Van Winkle is a strong entry for the New York Asian Film Festival.
By John Soltes / Publisher / John@HollywoodSoapbox.com
A Bride for Rip Van Winkle will play the NYAFF Friday, June 24 at 6:15 p.m. at the Walter Reade Theater, part of the Film Society of Lincoln Center. Click here for more information.
A Bride for Rip Van Winkle
In Japanese with English subtitles
Written and directed by Iwai Shunji
Starring Haru Kuroki, Go Ayano, Cocco and Go Jibiki
Running time: 179 minutes
Rating: