REVIEW: 'Conspiracy of Faith' finishes Department Q trilogy with religious tale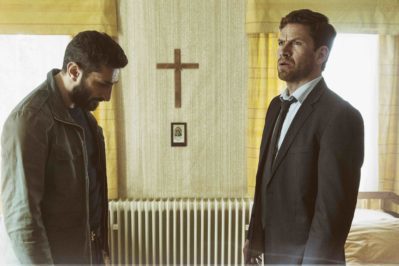 The so-called Department Q trilogy, which is playing at the IFC Center in New York City, follows detectives Carl Mørck (Nikolaj Lie Kaas) and Assad (Fares Fares) as they tackle cold homicide cases. In the first two films, The Keeper of Lost Causes and The Absent One, the two men are successful in tracking down heinous killers in the hopes of saving victims and stopping anymore murders. The first film deals with a deranged man who makes a kidnapping look like a suicide, and the second film looks into a prestigious boarding school where a pair of twins were brutally murdered.
For the third film in the trilogy, all of them based on the popular books by Jussi Adler-Olsen, Carl and Assad investigate a tight-knit religious community that doesn't want to offer statements about apparent missing children in the area. Their focus, without giving away too many details, falls on a mysterious and villainous character who coopts a religious message to justify his actions.
A Conspiracy of Faith stands out among the three films as the one story that lets Carl's character change over a traditional character arc. One could say that The Keeper of Lost Causes and The Absent One don't change the protagonist that much. He sets out to find a killer, and the investigation winds itself to an end. In A Conspiracy of Faith, the revelations continue beyond the homicide case. Carl needs to look at himself in the mirror and ask a simple, yet perplexing, question: Does he believe in something or someone larger than himself?
This third film allows time for Assad and Carl to speak in their car at length, and their topics of discussion are religion, God and faith. Assad is a believer, and Carl chides him, saying he is being duped by larger forces. Assad counters, in a wonderful speech, by saying that belief in something larger than oneself is healthy and keeps him happy. Finding a pathway to happiness, especially for a homicide detective, seems like a good idea.
Also helping out in this third film is Assad and Carl's assistant, Rose (Johanne Louise Schmidt), who provides excellent supporting work and helps the case move along. Jakob Ulrik Lohmann and Amanda Collin are near perfect as terrified parents of two children who have gone missing.
The bad guy is Johannes, played with exacting cruelty by Pål Sverre Hagen. In some ways, because of the material he's given and troubling circumstances, Johannes is the creepiest and most effective villain of the Department Q films, and this is largely because of Sverre Hagen's fine acting ability. He is a calm, cool and collected bad guy, someone who outsmarts the detectives and is also capable of unspeakable hatred.
This is the first film in the trilogy to receive a new director, and Hans Petter Moland does a quality job with the difficult task of keeping up the energy in this cold case. Although, increasingly the Department Q films are not about cold cases and more about stopping serial killers. This is a fine development, but it also strays from the original purpose of having Carl and Assad working together.
Also, it should be noted that each new film in this series becomes much more complex and larger in scope. The Keeper of Lost Causes is a small, subtle film that follows two detectives, one victim and one villain. A Conspiracy of Faith employs many police officials, includes a high-speed train chase and a showdown that is a bit too cinematic. The Department Q films work the best when they don't feel like typical police procedurals, and A Conspiracy of Faith comes close to breaking this paradigm.
However, what saves the movie — and saves seems to be the best word — is Carl's questioning of his own faith. Finally, the series delves into the psyche of its protagonist, and that's a welcome journey.
By John Soltes / Publisher / John@HollywoodSoapbox.com
A Conspiracy of Faith
Directed by Hans Petter Moland
Written by Nikolaj Arcel; based on the book by Jussi Adler-Olsen
Starring Nikolaj Lie Kaas, Fares Fares, Johanne Louise Schmidt, Pål Sverre Hagen, Jakob Ulrik Lohmann and Amanda Collin
Not Rated
Rating: