INTERVIEW: Johnny Clegg continues to connect cultures, traditions, music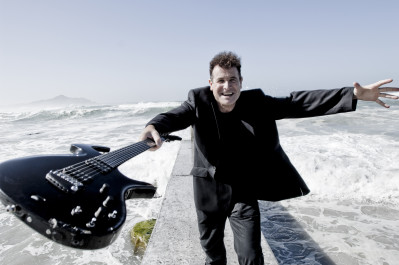 Johnny Clegg, the celebrated South African singer and bandleader of legendary outfits Juluka and Savuka, has music in his DNA. At a recent concert at B.B. King's in New York City, the singer didn't walk on to the stage before a packed house; he bounded with big, bold dance steps. It was the beginning of a performance that would see him and his band travel through many cultures, languages, instruments and musical styles.
The audience that night were beneficiaries of his journey — a journey that has been going strong for decades.
"I get a tremendous amount of meaning and nourishment by sharing and connecting with an audience," Clegg said recently during a phone interview. "I think I'm more of a performing artist than a recording artist, and I think this developed out of the early period working with street musicians and then having to go and perform live in order to promote what we did because we didn't get any airplay. So I come from the township kind of tradition that says, 'We haven't come to listen to you. We've come to see what you do.' And so the visual side, the dancing and the storytelling, it's all part of a kind of a traditional African performance, and I just integrated that. And I really enjoy doing it. This enables me to break into territories and just keep my fan base going."
The "township" style that Clegg referenced calls to mind his country of South Africa. Born in the United Kingdom, Clegg came of age in several southern African nations, including modern-day Zimbabwe and Zambia, but it was in South Africa, at the height of the brutally segregated society of apartheid, that the performer found his lifelong influences and motivations.
The stories that he has picked up on the road, the instruments he has learned how to play, the cultures he has embraced, they are all part of the concert experience.
"What's great is when people leave with more information then they came in," Clegg said of his stories that he sprinkles among the setlist. "Having a great time as well, but going away with a little more understanding how other people in other places have developed their musical traditions and genres, and how they feed into what I do and into other kinds of music as well. … Well, obviously people bring in a cultural filter when they walk into a music hall or concert hall, and what I do then is obviously and try reduce the filter by giving information that enables them to appreciate it from another angle."
Clegg did just that at the B.B. King's show when he introduced a concertina to the crowd. This accordion-like instrument is played with undulating movement of the arms and frenzied tapping of the fingers. Clegg introduced the instrument and then brought it to life with the backing of his band.
That five-piece band, which has been steady for a number of years, provides accompaniment throughout the concerts and also helps Clegg achieve this goals of his journey. "My guitarist has been there for 23 years, the drummer 15 years," he said. "We've gone through different kinds of styles of music, and rearranging and finding ways to make that conversation happen between different kinds of music because that's what I am. I'm a crossover musician. I enjoy creating those conversations."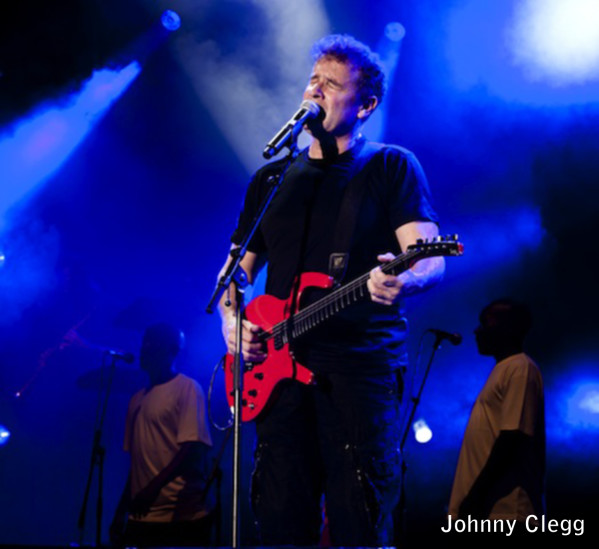 During the concert, some of Clegg's unique personal history is bound to emerge. The singer, at the age of 9, lived in Zambia after the country gained independence. In his grade-school class — known as standard three — he learned his lessons among mostly black students and was taught by black teachers. He was experiencing integrated education, something that would not be possible in South Africa, where he eventually moved.
"By the time I got back, I was 10 or 11, back to South Africa, I had experienced something my peers had never experienced, which was living in an integrated society," he said. "So I had a different kind of clue about what was possible, and I was much more open to possibilities. My mom was a jazz singer; my stepfather was a crime reporter, and so I had a very interesting home life. A lot of information, a lot of discussion, a lot of curiosity being expressed by my immediate family about Africa, the continent, its peoples, all of the various ways in which traditional societies construct their world, and how they bring it into the urban area and how they express it through their music, through their dance, through their fashion, through their cuisine, through their religion."
Street music in South Africa, he said, was a "background sound to most white South Africans." However, for Clegg, the music was magical. The idea that he could take western instruments and morph them with traditional Zulu music was "mind-blowing," and this led him on a musical journey that has never stopped.
However, his dream was not immediately accepted. This was South Africa. This was apartheid. This was brutal, violent segregation for the majority black population. This was the time of Nelson Mandela's imprisonment. This was the time of lost hope, blood on the streets and calls for change. This was the time of government-mandated townships and Soweto.
"The first line was the police," he said. "I was arrested when I was 15 in a migrant labor hospital because whites weren't allowed in. They couldn't charge me because I was too young, so they took me back to my mom. And my mom was worried now because they said, 'He's in a hospital with the wild Zulus, and they have these incredible feuds, and fights and clan warfare. And every weekend we take bodies out of there because they have these blood feuds. And he's in there dancing with them, and he's a kid. Anything can happen.' And my mom was worried about that. My uncle was particularly worried. He kept saying, 'You've got to stop him going there because black people and white people don't get on in this country. Separate them. He must listen to the law. He's going to get into trouble, and it's also for his safety.'"
When Clegg was arrested, the police would inform the school headmaster, but the singer's mother was sympathetic. She told him as long as he looked after himself, he was able to follow his heart. "I'm really thankful that she was that open to what I was doing," he said.
After these seminal experiences came two influential bands: Juluka and Savuka. The songs from these groups, including "Asimbonanga," "Cruel, Crazy, Beautiful World," "Umfazi Omdala," "African Sky Blue," "Scatterlings of Africa," "Great Heart" and "I Call Your Name," have lived on in the collective memory of his fans.
Juluka was a time when Clegg collaborated with Sipho Mchunu, while Savuka saw Clegg expanding into a more universal framework, incorporating sounds from India, Cuba, Zaire, Congo and other countries. "It was a much more less of a Zulu-based crossover and more into a universal ideal of all languages, all music forms," Clegg said of Savuka. "Both of those experiences made me what I am today."
Now, decades after his initial success, decades after the end of apartheid, Clegg is still finding connection, still crossing over. On the horizon, fans can expect a new covers album, highlighting songs that have influenced Clegg, and an autobiography on his Juluka years.
"It's ironic for me because when I started, people thought I was crazy," he said. "It was really hard to get the kind of mainstream identity, so I've always considered myself an alternative artist. … We've always been on the periphery of the development of music from the late '60s right up to the current times."
By John Soltes / Publisher / John@HollywoodSoapbox.com
Johnny Clegg is currently touring the United States. Click here for more information.