INTERVIEW: Trapper opens up about hunting monsters, making memorable TV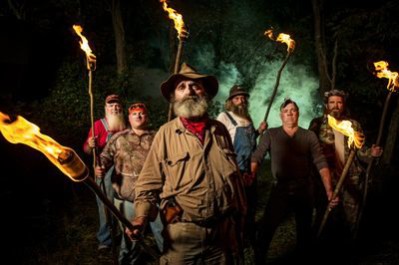 His name is John Tice, otherwise known as "Trapper," the star of Destination America's successful series Mountain Monsters. For several years, Tice and company have been traveling throughout Appalachia looking for all things mystical and marvelous. From a giant fire dragon to Bigfoot, the suspected creatures are numerous and steeped in legends that run deep among the community of believers.
On Mountain Monsters, which airs Saturdays at 10 p.m. on Destination America, Tice offers matter-of-fact statements about the clues he finds in the woods. For some viewers, the action and questionable findings don't quite attain the beyond-a-reasonable-doubt threshold. For the many other viewers who have made the reality series a hit, watching Tice and the rest of the Appalachian Investigators of Mysterious Sightings (AIMS) is pure fun.
"I have to be surprised," Tice said of the series' success. "I'm just an old country boy off Sugar Creek here in West Virginia."
AIMS finds its cases entirely through witnesses. The witness network, Tice said, is growing daily thanks to the AIMS website. Team member and AIMS co-founder Jeff Headlee monitors the many requests for investigations, and the cases are built off his research. "And if we have three or four good witnesses in one area saying the same thing, that's where we'll go to," Tice said.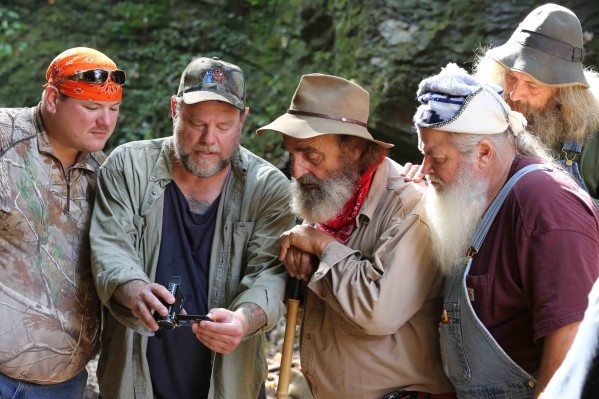 The TV personality didn't use the word "scared" when describing the team's nighttime investigating of all the creatures that go bump in the night, but they often find themselves "surprised."
"When you're after one creature and another one appears, that's happened," he said. "That happened last season, and it's very dramatic."
Tice has been a hunter his entire life, and it's his love for the outdoors that naturally led to the mountain investigating. "If you spend as much time in the woods as I do, and if you see things and you hear things that you don't understand, that makes you want to investigate," he said. "So I think that's where it all came from. I'm not putting anyway down, but the whole team, my whole team, is hunters, every one of us. We're deer hunters. We're trappers, so we have many, many years of experience on this team, hundreds of years of experience. We're not a concrete person going out in the woods for the first time looking for a Bigfoot. We're a person that can read signs, and when I say signs — a mark on a tree, a footprint, leaves are turned."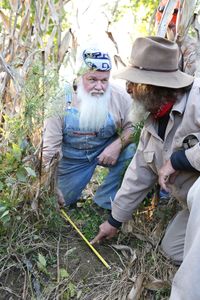 Tice added: "I survived Vietnam because my dad made me a great squirrel hunter. Hours and hours in the woods, and the Army can't teach you that. I can see a leaf was turned wrong or anything wasn't right. I can recognize that well in advance."
AIMS has cameras out in the field when they are collecting evidence. They often begin the investigation and research before the TV cameras from Destination America even start recording. Tice wants to be well-prepared for any situation that might arise.
Of course, it helps that Tice and his team, which includes a host of personalities with TV-ready nicknames like Buck, Huckleberry and Wild Bill, know the surroundings well. They have called Appalachia home for a long, long time. In fact, Willy, a team member and expert trap builder, was born down the road from Tice ("I've known Willy since he was a pup").
"Appalachia is the greatest place in the United States to live," Tice added. "It really is. The people here are just so kind, and gentle and so forward to you. Maybe that's because we're hill people ourselves. You get the four seasons here. Of course, we're not doing much hunting right now because we're covered up from a foot of snow in the West, 40 inches in the East, in the mountains. So nothing's moving much now. The roads are just got cleared from this weekend's snowstorm. So everything's pretty quiet. Even the creatures, when you get bad weather like this, will lay up. The deer lay up. The Bigfoot lay up. Nothing moves, so this time of year is not really a good time to do investigations."
Over dozens of episodes, the AIMS crew has grown used to the camera and sound operators who follow them into the woods. Tice said he offered them some "outdoors training" in the beginning, and now they are "pretty good outdoorsmen."
"Now they know how to stay out of our way," he said. "Once in a while you'll see me turn and talk to a cameraman to get back a little bit, or come here or look at this, which we were really shy of doing in season one."
Tice, who is a retired construction worker, is fairly kind to the skeptics who might not believe in the same confidence that AIMS team members have when it comes to these creatures. He seemingly strikes a balance and ties the skepticism back to the reality series. "Well, there's always going to be believers, and there's always going ot be skeptics," he said. "That's just the way this world is. To the believers, we're out there to prove that they're correct. To the skeptics, just keep watching."
By John Soltes / Publisher / John@HollywoodSoapbox.com