REVIEW: 'Hand to God' finds young man taken over by evil puppet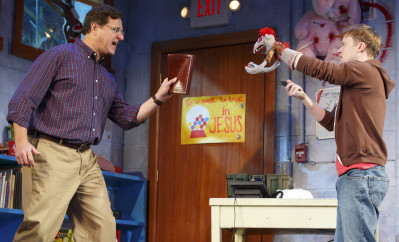 NEW YORK — Robert Askins' Hand to God, which ends its Broadway run Sunday, Jan. 3, is an odd comedy to find on 45th Street, and that's both good and bad. This little-play-that-could made its way around the off-Broadway scene and has now played a multi-month Broadway run before heading over the pond to London's West End.
The two-hour production follows a young man by the name of Jason (Steven Boyer) who finds himself increasingly taken over by his evil-spirited hand puppet, Tyrone. While his hand loses the battle with the puppet, his mother, Margery (Geneva Carr), tries to find her place in a world where she's now a widow and weary of her faith. Bob Saget plays Pastor Greg, a religious man who hosts Margery's puppet theater workshops and is increasingly skeptical of Jason's odd behavior.
The workshops feature Jason; Timmy (Michael Oberholtzer), who lusts after Margery; and Jessica (Sarah Stiles), a witty supporting character who catches the eye of Jason.
Hand to God doesn't take itself too seriously. After all, much of the action is performed by foul-mouthed puppets amid a seemingly wholesome Christian environment. The joke of the play, and it's a joke that is played out from start to finish, is that these people of faith are not exactly the best role models. Besides Jason's possession, Margery and Timmy begin a secretive relationship, and the pastor, who himself is trying to court Margery, starts to suspect something is going on.
The action takes a turn for the profane in the second act when Tyrone wholeheartedly takes over Jason and promises to never let him go.
Some of the comedy in Hand to God is riotous, to the point where the cast needs to wait several, several seconds to keep saying lines of dialogue. Most of the laughs land in the first act, when there's a social commentary occurring between mother and son, family and pastor and among the young students in the Christian workshop. After intermission, the play loses some steam by giving in to easy, obvious jokes and sight gags. It's doubtful anyone in the audience is taking Hand to God seriously from the get-go, but any sense of believability and realism is lost when Tyrone is unleashed. The play is better categorized as absurdist theater, and only in that realm does it succeed.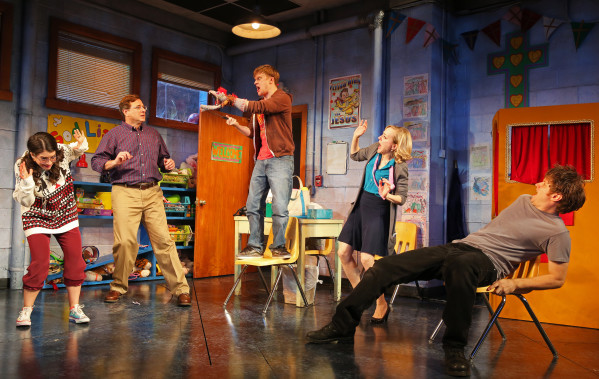 Boyer is a skilled performer, someone who acts two roles in the play. Jason is seen and heard early on, but as the play progresses, that character fades into the distance. Simultaneously he needs to portray Tyrone, and he does this with a deeper, maniacal voice. When the two argue, Boyer is firing on all cylinders, debating and fighting with himself. It's one of the few times in Hand to God that feels genuinely sad and almost frightening. Boyer's ventriloquism is so convincing, and his transformation so upsetting, that it's easy to feel for the main character, realizing that he's using Tyrone as an escape from a family, faith and world he no longer understands or appreciates.
Carr is every bit as skilled as Boyer, but her character becomes so over-the-top in line delivery and questionable actions that it's harder to feel for her pain and new, wayward path in life. If the character was dialed back a few (OK, many!) quotients of zany, the audience could root for her budding romance with the pastor, but as it stands, Hand to God gives her too much outlandish behavior that the character is one elongated joke — a funny one, but a joke nonetheless.
Saget is not bad as the member of the clergy. He's calm and peaceful, from start to finish, although even he loses his cool with the overflowing absurdity of the puppet theater workshop. Stiles and Oberholtzer both play their parts with spot-on dedication. Jessica is an inward soul, someone who is never a few seconds away from a witty comment, while Timmy is a bully who enjoys picking on Jason (one of the reasons Tyrone probably rears his ugly head).
Moritz Von Stuelpnagle directs the play with a lot of energy and farcical elements. He doesn't hold back in the second act and allows the play and its characters to run amok. Several audience members will love the trip to this profane and odd world; others will feel like they've taken a similar trip with the far superior Avenue Q. That's not to say puppets and comedy can't coexist on Broadway. They can, for sure, and it's welcoming to have such an edgy show perform down the street from the jukebox musicals and run-of-the-mill productions that so frequently take over midtown Manhattan. It's only that Hand to God feels too much like a creation to gather laughs, rather than a creation to earn them.
By John Soltes / Publisher / John@HollywoodSoapbox.com
Hand to God
By Robert Askins
Directed by Moritz Von Stuelpnagle
Featuring Steven Boyer, Geneva Carr, Bob Saget, Michael Oberholtzer and Sarah Stiles
Running time: 2 hours with intermission
Currently running at the Booth Theatre at 222 W 45th St. in Manhattan, N.Y. Click here for more information on tickets.
Rating: